Greetings once again from Chicago! Hope all is well at your end of the Long Gray Line, that you and yours had a happy holiday season, and that your new year will be prosperous.
Thankfully, many of you remembered to add your old scribe to your family Christmas newsletter mailing lists. Here goes. After 16 months in-country, John Pickler was home from Baghdad (and his service with the Bechtel/USAID Infrastructure Reconstruction Project) and able to spend the holidays with Karen and their offspring. Recently promoted (to captain), son Jeff is now at Ft. Lewis with his family in the 2-75th Rangers. In the "it was a tough job but someone had to do it" category, Joe & Lynn DeFrancisco spent the holidays in Garmisch, Deutschland, with daughter Laura, who was finishing her PAO job there before returning to the Pentagon. Question: Didn't I read somewhere that DoD was shutting down the Garmisch rec area?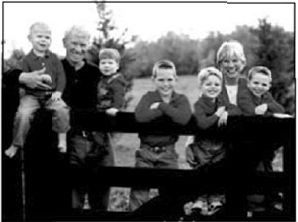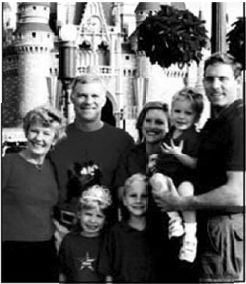 Our class president sent a nice photo of him & Maralee with their five grandsons. Fred Laughlin is teaching a leadership class in Arizona, so they split their time between there and their new home in Virginia. The next photo shows the family McEliece celebrating Julie's b'day at Disneyworld with their three grandbabies. Jim & Julie are still out in LaLa land near San Diego. Chuck & Cathy Moseley celebrated his mother's 96th birthday in Oak Ridge, along with their brood of eight (count 'em) grandkids. Ric & Patty Shinseki enjoyed the unveiling of Ric's CSA portrait in the Pentagon. As reported last time, their offspring are already planning for the next family trip to Hawaii. Ric teased that it was easier to move an Army division than his eleven family members.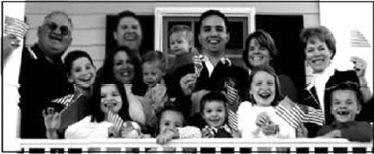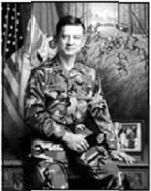 Susie Scholl's newsletter showed lots of pictures of grandma with her son and daughter and little Emma gallivanting in Las Vegas and other fun spots. I still think of Wayne from time to time and all the good times we had over the years. Bob & Barb Anderson are still in California near one of their grandbabies. Bob is working with the University of Michigan doing research on "older folks" (hey guys, that would be us in a few years!) and their finances, health, and retirement issues. Art & Terri Mark remain in Aiken, SC, with a 17-year-old still at home. Their multitudinous offspring are everywhere and doing great things, e.g. chemical and mechanical engineers, pre-med and psychology major students, elementary school art teacher, nurse, computer architect, and lawyer to name but a few. Jack & Annette Lowe have returned permanently from their seven years of overseas tours with EDS. While I was in the DC area visiting my son Brian and his family, we stopped by the Lowe's home in Centreville after golf and had a very nice visit with them both.
Peter & Heidi Lounsbury wanted to express their love and appreciation for all who prayed for their darling granddaughter Olivia, who beat her leukemia diagnosis and is now a happy five-year-old in kindergarten in their new home in New York. Their grandson Ryan and his family are in Maryland, where Todd flies for Southwest. Other son Derek married an Argentinian beauty (we have one of those also in our family) in April and lives in Utah. Daughter Heather is in the entertainment business in Studio City and doing well. Thanks to all of you for the Christmas newsletters!
Roger Frydrychowski is doing well in Richmond after his scare with a subarachnoid hemorrhage, which had him hospitalized and then confined to bed rest. A few months ago, Roger decided to reverse his class ring so that the class crest was closest to his heart--just decided that it felt better that way! As usual, S&D rose to the occasion to pep Roger up, led by point man Ross Wollen. Tosh Barron reported in early December that Tom was recovering nicely after prostate cancer surgery that was also quite scary due to a significant loss of blood and accompanying low blood pressure. Also back on his feet is Ed Knauf after a stem cell transplant. Ed has begun the work on Pete McArthur's MA. Our Supe has apparently recovered from open-heart surgery and is back on his feet. Dan & Susan Christman are still in the DC area.
For those of you who know Tim Thames well, you will get a chuckle out of this scary story of our own version of the "macho man." Late last year, Tim noticed "these little red blood lines emanating from his naval." Felt sick, had a very high fever, Sandy said, "let's go to the Emergency Room." Macho man gets in the Jacuzzi instead and toughs it out for two days. Finally goes to his MD, who calls an ambulance for the hospital, where they discovered that his insides (liver, kidneys, and spleen) had shut down. They sent a sample to the CDC in Atlanta, and our boy had a nasty staph infection called Mersa and was about two hours from joining his other "black ops" buddies in the Big Mess Hall up above. Also lost about 60 pounds. He is now on the wait list for a B blood-type new liver and his diagnosis has been changed to cryogenic liver damage, something that the docs are seeing more and more in RVN vets. Hell of a way to get out of writing the "black ops" section of our Class History, ole buddy! Get well and listen to Sandy the next time, you lunkhead!
Carol & Jim Tomaswick spent a few hours last November at a hospital with John & Leslie Alger. John had been rushed there with a severe throat infection that resulted in a tracheotomy to permit him to breath.
Chuck Nichols has posted a special page on the class website (http://www.west-point.org/class/usma1965/Taps/Eulogies/) that shows our Firstie class pictures so that we can all bone up before the 40th in September. Also listed are our fallen comrades, in case you would like to pen a eulogy on the accompanying website. Nice way to remember your fallen roomies, etc. Some of you are still working on MAs for other fallen classmates. Getting those finished and submitted by the 40th would be a "good thing!" Speaking of the 40th, the Reunion Committee is going strong. They report that about 150 have registered so far, with most staying at the Hotel Thayer. We are making a big push to get widows and other relatives of our fallen classmates to attend. Financial assistance is available. Mike Berdy's brother Andy, for example, is going to try to make it. His son Mike '94 is with the 3rd ID in Iraq and was part of the famous "Rings Matter" speech that Dan gave at his first Ring Ceremony as Supe. The reunion starts on 8 September and promises to be the best ever. If you have NOT received your invite (first one went out last September), let me or Bob Frank know, and we'll get you a new one.
Lew Green reports that S&D is alive and well in SE Florida with Joe McChristian, Dave Hurley, Chris Spire (now there's a name from the archives), Jerry Merges and Bruce Hulin being active on the board of the local WPS. Speaking of Florida, Tom & Marilyn Kovach attended the Army-South Florida game and thought that they saw a big improvement in the Army team. From what I hear from other sources, they are probably right. Let's hope so!
---Denny