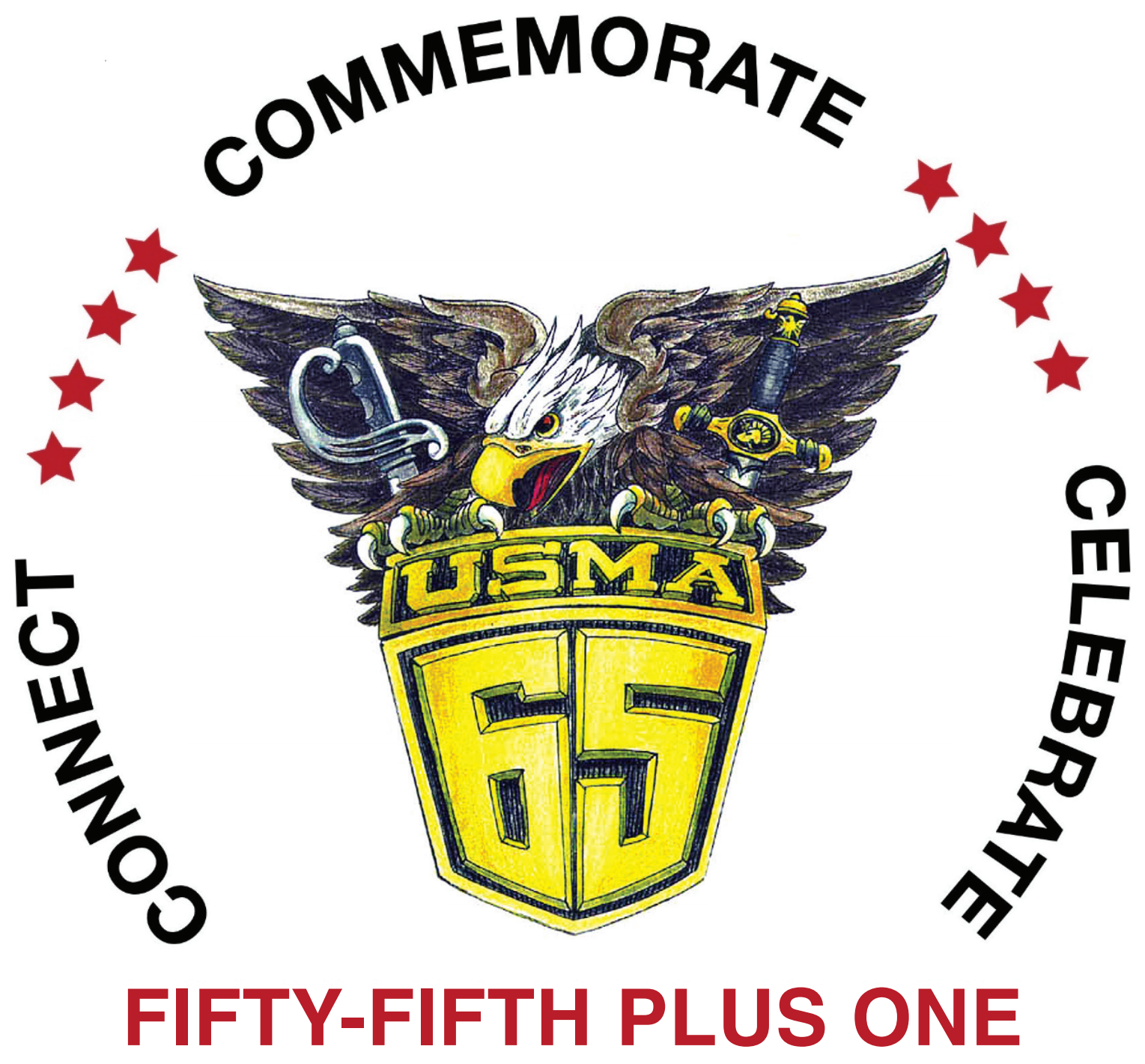 Crystal City, Virginia
MEMORIAL SERVICE
WEST POINT ALUMNI GLEE CLUB CONCERT
United States Military Academy
Class of 1965 - 55th Plus One Reunion
July 2, 2021
Amazing Grace
Click on the link below to hear the West Point Alumni Glee Club version of Amazing Grace.

WELCOME - - - Pat Kenny
On behalf of the leadership team and the reunion committee welcome to this memorial service. We especially welcome widows, family members, and friends of our deceased classmates.
The memorial service is an important part of our reunions, and today we commemorate the lives of those fallen classmates.
This solemn occasion gives us a chance to remember each one and reflect on our relationship with him as a classmate, or more intimately as company mate, teammate, best man, close friend, ranger buddy, comrade in arms, brother, brother-in-law, husband, or father.
Thanks to the memorial service committee of Dave Hopkins, John Pickler, and Chuck Moseley for all the hard work and coordination this year's event necessitated.
Now, please turn your attention to John Pickler for the invocation.
INVOCATION - - - John Pickler
Please join me in prayer as we begin our Memorial Service.
Our most gracious, merciful, and loving heavenly Father, we, the members of the Class of 1965, our wives, our widows, our family members and our friends, come to You today in a spirit of praise as we remember, we honor, and we commemorate the lives of our deceased classmates. We thank You for the blessings of safe travels and for the love and camaraderie of our classmates, both those living today and those who have gone before us. As we focus our mind's attention and our heart's affection on You, we are made aware that, since July 1961, we have experienced a truly unique fellowship as a band of brothers that is unmatched in any other institution, and we will continue to treasure those relationships until we join the ranks of the Long Gray Line in Your presence. We pray that You will continue to inspire us with the courage and the ability to serve You, our families and friends, and our Nation with the same Strength and Drive that we have had since we first came together 60 years ago. In Your holy name I pray, Amen!
SCRIPTURES
Old Testament Reading And Response - - - Bob Wolff, Psalm 23
Leader: 1The Lord is my shepherd; I shall not want.
Congregation: 2He makes me to lie down in green pastures; He leads me beside the still waters.
Leader: 3He restores my soul; He leads me in the paths of righteousness for His name's sake.
Congregation: 4Yea, though I walk through the valley of the shadow of death, I will fear no evil;
Leader: For You are with me; Your rod and Your staff, they comfort me.
Congregation: 5You prepare a table before me in the presence of my enemies; You anoint my head with oil; my cup runs over.
Leader: 6Surely goodness and mercy shall follow me all the days of my life;
Congregation: And I will dwell in the house of the Lord forever.
New Testament Reading And Response - - - Fred Laughlin, 2 Timothy 4:7-8
Leader: 7I have fought the good fight, I have finished the race, I have kept the faith.
Congregation: 8Now there is in store for me the crown of righteousness,
Leader: which the Lord, the righteous Judge, will award to me on that day—
Congregation: and not only to me, but also to all who have longed for his appearing.
MEMORIAL MEDITATION - - - Chuck Moseley

ROLL CALL - - - Ric Shinseki & Dan Christman
Ric Shinseki and Dan Christman read the names of the 169 classmates who passed since graduation from the "Roll Call" booklet. All present at the Memorial Service were provided a copy of the booklet, which may be viewed by clicking on this LINK. You can obtain a quality printed copy of the booklet by contacting:
Jim Harvey
Email: jimjuneh@cox.net
Cell: (757) 288-6684
Mailing Address: 701 River Strand, Chesapeake, VA 23320
The price of the booklet is $10 each and that includes shipping. Payment can only be accepted via check made out to Jim Harvey.
MOMENT OF SILENCE
TAPS - - - Michael Fox; Bugles Across America
CADET PRAYER - - - Unison; Led By Dave Hopkins
O God, our Father, Thou Searcher of Men's hearts, help us to draw near to Thee in sincerity and truth. May our religion be filled with gladness and may our worship of Thee be natural. Strengthen and increase our admiration for honest dealing and clean thinking and suffer not our hatred of hypocrisy and pretense ever to diminish. Encourage us in our endeavor to live above the common level of life. Make us to choose the harder right instead of the easier wrong, and never to be content with a half-truth when the whole can be won. Endow us with courage that is born of loyalty to all that is noble and worthy, that scorns to compromise with vice and injustice, and knows no fear when truth and right are in jeopardy. Guard us against flippancy and irreverence in the sacred things of life. Grant us new ties of friendships and new opportunities of service. Kindle our hearts in fellowship with those of a cheerful countenance, and soften our hearts with sympathy for those who sorrow and suffer. Help us to maintain the honor of the Corps untarnished and unsullied, and to show forth in our lives the ideals of West Point in doing our duty to Thee and to our Country. All of which we ask in the name of the Great Friend and Master of men. Amen.
MANSIONS OF THE LORD - - - Terry Ryan; West Point Alumni Glee Club
The movie We Were Soldiers tells the story of the first major US combat unit inserted into battle by helicopter in Vietnam in November 1965. The unit was the 1st Battalion, 7th Cavalry; the place was the Ia Drang Valley in the Central Highlands. Director and writer Randall Wallace was so moved by the courage and sacrifice of the soldiers in this battle that he wrote a hymn, sung for the first time at the end of We Were Soldiers by the Cadet Glee Club, as a tribute to the nearly 300 heroes killed in that battle. As we remember all who fought in that war, especially our classmates, the Alumni Glee Club is honored to present this hymn in honor of them, of all who have served, and especially those who gave the ultimate sacrifice.
ALMA MATER - - - Unison
Hail, Alma Mater dear,
To us be ever near.
Help us thy motto bear
Through all the years.
Let Duty be well performed.
Honor be e'er untarned.
Country be ever armed.
West Point by thee.
Guide us, thy sons, aright,
Teach us by day, by night,
To keep thine honor bright,
For thee to fight.
When we depart from thee,
Serving on land or sea,
May we still loyal be,
West Point, to thee.
And when our work is done,
Our course on earth is run,
May it be said, "Well Done:
Be thou at peace."
E'er may that line of gray
Increase from day to day,
Live, serve, and die, we pray,
West Point, for thee.
BENEDICTION - - - Clair Gill
Please join me in a benediction for our memorial service.
Gracious God, with grateful hearts we thank You for this opportunity to celebrate our common military heritage and commemorate the lives of our classmates who are no longer with us. Be with us as we return to our respective homes with renewed optimism and hope. May we all long for that time when we will enjoy light without darkness; joy without grief; love without sadness; safety without fear; health without sickness; and life without death. Eternal and Holy God, may You be ever near to rescue us; be within us to refresh us; be around us to protect us; go before us to guide us; stay behind us to guard us; and remain above us to bless us--always and forever. In Your Holy Name I pray, Amen.
Ladies and gentlemen, this concludes the memorial service to honor our brothers who have passed. May they rest in peace!
MUSICAL DEDICATIONS - - - West Point Alumni Glee Club
God Bless the USA - - - Peter Linn
Ten years ago, at the Army Navy game played here in DC, we heard Lee Greenwood sing this song honoring our country. An arrangement to fit our club was not available. A phone call to Lee Greenwood led to special permission to perform his signature song with our own version.
Arranged by Fred Gray USMA '64 and our past musical director, Gary Fitzgerald, we are proud to honor our country and freedom with "God Bless the USA!"
The Corps - - - Peter Cahill
In honor of our Academy and its history, our next song recognizes the Corps of the past, the Corps of the present and the Corps of the future. It is a song we sing only for West Point audiences and are proud to sing it today. You will notice that the words we remember from our cadet days are changed in some places to recognize the contributions of our women warriors. Ladies and gentlemen, please rise for the singing of "The Corps."
Vietnam Medley - - - John Swensson
During the two World Wars and Korean conflict, our veterans were welcomed home with parades, anthems and the unwavering support of the American people. However, the controversial nature of the Vietnam war, the protests and the decision to serve or not, made the position of those who did fulfill their duty, an often difficult one. They left home quietly, by train or plane. They fought; and many died ... fighting more for each other....and their Country... than for any cause. As they returned from the fight, many were never welcomed home, as Americans directed their anger over the war toward those who were sent to fight it. More than 2.5 million young men and women served in Vietnam; many suffered the physical and emotional scars that war inflicts, more often than not without the support they truly needed.
Our medley is an attempt to illuminate, through the music of the era, that challenging time and, more importantly, to offer our Vietnam veterans, a long overdue "Thank You" and "Welcome Home."
Ladies and gentlemen, in honor of our class's service and all who served, the Vietnam Medley.
Army Blue - - - Jim Ferguson
One of our oldest West Point songs, Army Blue, originated during the civil war as "Aura Lee." Elvis stole it later as "Love Me Tender." But we sing it to honor our significant others. As we left West Point those many years ago, many of us found our life partners during our stay, many more would find partners later. We honor, in song, all of the ladies who supported us and kept the home fires burning through challenging times.
Benny Havens - - - Tom Fergusson
As "the old man" Harry Dermody would opine about now, "it is time to have a wee dram." Indeed, shortly after our next and last song, we will convene with Benny Haven's hour. For now, we offer a musical toast to all our class and musically raise a glass to tradition and all the contributions and sacrifices the Class of 1965 has made.
CREDITS
Reunion Committee
Bill and Nancy Hecker
Jim and June Harvey
Memorial Committee
Dave Hopkins
John Pickler
Chuck Moseley
West Point Alumni Glee Club
Nancy Riley, Artistic Director
Terry Ryan, COO, Founder, Producer
Jim Ferguson, Secretary/Librarian, Founder
Chuck Nichols, Video Artist, Sound Engineer, Producer
Peter Linn
John Swensson
Tom Fergusson
And 32 more singers from the Classes of 1956 through 2001
Association of Graduates
Dawn Congiusti, Alumni Events Coordinator. Honorary Member of USMA '65
Nicole Corbin, Reunion POC
Ann Sisk, Manager, Alumni Events
Kayley Tuite, Alumni Events Coordinator
Teresa Gibney, Alumni Events Coordinator
Terence Sinkfield, VP, Alumni Support, Director of Retail Operations