Want This Page Wider?
Use the A+, A-, R, and <> or <-> buttons at the top right of this page to make the fonts bigger and smaller or switch between a fixed-width and fluid-width style to this web site.
All Stories
BG Patrick Finnegan's eulogy page may be found by clicking
http://www.west-point.org/users/usma1971/29522/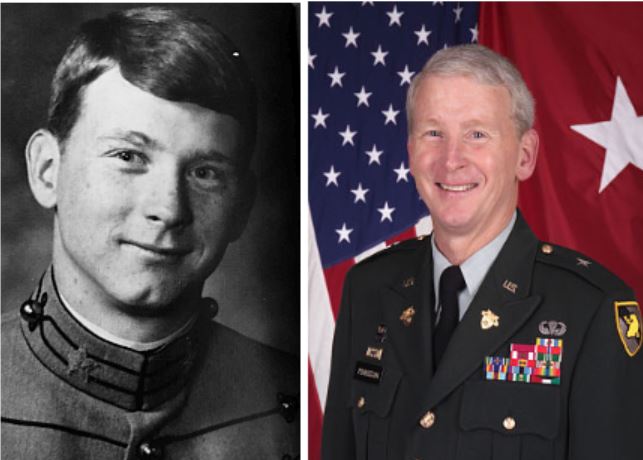 The Army is on a quest to build better soldiers from top to bottom, and the next step might be to extend the amount of time spent making them.
The Army is moving forward with a pilot program to extend infantry one-station unit training by eight weeks, according to the service's top enlisted soldier.
"We have packed a lot into basic training — we have — and we need to extend it," Sergeant Major of the Army Dan Dailey told reporters on Monday. "We know we can make a better product."
Leadership first publicly announced the idea back in March, when infantry school commandant Brig. Gen. Christopher Donahue spoke at the AUSA Global Force Symposium in Huntsville, Alabama.
"What we want, ultimately, is we want any soldier who graduates from OSUT, that they can immediately go and join any formation that they need to go to, no matter what phase of the sustained readiness model they're in," Donahue told Army Times of what was then an idea to extend to 21 weeks.
WEST POINT, N.Y. – More than 1,200 U.S. citizens and 16 international students, including 294 women, 400 minorities and 10 combat veterans will report to West Point July 2, Reception Day, to join the West Point Class of 2022.
The incoming class was selected from a pool of nearly 12,300 applicants. Minority enrollment, roughly 30 percent, includes 186 African-Americans, 104 Hispanic Americans, 99 Asian-Americans and 11 Native Americans.
"The quality and rich diversity of our students entering with the Class of 2022 is exceptional and representative of our nation's best," said Col. Deborah McDonald, director of admissions.
"Their strong performances in academics, leadership, athletics, and as respected members of their communities provides the necessary foundation for successful completion of a challenging 47-month West Point experience and for future service to our nation as commissioned leaders of character," McDonald continued. "And, for the first time, we have over 100 students identified as 'first generation' college students – identifying them as the first generation in their family to attend college.
" The Class of 2022 includes cadets from every state in the nation and 16 international cadets entering the class under the sponsorship of their respective countries. The countries represented include Albania, Bhutan, Cambodia, Egypt, Georgia, South Korea, Poland (2), Romania, Rwanda, Singapore, Thailand (2), Tunisia (2) and Taiwan. Upon graduation, these cadets will return to their respective countries as officers in their armed forces.
During Reception Day, the new cadets begin the process of becoming West Point cadets and future U.S. Army officers. They undergo administrative processing, are fitted with their initial issue of military clothing, receive haircuts, medical and physical evaluations, and begin their first lessons in marching, military courtesy and discipline. As their first day ends, the Class of 2022 will stand before many of their parents and friends on the Plain to take the Oath of Allegiance from the U.S. Military Academy Commandant of Cadets, Brig. Gen. Steve Gilland.
The West Point Independence Day Celebration will be presented on Saturday, July 7 at 7:30 p.m., with a rain date of July 8. There's no better way to celebrate America's independence than with the Army's oldest band! Grab a blanket, bring a picnic, and enjoy a wide variety of music ranging from traditional field music to today's popular hits, and everything in between. Guests are advised to arrive early, as this impressive celebration of music and fireworks is one of the best attended events of the year.
PUBLIC AFFAIRS NEWS RELEASE RELEASE NO. 17-18
WEST POINT WELCOMES NEW SUPERINTENDENT – June 29, 2018 WEST POINT, N.Y. – Lieutenant Gen. Darryl A. Williams will officially take charge of the U.S. Military Academy as the 60th Superintendent during an assumption of command ceremony at 9 a.m. on Monday July 2, in the Haig Room, Jefferson Hall.
Williams graduated from the U. S. Military Academy at West Point in 1983. He holds masters' degrees in Leadership Development, Military Art and Science, and National Security and Strategic Studies.
He has served as the Deputy Chief of Staff G3/5/7 of United States Army in Europe, located in Wiesbaden, Germany; the Deputy Commanding General for Support for the 2nd Infantry Division, Republic of Korea; and Commanding General for the United States Army Warrior Transition Command and Assistant Surgeon General for Warrior Care and Transition and most recently served as the Commander, Allied Land Command, North Atlantic Treaty Organization, Turkey.
His awards and decorations include the Defense Distinguished Service Medal, Distinguished Service Medal, Defense Superior Service Medal, Legion of Merit, Bronze Star, Defense Meritorious Service Medal, Meritorious Service Medal, the Parachutist Badge, Presidential Service Badge, and the Army Staff Identification Badge.
The U.S. Military Academy at West Point is a four-year, co-educational, federal, liberal arts college located 50 miles north of New York City. It was founded in 1802 as America's first college of engineering and continues today as the world's premier leader-development institution, consistently ranked among top colleges in the country. Its mission remains constant—to educate, train, and inspire the Corps of Cadets so that each graduate is a commissioned leader of character committed to the values of Duty, Honor, Country and prepared for a career of professional excellence and service to the nation as an officer in the U. S. Army. For more information, go to www.westpoint.edu.
<< Start
< Prev
1
2
3
4
5
6
7
8
9
10
Next >
End >>
Results 16 - 30 of 388