To the West Point Class of 1965 Community:
Recently, Marilyn and I traveled from Las Vegas to New Hampshire to visit family. On the way, we made some stops - most of which were related to the planning for our 50th Reunion.
First stop was Chicago. While Marilyn was enjoying lunch with our overnight hostess, I gathered with some of the Chicago area '65ers for a great lunch. Pictured from the left seated are Norm Eckstein, Ken Yoshitani, and George Seaworth; from the left standing are Denny Coll, Tom Kovach, Chuck Shaw, and Tom and Anna Croak: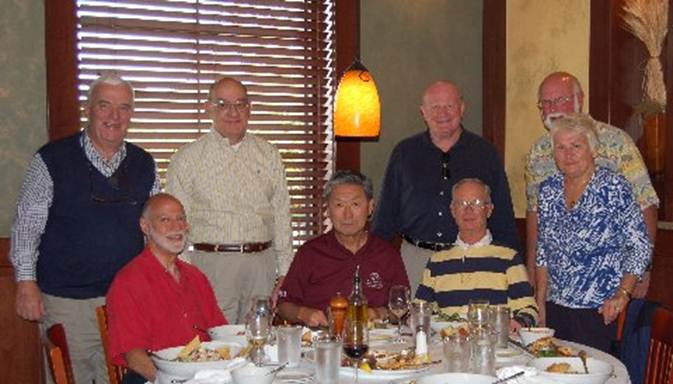 Chuck brought a bottle of great Riesling wine from his new Michigan operation for all of us to sample. The wine is labeled "Oerther" and the story behind that can be found on Chuck's website www.oerthervineyard.com.
After lunch, Denny and I discussed the continuing 50th Reunion communications with the family members of our deceased classmates. Our goal is to have each deceased classmate represented at Reunion by at least one family member.
Next stop was Tarrytown, NY. There we were joined by Gene and Berni Manghi for a meeting with the event coordinator at the Westchester Marriott Hotel which will serve as our Reunion headquarters and lodging facility. We toured the hotel and discussed many aspects of Reunion planning such as catering options. As a side note, the Class of 1968 had begun arriving for their 45th Reunion thus we saw some of the areas (registration, hospitality, etc.) set up generally as they will be for our Reunion. This was the fourth consecutive Class of 1968 reunion held at the Westchester Marriott.
After the tour and meeting with the hotel's event coordinator, the four of us dined in the hotel's dining room and continued to discuss many other Reunion details. Pictured from the left are Tom and Marilyn Kovach, and Berni and Gene Manghi: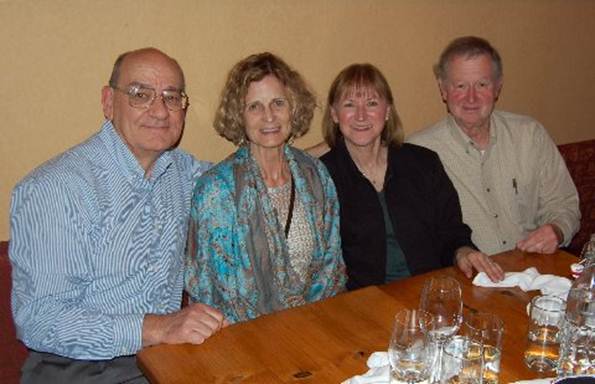 The photo was taken by Bob Hensler, Class of 1968, who was seated with his wife at the next table. We had engaged the Henslers in conversation and prior to formally introducing ourselves, Bob mentioned that he was in Company A-1. I said that I was in A-1. Bob asked my name and when I stated same, he immediately said "Your roommate, Bill Ritch, hazed the dickens out of me!" I said that was probably not possible since Bill and I ran one of the easiest Firstie rooms in A-1.
Last stop was West Point. We departed the Westchester Marriott in the morning (on a Thursday) at about the same time that the buses will depart for West Point during our Reunion. We crossed the Tappan Zee Bridge westbound with no delay - the toll booths are eastbound and the commuter traffic is eastbound at that time of day.
At West Point, we met with Vince McDermott of the Directorate of Academy Advancement (DAA). We discussed everything Reunion - Alumni Exercises and Cadet Review, Memorial Service, lunches, Academy and WPAOG Briefing, Class Meeting, bus stops, restroom facilities, etc., etc. And for those of you who earlier had expressed interest, we probably will be able to schedule a tour of the USMA Preparatory School for a limited number of attendees (around 150 max). Probably the most important item discussed was confirmation by Vince of our Reunion dates as follows (this is NOT a change from the dates previously announced):
Sunday, 17 May 2015 to Wednesday, 20 May 2015
Book it into your calendars now if you have not done so already.
We also met with Alexis Davis of the WPAOG reunion support group. Again, we discussed everything Reunion including the online Reunion sign-up process with payment by credit card. Our final meeting occurred during lunch at the West Point Club with Mara Borack of Academy Photo. We discussed our photography requirements for the 50th Reunion Photo Book.
The pace of Reunion planning will accelerate over the next twelve months or so. Many decisions are to be made so that we can set the Reunion fees for sign-up which will commence in the January 2015 timeframe. Hotel reservation capability via online webpage will be available sooner - around June 2014. More to follow in the coming months.
Strength and Drive!
Tom Kovach
Co-chairperson
50th Reunion Committee