Greetings once again from Chicago! Hope all is well at your end of the Long Gray Line!
The Warning Orders were issued, and some 540 of the class assembled, as instructed, on the Plain for what was to be generally regarded as one of our best reunions EVER! They came from near and far--from the Philippines and from Pittsburgh, from Florida and from Minnesota--all with the same thought--let's re-connect those great bonds of friend-ship and camaraderie that have bound S&D together, so well, over these last 49 years. And come they did! About 52% of our living line was represented. This number included an astounding 31 widows and family members of our fallen comrades in arms. Chuck McCloskey and a large number of un-sung volunteers made sure that this latter group not only came but, almost as important, that they were made to feel welcome during the long weekend. It worked--I was told several times by the O'Toole clan and other first-time re-union-goers that they were "amazed and delighted at how friendly and accommodating S&D was!" Most stated that they were already looking forward to the 50th! Great job, S&D!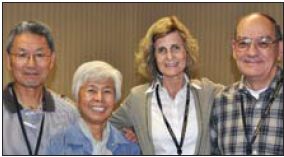 Our hats are off, big time, to the guys and gals who put this together, especially Ken Yoshitani and his most able side-kick, Tom Kovach, augmented in great part by Izumi and Marilyn, who made sure it all came together. And it did! Not a hitch that this Scribe could see.
It all started on Thursday with check in and the Welcoming Reception at the Thayer, organized by Kovach and George Seaworth respectively, with the physical check-in ably handled by the Arkangels, Catos, Colls, Croaks, Kaharas, Munsons, O'Donnells, Parishs, Rays, Seaworths, Wells, and Yoshitanis. These couples made sure that everyone received their "goody bag" filled with neat memorabilia assembled by Johnny Wells and Mert Munson. Room assignments (in eight different hotels) went off without a problem, thanks in great part to Gene Manghi's tireless efforts, complimented by Jack Jannarone making sure that there were buses to get us everyplace, and back, on time. Keeping track of all the funds and making sure the bills got paid were Mark Sheridan and Dave Gabel. Thanx guys--great job by all of you!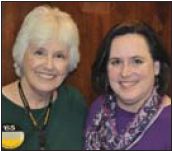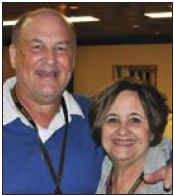 One had the sense as soon as you walked into the Check In/Reception that this was going to be a fun weekend. Odin cooperated with gorgeous skies all four days. There was an undeniable "buzz' in the air. One of the first persons I spot-ted was a long-lost friend, unseen for about 45 years. What an absolute delight to get that big hug and kiss from Jim Echols' widow Smokey and her lovely daughter Michelle in for first reunion from Cleveland. Another "long lost soul" and a key character in the S&D legend, Gerry Buckowsky (pic 3), came in from San Diego with his lovely (baby) sister Marylynn. After we beat the infamous "streaking" incident to death, many of us had fun remembering just how much Boo used to, and still does, make us laugh-usually at ourselves! The portrait of Bob Arvin (pic 4), which will hang in the entrance to Arvin, was unveiled at the Reception, along with its very talented artist Kim Hawkins, daughter of our own Ray & Linda.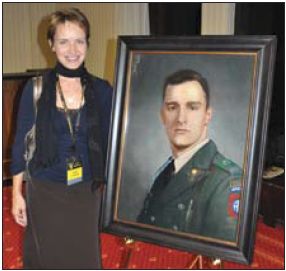 Friday was another beautiful day at our "rock bound highland home" and started off with the Class Meeting. New officers included Bob Radcliffe (Senior VP) and Rick Bunn, our new Scribe and Secretary (more on that later). They will join Clair Gill, Harry Dermody, Skip O'Donnell, and Bob Frank, who re-upped for another five years. Some much-needed updates were approved to the Class Constitution. Tours of various academic departments followed. The ones of the Centers for Combating Terrorism and the Professional Military Ethic received high marks. Lunch followed at Ike Hall with a spectacular view up the Hudson.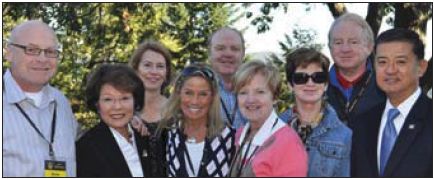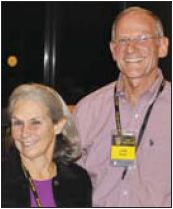 Saturday dinner, also at Ike, was high-lighted by several acclamations: Jim & Marianne Paley and about 30-40 other couples were saluted for celebrating their 45th wedding anniversaries this year. The "most notable collection of family members of one of our fallen" title went to the O'Toole Clan, that included three brothers (Bob, John, and Mike and their spouses) and sister Judy Fahl. Duncan Mac Vicar, he of melodic voice fame, assembled the acclamations and did a great job announcing them. Those saluted included our 20, 30, and 30+ year service career classmates, the USMA staff and "P" classmates, etc. A class "1960s Sing-Along" followed. It was all really neat! Dancing followed.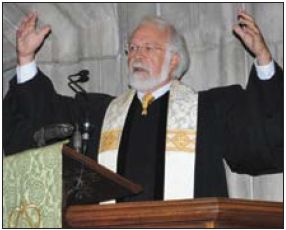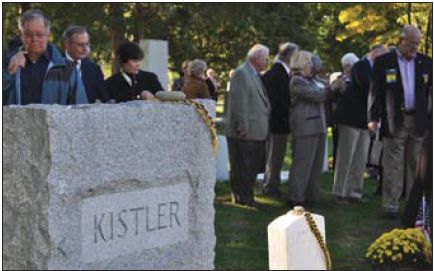 Saturday's Memorial Service at the Protestant Chapel and then at the cemetery was probably the highlight of the weekend for most of us. Preston Hughes did a superb job in putting it all together and was ably assisted by our classmate, the Reverend John McCullough, who provided the homily, with readings by Kovach and Larry Izakson, then the slow and somber reading of the names of our fallen line by Ric and Clair, as family members stood reverently to honor their loved ones. The moving music was provided by our own former Glee Clubbers, ably organized by Jim Ferguson--they actually sounded very, very good! The class then moved to the cemetery, where all of our classmate's graves were freshly decorated with lovely golden mums and an impressive gold, chain-like marker with our class crest. Pink and blue markers identified the gravesites of the S&D children who have been taken from us.
After Sunday brunch in the Mess Hall, we all scattered to our separate CP's, singing "On Brave Old Army Team" and looking forward to the big FIVE OH! The 50-Year Affiliation Plan, which will tie us into the Class of 2015, is already well under way, ably headed by Pat Kenny. The first events start next summer, so contact PDJ if you are interested.
And finally, as was announced at the Class Meeting, your ole Scribe is hanging up his quill after some 30 years of trying to help keep S&D together as a cohesive and caring group of grads. You have probably heard it from other classes, as have I, that WE have done a pretty good job at that task, thanks mainly to you guys responding and helping out whenever and as often as asked. I have enjoyed every moment of it and would not trade the experience for any-thing. But 30 years is enough, and so I pass the pen on to Rick Bunn, who I know will keep the momentum going without missing a beat! Thanx, guys!
---Denny