Greetings once again from Chicago! Hope all is well at your end of the Long Gray Line!
The 45th Reunion will be upon us just about the time that you receive this copy of ASSEMBLY. The only last-minute reminder that Ken Yoshitani and his great Committee want you to know is that if you, for any reason, still want to attend the 45th and have not signed up yet, contact Ken at 630-960-0965 or at [KenIzumi65@aol.com] and they will do their best to get you in. The attendance should far eclipse any previous reunion, so it will be a great opportunity to re-new old friendships while we are all still able to "stop and smell the flowers!" From my vantage point, Ken and his exec, Tom Kovach, ably assisted by dozens of other classmates, have worked long and hard to make this reunion the best yet. I'll bet you will agree after you have experienced it with us. The count still looks to be at/near 600--amazing!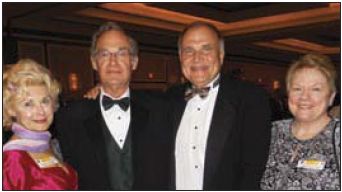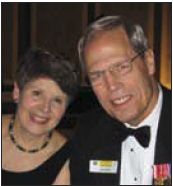 I promised that I would include pix of the WPS of DC Founders Day in March. Photos include: (1) Koletty with the Kulbackis and Elaine Nichols. (2) Our Pres Clair Gill (who almost always manages to avoid pictures) and his child bride. (3) Our own Jim Ferguson, the soloist singing (quite magnificently, I might add) for the assembled masses. Other '65 attendees: Joe & Lynne DeFrancisco (WPS of DC Pres), Cathy & I (along with my son Brian and his wife Carolina), Terry Ryan and Peter Lynn (part of the singing group), Steve & Mary Jo Ammon, Bill & Martha Birdseye, Eric Berdy (Mike's nephew), Harry & Kay Dermody, Karen (Jim) Ferguson, Roger & Pat Griffin, Bob & Mary Harter, Skip & Mary O'Donnell, Nancy (Terry) Ryan, Linda (Peter Linn) Loch, and the Gills.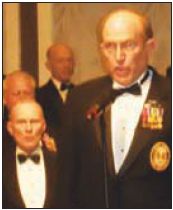 Now to finish up the Newsletters from earlier this year. Neat pic (not re-printable, unfortunately) and note from Bob & Mary Frank standing on The Great Wall. Mary remains very active on the links as well as evaluating various golf courses in addition to her work with hospice. Bob seems to play golf and travel all the time. Speaking of exotic places, Bob & Pauline de Laar visited Machu Picchu and the Galapagos Islands as well as Egypt and Jordan.
Ron Walter retired from ISIS and still is in Scottsdale. Great pic (again, not re-printable) of Bob Bradley being dropped off (in a grocery basket) at the local assisted-living center by Dorothea while the accompanying pic shows Bob in his run-about with some of the young local talent in San Diego. Go figure!


A great big THANX to Chuck Nichols for posting every one of our Memorial Articles on the class website. Good class showing for Dan Christman's Distinguished Grad Award in May. Rain didn't seem to dampen anyone's enthusiasm. Joining Dan & Susan and their lovely daughters were Tom Fergusson, Walt Oehrlein, Ross Wollen, Karen & Dennis Sellers,* Jack Koletty, Jack Jannarone, Fred Laughlin, Jim & Sally Sheiner (looking great, I might add), John Howell, Gene Mangi, Bob Frank, Dermodys, and Gills, Don Knowland,* Lloyd Briggs,* Tom & Tosh Barron, and John & Karen Pickler.* I know I have missed a few, so my apologies. As you might guess, we had to have some pix, and the next two include Dan and his family and the E-2 crowd (see the * above).

How about the recently announced annual "Don Kurtz Champion Award" that was presented to an early-onset Alzheimer's "champion" in April. As you might have guessed, we were represented by Roz Ruby--what a great way to honor Don! John Swensson sent along the pic of Joe Anderson at the unveiling of the Paul Martin tribute to Bob Arvin at the DeCillis Vietnam Conflict collection at De Anza College in Cupertino, CA. Joining Joe and John are former SA Harvey, Bob Anderson and Ralph Adams.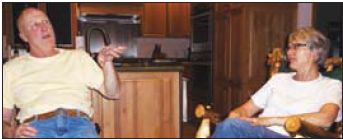 Great gathering of some 42 classmates for Bob Radcliff's golf outing in Charleston. The next pic was taken in front of Bo & Sherry Forrest's little abode at Dunes west in Mt. Pleasant. Our final pic shows a very relaxed Bob & Sherry Stowell.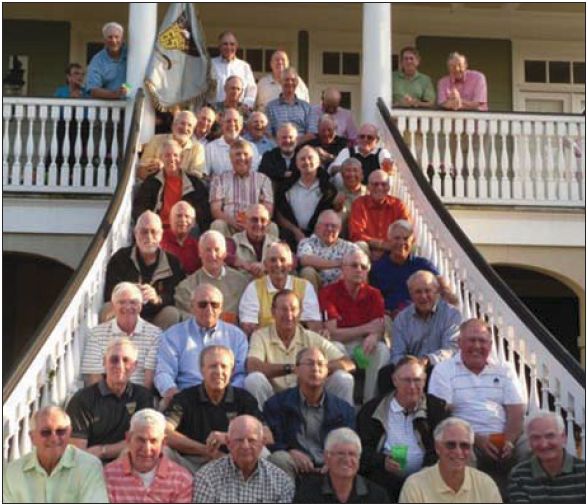 Stay well, be well, see you at the 45th and remember to take time to smell the flowers!
---Denny