Greetings once again from Chicago! Hope all is well at your end of the Long Gray Line!
The 45th Reunion is around the corner, and, hopefully, we will have a glorious fall weekend for the gathering. The final schedule will be included in the registration packet. The Reunion Committee has asked that we allow plenty of time to move from one event to another. We also have provided for the downtime in the afternoons ahead of the evening social events. (That is for some of you older folks to get your "second wind!") As in the past, parking spaces at West Point are limited, so we hope that many of you will take advantage of buses that will be provided. BTW, there is a Post-Reunion trip that has been planned by Jim & June Harvey that includes theater, hotel, etc. Contact June at 757-692-1842 if interested.
The final registration form that you returned in June had many choices and options. If any of you need to change any of these choices or options, please get back to either Ken at [KenIzumi65@aol.com] or Tom at [TJKovach@aol.com]. We will accept last-minute additions, but not deletions, since we have made monetary commitments for the participation level that you indicated in the final registration forms.
Finally, please make sure to clearly state any and all special needs requirements, such as diet, wheelchair/accessibility and the like, even if they arise close to the reunion. We will make all reasonable efforts to meet these special needs. Ken, Tom, and their Committee have done a wonderful job of pulling this 45th together. We owe them a big "Thanx" as well as our individual commitment not to make last-minute changes unless absolutely necessary.
As promised," here are the remaining Christmas letters and pix: Art & Terri Mark said it best--they still are in Aiken, SC, but their brood is far and near (VA, CA, SC, RVN, NC, and MD).
The Dermody's are doing well on the Eastern Shore, playing lots of golf and trying to stay out of trouble (Harry, that is). Joe & Lynn DeFrancisco moved, after all of those years in the same house, into a condo near the rear entrance to Ft. Myer. Joe still is the Pres of the WPS of DC and did a great job at the WPS of DC Founders Day in March. Daughter Laura is nearby (Crystal City, VA) and son Eric received a promotion and is in Jacksonville, FL, with his family. Preston & Sandra Motes, as usual, spent last year traveling and camping, with trips to see their daughters Tami and Charissa and Charissa's twins in Hawaii. A month-long trip followed that took them to Copenhagen and then by ship to Norway, Scotland, Ireland, Iceland, and Greenland and finally to Ft. Lauderdale, where they encountered Larry & Rebecca Isakson. Neat trip! Bob & Michele Axley sent a neat Christmas card showing all three of their grandbabies and the wedding shot of their son Jeff and his bride Kara in Bora Bora.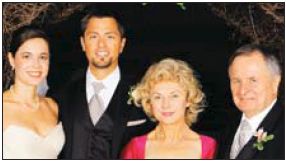 The Nichols' son Jason's wedding was held last fall overlooking the scenic Blue Ridge Mountains with the reception at a neat local winery. Standing with Chuck & Elaine are Jason and his new bride Theresa. Chuck had just about given up on his son (age 40) finding the right lady, but no more.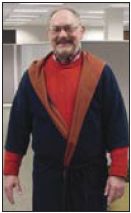 It's always good to hear voices from the past. Once such voice came in a few months ago from Larry Strassner, who reports that he is helping daughter Lauren run a furniture company that she and her husband started in 2005 (check them all out at , complete with pix and bios). Another voice from the past was Edd Luttenberger (ex-'65, C-1 until 2/63) who retired a few years ago after 33 years with Peterbilt Motors and its parent company. He also is the Board Pres (second term) of the National Vietnam War Museum and serves on his local chapter's Board of the Vietnam Helicopters Pilots Assn. The pic shows him on his last day of work. Stay in touch, Edd!
I, amongst others, have often wondered if there is any way to determine the names of our Beast squad, platoon and company mates. Anyone who has any ideas, let me know, and I will get the word out. Ron Walter reports that he & Janice sold their company late last year and now are officially retired in Scottsdale. His "retirement" cycle includes brushing up on his Espanol (Telemundo, anyone?), cruises (Assisi, Italy, and the Aegean Islands in Greece), daily workouts, reading the WSJ daily and, did anyone mention, doing an ABSOLUTELY BANG-UP JOB of taking over and spearheading the March/ April Ranger Paver fundraising effort which, as of mid-April, has raised almost $4,000. Simply amazing--thanx, Ron! Many of us were to be at the Distinguished Grad Award ceremony for Dan Christman in May. I'll have pix in the next issue. Speaking of our former Supe, he ran into the former Costa Rican Foreign Minister, our very own Bobby Rojas, while on business there and encouraged him to attend the 45th.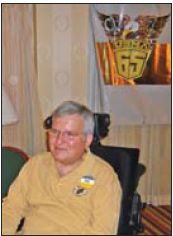 As most of you know, we had fantastic turn-outs for the Memorial Services held for the classmates we lost earlier this year. Some 32 of our line attended the first service for John Alger in Leesburg, VA, followed by another well-attended service at West Point. We also had good class representation at Karl Plotkin's service and Curt Churchwell's. Great pic of Karl in front of the Class Flag near the end.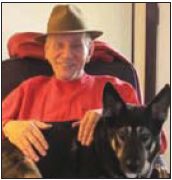 Bill Birdseye was looking for Barre Bernier, who we located in Albuquerque. Bill, let us know if you are able to get with Barre. St. Elmo P., otherwise known as Step Tyner, still lives in Carmel where he tends to his ill mother. He reports that his daughter's doing well in Sacramento. I can still remember (vividly, unfortunately), Step on those horizontal logs you had to climb up on and walk across at Buckner. Step particularly liked the one that was two feet off the ground. Two more great group pix, the first of the Barkleys, Timmermans, and Csokas--the second of the Merges, Steinwalds, and Gnaus at The Villages in Florida.
| | |
| --- | --- |
| 1965--Merges, Steinwalds, and Gnaus. | 1965--Barkleys, Timmermans, and Csokas. |
Great pix this time, guys, thanx! I will include pix of the DC Founders Day in March in the next issue. As of this date, I think the head-count for the 45th is past 600, so if you are still debating attendance, calculate the (actuarial) odds of the 45th vs. the 50th. Make it happen at BOTH by attending the 45th! And if you know of any class widows or other family members out there, encourage them to attend also. It is quickly shaping up to be the BEST S&D REUNION EVER!
Stay well, be well and remember to take the time to smell the flowers!
---Denny