Greetings once again from Chicago! Hope all is well at your end of the Long Gray Line!
As of this writing (early January), the Reunion Committee is going full steam ahead, now that the 7-10 October weekend has been locked in for our 45th. I have been simply amazed at how well the Committee's decision to re-establish the Company Rep system has been working. As I watch the cc's of various company rep's come across my electronic transom, I can see significant momentum gathering, to reach out and find "long-lost" classmates and to make every effort to pull them back in. The attendance is more than 500 as of this writing, according to Tom Kovach.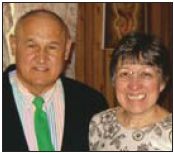 What I can also see is some of the long overdue MA's finally written. Wouldn't it be nice to have them all done by the 45th?? The hotel/motel reservations are being handled by Gene Manghi (opmanghi@optonline.net), so if you are unsure where to stay, contact him. As in years past, we are going all out to have every widow and family member of our lost classmates attend the 45th. To do so, we need several things: First, if you know of a widow of offspring, contact Chuck McCloskey, or Chuck Nichols to see if anyone is already working on that person. If not, take on the task and see if you can get them to attend. (N.B. According to Chuck N., there are 47 MA's out of the 74 deceased classmates on our website, leaving 27 to be completed.) Second, we will need escorts for those attending, if the contact person cannot do it. Cathy & I hosted Bob Berdan's widows and two adult daughters last time and I have to tell you, it made OUR reunion all that more special.
Speaking of MA's, through a lot of help from Jay Stewart and others, we are working on Jim Echol's MA with his widow Smokey, an effort that brings back lots and lots of good memories of "back in the day!" So let's keep it going, S&D. If you are working on an MA, reach out to me or others to get the help you need to finalize the article, obtain NOK or '65 presidential approval, so that we can finally complete this long-overdue task.
| | |
| --- | --- |
| 1965--Ric and Jerry Dernar at Duke, October 2009. | 1965--Ric & family and POTUS. |
Several good pix of Ric, the first with Jerry Dernar at Duke, where the SecVA was the principal speaker at a memorial dedication for all Duke grads killed since WWII. Jim Kelly also attended as did John Bell's son Andy, who met Ric at the 35th and who is attending grad school at Duke, as did Ric many wars ago. Ric met with Coach K '69 and addressed the ROTC cadets on the campus. The next pic shows Ric with his extended family (seven grandkids if I count correctly) at the White House. Their daughter Lori's husband Tim Heaphy is the recently installed U.S. Attorney for the western District of Virginia. Ric also got his wish and was able to show all seven of the young-uns how to fish (and bait hooks, no doubt) during a vacation to Lake Anna in Virginia.
I mentioned John Roseberg's retirement in the last class notes. Shortly thereafter, John fell off a ladder and had two vertebrae fused plus a support rod inserted. Adds more credence to my wife's constant exhortations to stay off ladders!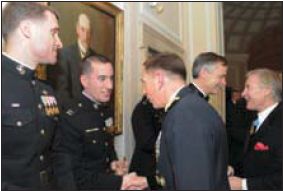 Ross Wollen sent the next pic of Buddy Bucha and GEN Petraeus '74 in the receiving line at the Ends of the Earth Dinner in NYC in November. Buddy also was here in Chicago for the CMOH annual meetings and dinner. Another retirement story reported, this time from Mesa, AZ, where Dennis Hawker sold his business in 2002 after having non-Hodgin's Lymphoma (in complete remission) where he & Diane play a lot of golf and spend their summers in the White Mountains of AZ. Dennis heads up John McCain's Academy Selection Committee.
| | |
| --- | --- |
| 1965--Hali Wang, Bob Baldinger, Jay and Patrick Vaughn, Cissy & Jim Coughlin, and Jamie and Tom. | 1965--Diane & Denny Hawker, October 2009. |
Class of '65 still on point?? I thought we had hung up our last set of spurs and then I received a nice note directing me to www.armynavyacademy.org and whose pic shines out in full one-star regalia, the Academy Pres (since 2002), Steve Bliss. The guy looks good, really good, in his greens. Must be his two teenage boys! As you all should know by now, Chuck Nichols has set up a Class Forum (to sign up, send an e-mail to: [majordomo@west-point.org] from the e-mail address you want to use and you will be subscribed) which is to be used for those extended communications of the hot issues of the day. In that way, we can keep the Class Net clear. My old Pennsylvania buddy, Tom Cindric sent this next pic from Texas. The occasion was the Army-UNT game last November. The Coughlins and Jay Vaughn came from Arizona (Jay's wife Sharon could not make it due to a knee problem). Jim is a prosecuting attorney in Tucson and works with juveniles, Bob & Hali live in Austin where she develops new prosthetics and he is with the Rimkus Consulting Group. The Cindrics have two boys, one in Dallas with three daughters and the other, near Spokane, has four young children, one adopted from Ethiopia (anyone remember the Plebe poop question: Who was the Conquering Lion of Judah?). It never gets much above freezing in the latter city (according to tom) and you can play golf year-round in the former, so guess where this Steeler fan relocated? Great update, Tom.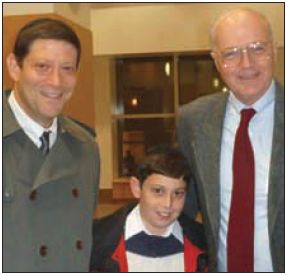 In case you ever wonder whether those cards, letters and e-mails that we are always asking for, ever help our S&D families in times of needs, I would refer you to the warm and heart-felt note of gratitude that we received from Rich Leary after the loss of his son late last year. They are important and very meaningful! The next pic (which I forgot to include in the last "Class Notes") shows Rick Osgood being honored by his peers in 2009 for his great work as the Higgins Professor of EE at Columbia.
Lots of great Christmas newsletters this year, so here goes: Maralee & Fred Laughlin with their grandsons Jacob, Caleb, Ethan, Zachary, Luke and Nathan and their sons, one in Olney, MD and the other a pastor in St. Louis, enjoyed a family visit to the OB's. Kent & Sherry Brown still going strong with family and faith in Garden City, ID. Julie McEliece's nice letter with lots of pix showed their humanitarian trips to Uganda and Kenya as part of Restore, Intl. as well as a Safari to the Masai Mara capped by a Mediterranean cruise in September. Moseley's annual Christmas shot shows 13 grandkids and probably means a wider-angle lens next year. Unfortunately, the quality on most of these newsletters does not facilitate good reproduction in ASSEMBLY, so if you want us to print the family pic, please send it separately (and without shadows (Moseley's) or bad backlighting. Thanx.
That's it, folks! I am out of space. The remaining Christmas letters and pix will be in the next issue. Stay well, be well and remember to take the time to smell the flowers!
---Denny