Greetings once again from Chicago! Hope all is well at your end of the Long Gray Line!
The Reunion Committee is making great progress on the Reunion with a lot of great assistance from the class reps. You will have received at least one Class Pres letter before you read this article, so we will not go into any more detail here, lest it be outdated by the time it gets to you. Cathy & I were surprised when we were reminded that the 50-Year Plebe March Back with the new Class of '15 actually will be in two + years. Thirteen and a half miles is the new mileage (down from 17). At the age of some of our arthritic knees, many of us need to start practicing NOW!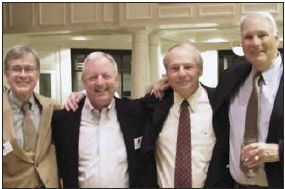 Kent & Sherry Brown retired for the second time but, unable to sell their house (sound familiar???), are still in Boise. Their son received his second command of a USAF squadron in Iraq and then was awarded a fellowship at RAND. On a different front, I received a nice historical piece that, unfortunately, when I downloaded it, did not have a name on it. So, whoever was wounded at OP Khiyam and has a wife named Diana, please send me a note. Jack Thomasson reported that he, Bob Radcliffe, Bob Selkis, and Jack Jannarone attended a reception for all the old lacrosse coaches (1947 thru 2008) organized by the new coach.
Great progress is being made on some of the old Memorial Articles. Frank Arnall has taken responsibility for Frank Reller's, and we received the MA on Mike Momcilovich completed by John Alger. Thanx, guys! We lost our good friend, Jack Cooley, shortly after I wrote the Notes for the last issue. Jack fought a valiant battle against his Agent Orange-related multiple myeloma. His memorial service in September was a serious, yet fun-filled, gathering of longtime friends and classmates celebrating his life. Paul Schultz and Ken Yoshitani spoke for the class, which also was represented by Shinseki, Seaworth, Kovach, Wheeler, Coll, Croak, and Singelyn.
We also lost Denny Lewis last fall, after a long battle with heart problems. His Eulogy page can be found at the WP.org website. Marie and her family were joined at the two services (Ohio and West Point) by the Stichwehs, Shinseki, Bumpass, Zadels, Grates, Abrahams, Oehrlein, Paskes, John Johnson Seymour, Floto, Tomaswicks, Briggs, Bob Jones, Hawkins, Sanchez, Gabels, Franks, Bob Bradley, Zaises, Selkis, and the Gills. Beautiful eulogies were delivered by Stich and Dennis, Jr. A new book by Gail Dwyer '81, Tough as Nails, is about women at West Point and mentions some of her S&D contacts.
John Roseberg reports from nearby Rockford, IL, that he retired after some 15 years as the staff counsel for the governmental group trying to clean up the Rock River. Since then, he has been doing some teaching and consulting while keeping plenty of time for Carol & him to travel throughout Europe on several occasions and spend time with their two daughters, each of whom have two sons. We are in the process of rewriting the Class History (Bob Frank) and updating the Class Roster (me), so if you need to update either, please let one of us know via e-mail. Bob also has set up a nifty site on the Class Homepage (see below my name block at end of this article) where, after clicking on the "Wall" icon, you will be directed to the memorial article (if written) on each of our fallen comrades. Our condolences to Bob Bedell on the loss of his beloved wife Sheri.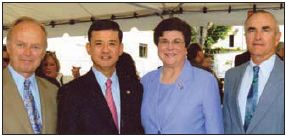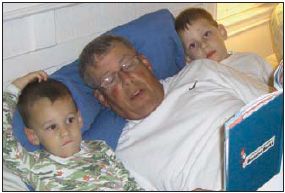 The next pic shows one of my favorite ladies (MaryKay Salomone) with Ric shortly after his swearing in. They were presenting four (of a total of 16 so far) retro'tted vans to wounded warriors as part of her allvolunteer Operation Support Our Troops, Inc--Wheels for Warriors program. Also in attendance at the ceremony were Ron Floto, Thom Powers and Dave Jones. Way to go, MK! Next pic shows a supine Roger Griffin at Nags Head, SC, doing what grandpas do best with their grandsons. Roger is also going to try to make the MA for Guy Riley a reality. Thanx, Roger.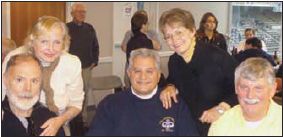 We are always mindful of those of our Line who have been struggling with various illnesses, so let's keep that in mind as we enter this New Year. Two that come to mind (among many) are my old Ranger buddy, Jack Terry, (see pic at his daughter Karen's wedding, accompanied by Abraham and Tomaswick) who can be reached at , and John Alger (122 Morven Park Rd NW, #118, Leesburg, VA 20176), so let's hear it from you, S&D! Former Pres Fred Laughlin has agreed to head up the Nominating Committee for our next slate of of'cers to serve for the 've years after the 45th. Joining him in this effort are Bob Axley, BJ Mogan, Bob Radcliff, and Art Hester, a most august group if there ever was one! Contact one of them if you are interested in serving or want to nominate anyone. Bruce Clarke started to publish a series of articles on our country's various strategies. You can get on the list by contacting him at .
Rick Osgood reports that he is back at Columbia running a large research group doing work on laser science and solid-state physics after a long stint as associate director at Brookhaven National Lab on Long Island. Rick & Alice saw Cindy Johnson at their place in Rockport, ME, and she mentioned she may be moving from Pittsburgh. They also hear often from the Lounsburys in Utah. Rick was honored by his peers in 2009 for his great work as the Higgins Professor of EE at Columbia.
That's it, folks! Stay well, be well and remember to take the time to smell the flowers!
---Denny