Greetings once again from Chicago! Hope all is well at your end of the Long Gray Line!
The Reunion Planning group continues to report good progress from all fronts. The Company reps are doing a great job tracking down all you guys with less than stellar records of keeping us USMA up to date concerning your whereabouts. If you have NOT heard from your Company Rep, let me, Ken Yoshitani or Tom Kovach know and we will get you in touch with the right Rep. There is still no firm date, due to the fact that the football schedule is still in flux. Most likely will be a non-football weekend in September or October according to Ken's survey in early June. Bob Frank may be calling you for info for a revised class history. He is digging far and wide, so please help if you get a call. Chuck Nichols is assembling some really neat MA pages, accessible via the internet, for our fallen comrades that will serve as outstanding reminders of the great classmates with which we were privileged to serve. Speaking of Chuck, the Class Forum that he established several months ago seems to be working well. Chuck McCloskey is making good progress on updating our contact information on the widows and families of these same guys. As you have heard many, many times from this Scribe, we are still missing MAs on far too many of our deceased classmates, so if you have volunteered to write one, please try to get it done, approved and published by the 45th. Here are the MAs that we are still missing: Allen (nee Rose), Bachman, Bradley, Churchwell, Cooper, Echols, Howard, Klink, Knowles, Kurtz, Lemley, McArthur, Momcilovich, Peterson, Phillpotts, Reller, Riley, Sheckells, Jim Smith, Stevison, Bob Thompson, Vogel, and Woodard. Also, former classmates missing MAs are: Colmar, Gardner, and Mathews. Far, far too many for this stage in S&D, so we need people to step up and make it happen. Please let McCloskey know, by Thanksgiving, if you can handle writing one, or, if you are working on one, what your status is. We all know that they are not easy to prepare but we have to try and get them all done.
We have a new class officer. Skip O'Donnell, fresh off that spectacular miniReunion stint in Vegas, has agreed to replace our long time treasurer and confidant Joe Sanchez. Joe served admirably in this position for well over 19 years and was always there to make things happen for us. I cannot remember the number of times when we had to scramble at the last minute to get a Point Man to a wake or funeral, accompanied by the class flowers, which Joe always had delivered in time for the final services, never a miss. Never! Quite remarkable when you think about finding a florist in some of these small towns where our guys decide to join The Long Gray Line! Because of the press of a number of serious family issues, Joe had to relinquish this job. He will be missed. Thanks, Joe. Job well done!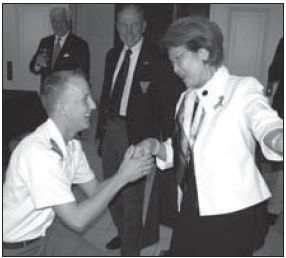 In case you did not see it, Ron Meier '66 has provided a neat listing of all USMA grads and their exact location on the Vietnam Wall in DC. If interested, let me know. I will also forward it on to be posted on the class website. For those of you who were unable to attend, the Distinguished Grad Award ceremonies in May for Ric were superb. We had about 50 classmates and spouses in attendance, the weather was fantastic and we even had our own "Do Op" group serenading Patty courtesy of Roger Frydrychowski who found these guys ("Knight Caps") practicing somewhere in the New Library beforehand. Some new faces were also on the scene and it was just great to get a chance to rehash old war stories with Judge Dick Smoak, Joe McChristian, Mike Liebowitz, Doug Gibson, Nick Principe, Russ Campbell, and many others. The photos are available www.west-point.org/class/usma1965/. Great time was had by all.

Following the DGA ceremonies, I heard from Chuck Tice, a voice long too silent speaking from the wilderness of NYC. Chuck reminisces fondly of his old roomies Chuck Pfeifer, Bernie Zeigler, and Chuck Nichols in L-2 but is especially proud of his childhood bride (met during Cow Year, says he) Pam, who in addition to running bikenewyork.org was also the first Exec Dir of the Central Park Conservancy. Chuck builds and maintains websites for politicians amongst others and lives in the same apartment that they found the day that we landed on the Moon. He has also dabbled on the (left) side of the political spectrum, having run some interesting political campaigns in the City. Check him out at the Park West Village Tenants' Association website, where he serves as president.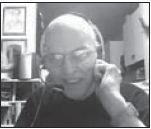 I have been spending a lot of time with Jack Cooley (at the time of this writing in July) as he fights that terrible Agent Orange-related cancer (multiple myeloma), which several of our Line also have. As we go through the various benefit programs available to Jack from the V.A., Social Security, and others, I have been struck by the fact that many of these programs can easily be put in place, but should be done so on a pro-active basis. Ric said it best at the S&D DGA soiree: "If you haven't registered with the V.A., Do it, now!" Many of the actions that we are taking on Jack's behalf now, as time runs out, probably should have been set in place well beforehand. Which brings up another disturbing fact about many of us--we can sometimes be appropriately referred to as "lunk heads!" (My wife's favorite term of endearment for me.) Jack felt, as many of us feel, that he "did not want to bother or impose" on any of us and as such, never asked for help. My suggestion to each and every member of S&D would be this: if one of our Line is struggling with health or financial issues, step in and make it happen. It takes some time and commitment, but it can make all the difference in the world to the classmate and his family! After all, isn't that what being "classmates" is all about?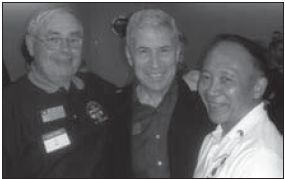 Speaking of Mike Leibowitz, he is running for Monroe Township (NJ) Ward 3 Council on several planks, one of which is "Duty, Honor, Country!" Hooah! Mike has also offered the Jewish prayer for our sick classmates, the Misheberach. Another photo shows Lost 50s, 6th New Cadet Company Beast mates Jerry Cecil '66 (nee '65), Joe DeFrancisco, and Sonny Archangel having a chance meeting at the MAMC Purple Heart ceremony. Those were the days, my friends! Dave Kuhn sent an update that he is doing well and appreciates all the good wishes from S&D. Pat Kenny reported after his visit to the newly opened National Infantry Museum that it is well worth the visit. Bucha is in the CMOH room and Wes Taylor is in the Cold War section as the CO, 1/75th Rangers. They even have Wes' uniform on display. Hooah!

In the last issue, I inadvertently indicated that a photo showing the Csokas, Barkleys, and the Timmermans was taken at "the Timmerman's wedding," when in fact, it was their daughter Tracy's wedding in Fairhope, AL. My thanks to Diane Barkley for pointing out the oversight. I have also added another photo in this issue, since the reprint last time was very dark.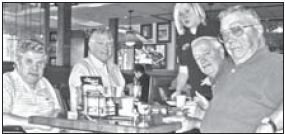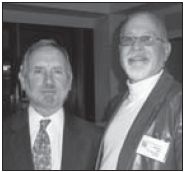 Speaking of reaching out, George Ruggles has been a faithful visitor from his Coos Bay aerie on the Oregon coast for Bob Huffines, who has now lost most of his motor skills but, according to George, the old brain is still running in high gear! Bob can no longer use e-mail so please drop him a note at: P.O. Box 98, Castle Rock, WA 98611. He apparently loves old movies; so if you have any old VHS movies, please send them to Bob or George. George alerted me that he would be seeing Bob, so we had another copy of Ric's DGA photobook printed and mailed to George for Bob. Easy to make these visits special, just takes a bit of forethought. Another photo shows a great close-up of Lew Green and Dave Hurley at an INTECH soiree earlier in the year. Two photos show the DC and Richmond FD class photos.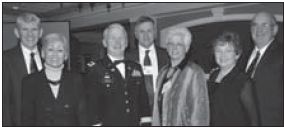 That's it, folks! Stay well, be well and remember to not only keep those e-mails and letters and especially photos coming, but to take the time to smell the flowers and reach out to our less fortunate classmates!