Greetings once again from Chicago! Hope all is well at your end of the Long Gray Line!

Ken Yoshitani reports that planning for the 45th continues at full speed and that his many requests for help and assistance have been enthusiastically met by S&D. By the time you read this, we should have decided on the 45th Reunion weekend in 2010. We are expecting over 500 attendees, probably the largest in Class history. We are planning great programs such as attending classes with cadets (Tom Barron), lunch at Buckner (Hank Mickells), tour of new facilities (Rich Boerckel), Friday social (Joe Barkley), 5K Run and Walk (Paul Schultz), lunch at Kimsey Center (Jim Harmon), Saturday night dinner/dance (Tom Henneberry), Sunday brunch at Cadet Mess Hall (Tom Croak), and fabulous entertainment staged by Step Tyner, Duncan MacVicar, Jack Cooley, Jim Ferguson, Terry Tutchings, Ed Armstrong, Ron Walter, DC Troubadours, and hopefully a host of ladies. Preston Hughes and John McCullough will lead the Memorial Service for our fallen classmates. We have very proactive Company Representatives who are augmenting Chuck Nichols and the Scribe in communicating the Reunion planning to all classmates and widows. Our diligent support team which includes, among others, Tom Kovach, Mark Sheridan, Gene Manghi, Jack Jannarone, Johnny Wells, Howie Reed, George Seaworth, Fred Laughlin, and many more are on a roll. Thanks to all.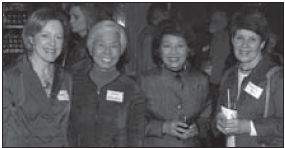 We sometimes forget how much assistance, support, insight and wisdom we receive from our "better halves," so you might consider this edition to be our "tip of the hat" to the ladies. The first photo shows the Class ExCom meeting in Chicago during the Founders Day weekend where we are being briefed by Ken on the reunion plans. Bob Harter, Clair Gill, and Harry Dermody (shown) were joined by other members Bob Frank and your Scribe (not shown) as well as George Seaworth (shown) and Tom Kovach (not shown). The distaff side attended all the ExCom meetings, as can be seen in the next photo showing Marilyn Kovach, Izumi Yoshitani, Mary Harter, and Kay Dermody with their guys. Also attending and extremely helpful were Mary Frank, Sherry Gill, Jill Seaworth, and Cathy Schulze Coll. The next photo shows Mary Harter, Izumi, and Sherry with Patty at the private dinner we had for the Shinsekis on Friday night. We received a very different and insightful perspective by having the ladies sit in and participate in the meetings, especially since many of them had been to nearly all of the previous reunions. Thanks, ladies!

Another photo shows Ric with the Friday night group at the private reception: (Front) Ron Layer, George Seaworth, Art Hester, Mitch Bonnett, Ric, Ken Yoshitani, (rear) Bob Frank, John Roseberg, Tom Kovach, Walt Oehrlein, Tom Croak, Jack Cooley, and Harry Dermody.
On Saturday, Ric & Patty were fantastic, as usual in meeting and greeting more than 200 at the Chicago's WPS FD at the fantastic Medinah Country Club. Because of our significant attendance numbers, S&D was the host for this FD. The Secretary and his lady held a private session with about 25 USMA '13 candidates and their parents, followed by a private reception for the FD sponsors. Benny Havens Hour was followed by the traditional receiving line and then dinner. Chuck Shaw and his lady Lucille Buell are shown with the Shinsekis as well as with Chuck's sister and her husband. The final FD photo shows the Shinsekis and Dermodys with our former classmate, Norm Eckstein & his wife. Norm is a business associate of mine here in Chicago and spent two years with us before departing for MIT (I think). These and many more photos of the weekend can (as of this writing) still be viewed by going to either the class website or westpointsocietychicago.com. One final note on Ric: he will receive the West Point AOG Distinguished Graduate Award on the Plain a few weeks after this writing. We will cover it in a future issue.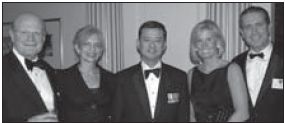 One of the photos shows Jack Cooley looking good at the Friday dinner. Our former piano impresario cum lawyer has had a series of medical problems that now (hopefully) are behind him. As of this writing, he is back home and very appreciative of all the good wishes that have been sent his way by S&D. Our hat is off to the local classmates who have visited Jack at every opportunity and to his lovely daughter Christina, who has commuted from NYC on a regular, and at times, prolonged basis, to make sure the old warrior is well taken care of. Stay well, my friend!

Chuck Nichols established a separate Class Forum via his 6 April eBlast for the many topics that raise considerable interest and participation from S&D, but which also tend to clog up the normal class channels (two of them, the one that I run thru the AOG and the one that Chuck runs thru WP.Org). We want to use for the basic conduits of class communications and ask that all other discussions be had via the Forum. Nice shot of Tim Timmerman's wedding in Alabama sent in by Joe Barkley showing the Timmermans, Csokas, and Barkleys. Hedie & Peter Lounsbury report that daughter Heather has been over entertaining the troops in the Middle East via her tribute band "No Duh." See her website of the same name and look under "Gigs." Additionally, Good Morning America picked her band as one of the Top 10 tribute bands last year. Way to go, gal!
Ralph Hallenbeck reports that he and Rosemary (40 years married and counting) are still in the DC area, where she works for George Mason U. and he for SAIC. Their daughter and Rosemary are accomplished runners, while the former is getting a Ph.D. and will use same as an English "P" at Duke, while Sandy limits his activities to golf. Bruce Clarke's new book Expendable Warriors came out in paperback a few months ago.
That's it, folks! Stay well, be well and remember to not only keep those e-mails and letters and especially photos coming, but to take the time to smell the flowers!