Greetings once again from Chicago! Hope all is well at your end of the Long Gray Line!
Ken Yoshitani and Tom Kovach are making great strides regrading the 45th and are receiving across-the-board support from a large number of S&D, which is making their job easier. These reunions require an enormous amount of time and effort, so if you are so inclined, please contact Ken or Tom and offer your assistance. Also, they have been sending out regular email updates, so if you have not been receiving them every few weeks, either check your spam filter (e.g. Bruce Marshall) or sign on to either my (AOG) or Chuck Nichols' (WP.ORG) list. As we get closer to the reunion, this will be the only effective way to communicate in a timely manner. If you are technically challenged, have one of your kids or grandkids set it up for you. This is also the best way to handle death notifications and S&D notices of illnesses.
More accolades to Ric for his recent selection as a Distinguished USMA Grad. He will join several other notable grads on the Plain on 19 May to receive these well-deserved honors. Congrats again, Ric. We had Ric & Patty here in Chicago for Founders Day in March. More on that in the next issue.
We have mentioned this previously, but we have been making a serious effort to reach out to all of the families and widows of our fallen comrades in an effort to reconnect them to the class via the reunions. To better facilitate this effort for the 45th, Chuck McCloskey has agreed to take over the coordination of these efforts so that we have one focal point for them all. If you have maintained contact with any of the widows or family members of deceased S&D, and you have not been in contact with Chuck by the time you receive this issue, please contact him before making any effort to communicate an invitation to the 45th. These situations usually take time and patience and need to be carefully coordinated so that we do not have too many classmates making contact with the same person. I can tell you from my experience at the 40th, that although it took some time and patience to convince one family to attend and then coordinate all the arrangements, it was perhaps the most satisfying part of the reunion for Cathy and me, as well I believe, as it was for that family. So, if you know of someone who might be in this situation, please let Chuck know.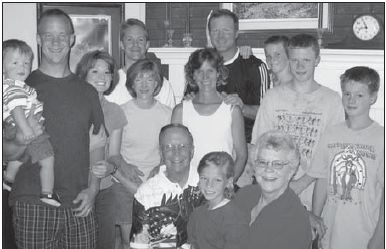 Received some nice holiday cards also. An included photo shows the extended Pickler family, all of whom are doing well. Son Jeff will get a graduate degree at Columbia and then be assigned to WP, while other son Andy works on an MBA and his wife/doctor teaches at U of Colorado while working on their ten year plan to build a home on their acreage in Golden. Mark & wife Nevelyn (always liked that name for some reason) are in the house-gutter business while raising four (ages 15 to 9). Here's the interesting line from Karen: "John returned to working full time for Bechtel...." Does anyone remember him ever not working full-time? Just asking. Pete & Heidi Lounsbury have moved to Roosevelt, UT, after the man grew tired of retirement and was lured back by Halliburton, where their son also works (same town, actually). Oil boom in Utah anyone?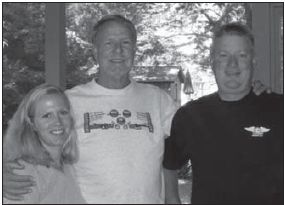 Tom Abraham is doing quite well after his extensive heart surgery and was inundated by e-mail, letters, and "lots of love" as he describes it, from his "band of brothers" S&D. Tom White passed away in February on the eastern shore of Maryland. Jack Thomasson, who lived within minutes but was unaware of his classmate's proximity, stepped forward to represent the class at the services that were held later in March.
Buddy Bucha was in Chicago in February to give a speech for the CMOH Society, which we are bringing here in September. We also heard from Joe Anderson who seems to be on the road all the time, running his companies that are spread out across the globe. He was ranked third largest black-owned company last year by one listing on the site. Check it out at www. tagholdings.com and see the nice bio of our former president under "CEO." Could wedding bells be in the offing?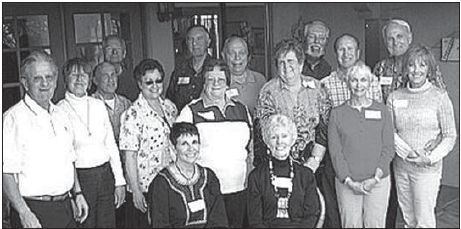 And as usual, we have some great photos. Rick Bunn sent the first one of the Arizona S&D group meeting at Mickell's home in NE Tucson. Joining the hosts (Hank on far left, Trina seated right), were Judy & Lowell Lawson, Ron & Janice Walter, Jim & Cissy Coughlin, Larry & Jacki Clewley, Rick & Donna Bunn, Bob & Cyndee Hill as well as BJ & Dyanne Mogan. Great letter, great photos, thanks Rick! When you get an update and photos from Merges, you just know it is going to be a good day. The big man retired from a career in financial planning in 2006 just before all hell broke lose and left Florida for Flowery Branch, GA, where he plays softball and works out in order to keep up with the seven kids and 17 grandkids, most of whom are in Ohio. He & Peg travel a lot in between his substitute teaching duties at the local high school. The other photo shows Jerry and his namesake son and daughter Sam. I now know two folks in Flowery Branch, Jerry and my brother Ed. Jerry, I get down there from time to time, so expect a call next time. Jim Hennon just returned from London and is looking to help his new lawyer-son get a start in Boston.
That's it, folks! Stay well, be well and remember to take time to smell the flowers!