Greetings once again from Chicago! Hope all is well at your end of the Long Gray Line!
Our 45th Reunion CinC, Ken Yoshitani ably assisted by Tom Kovach and many others, are well on their way to making this one of the best reunions ever. Company Rep volunteers have come forward to help coordinate everything at the company level, Chuck McCloskey has stepped forward to coordinate getting as many widows and other family members of our lost comrades to attend and our new Historian Bob Frank is working on updating the Class history These reunions require an enormous amount of time and effort, so if you are so inclined, please contact Ken or Tom and offer your assistance. As of early January, the Class Survey results (about 158 responses) indicated that a majority (88%) wanted the reunion to be at West Point, where it will be held. Football weekends vs non-game weekends were still awaiting the 2010 game and parade schedules. Stay tuned.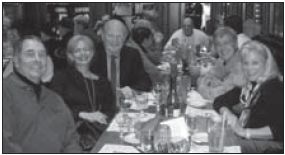 Ken & Izumi also reported that she spent the first half of 2008 with their son' Shaw's family at Leavenworth and WP, while Shaw was in Afghanistan and his wife Gail completed her PhD. Shaw now teaches Math and Gail teaches History at our Alma Mater while their other son Dunn and his wife Laura are in MN. Our Reunion chief is still in to dancing contests, which explains my awe when I saw them dance at the last reunion.
A final reminder that the new Secretary of Veterans Affairs, our own Ric Shinseki, will be the guest of honor and speaker at the WPS of Chicago Founder's Day Dinner scheduled for Saturday, March 14th, 2009 at the historic Medinah Country Club. We will also have a Class dinner that Friday night at a venue near Medinah, which is located in a western suburb of Chicago.
Some of you may have wondered why Ric would take on this most difficult task. In his note to our Pres Clair Gill, thanking all who had sent him congratulatory notes (and which was emailed to all classmates on our mailing list), Ric said it this way: "I had absolutely no plans to return to government (service) ...I personally felt that a former Chief of Staff still lived with the oath taken while serving ... I was asked to make a difference for veterans ... Knowing something of (their) challenges ... I have no idea how big this elephant is, but I intend to take it apart a bite at a time and put it back together in a way we can all be proud of...."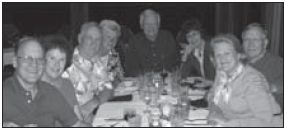 I am just now catching up with some mail from early last year, so my apologies for the delays due to the Mini, etc. At a gathering (#1) in Natchitoches, MS (I won't even go into the pronunciation), Bob & Diane Doughty hosted Keyes Hudson and his friend Jane Green, Bob & Mary Frank, as well as Larry & Sue Bryant with a splash of French, Spanish and Creole cultures and cuisine, all on display at the Doughty's new home there. Our thanx to the on-going efforts of Terry Ryan and Ross Wollen to make sure our Forum gets restored back to original after all of the construction work around it. Chuck Shaw reported on his visit to WP for the 50th anniversary of 150 Pound football (now called Sprint football and never played by 150 pounders, but who's weighing in anymore any who??) where he dined (#2) with his lady friend Denia, Dave & Rose Kuhn, and Jack Jannarone. It was also Pete Dawkins Day and in addition to retiring his number, everyone got a PD bobble head doll, a cherished possession sure to find a place in Chuck's memory closet! [Ed. Note: I can still vividly remember the 150 pounders on the very upper rows of the very hot and steamy steam rooms on Thursdays after classes trying to make the 149 pound (did I get the day and weight correct?] weight by Friday.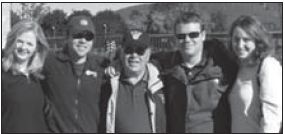 Steve & Anne Harman now live in New Bern, NC (in the eastern part of the state with access to the Intercoastal waterway) on a golf course after retiring from Northrop in 2005. They have five married kids, nine grandkids and a daughter getting married in November. The photo shows Steve surrounded by Kimberly, Jim, John and Kristy Kettles at the Class Forum. Bruce Clarke (representing Raytheon) ran into Kurt Adams (who still works AFCEA) at the MILCOM conference in San Diego last November. Received a nice note from Alex Alexander who founded a business coaching network in the U.S. as well as Australia and New Zealand using a "Full Spectrum" program.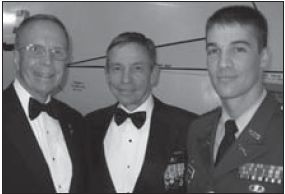 Pat & Alice Kenny were dining at Hilton Head when they saw Dan & Nancy Benton walk in. Small world. Dan, if you read this, how about an update? I really appreciate those of you who help with some of the tougher aspects of keeping track of everyone, like finding lost class emails. Our thanks to Fred Smith for this and several other successful efforts that resulted in contact info that we were missing. Ross Wollen attended a breakfast for the new CENTCOM CG, along with Buddy Bucha, Reg Dryzga, Tom Barron, Jon Thompson, and Paul Kantrowich. Unfortunately, no photos were taken. Speaking of GEN Petraeus, Barron did get a good photo of him, his son Thomas, and John Pickler at another dinner in NYC, this one on the Intrepid, in December. Thomas is a senior at Harvard and will be commissioned in June (wait a minute, Tom, since when did Harvard reinstate ROTC?) hopefully as an Infantry leader going to the 173rd or the 82d.
Wes Taylor is off to Baghdad for most of 2009 where he will head up the SOSI program (not sure what the acronym stands for, sorry).
And now for some 2008 Christmas newsletter updates. Bob & Pauline DeLaar joined the peripatetic travelers within the class, with several overseas trips with a group called OAT (Overseas Adventure Travel) to Australia, New Zealand, and Turkey. Preston & Sandy Motes wrote from Sandy, UT, that in addition to enjoying seeing all of their grandkids (If I counted correctly, there are six, ranging in age from 14 down to 21 months), they also enjoyed their trips to Myanmar (formerly Burma) with their Episcopalian bishop, Palm Springs, Kauai, and Las Vegas for the mini.
That's it, folks! As I stated in my late 2008 e-mail to everyone, if you know of anyone who does NOT subscribe to ASSEMBLY, please encourage them to do so. Even better, front the $35 so that we can keep ASSEMBLY and AOG Publications a vibrant entity. Stay well, be well and remember to take the time to smell the flowers!