Greetings once again from Chicago! Hope all is well at your end of the Long Gray Line!
Another reminder that Ric Shinseki will be the guest of honor and speaker at the Chicago WPS Founders Day scheduled for 14 Mar 09 (I had the wrong date in last issue) at the historic Medinah Country Club, site of several U.S Opens and U. S. Senior gollfng events. We will also have a class dinner that Friday night at a venue near Medinah, which is located in a western suburb of Chicago. Invitations and e-mail will have been sent to all '65 on record at the AOG in the upper Midwest (IL, IN, WI, MI, IA and MN). If you want to attend and did not receive an invite, please contact me by email when you read this and I will send you the details. We are making arrangements for all to stay at a hotel near Medinah for those coming in from a distance. Should be a GREAT time for S&D!

Speaking of Chicago, our own Ken Yoshitani will head up the 45th Reunion Committee and will be ably assisted by another Chicagoan (although on his way to Vegas for retirement as soon as they sell their house here) Tom Kovach. These reunions require an enormous amount of time and effort, so if you are so inclined, please contact Ken or Tom and offer your assistance.
From time to time, you folks send me photos (which I love receiving) and they somehow get misplaced at my end. It doesn't happen often but it does happen. There is usually a 90-120 day lag between my cut-off and when the photos are usually published. This can be longer if I have a large number of photos--my limit is seven per issue. So, if you think that a photo that you sent might have been misplaced, please let me know. One such lost photo is the one showing our Pres and the contingent from the DC FD. Sorry for the delay.
Roy Garms was reading the May issue of the Smithsonian and saw mention of Preston Hughes on an article concerning Kosciuszko, MS. Roy reports that he is still consulting for Exxon, most recently in the Mideast, although he has been retired for more than eleven years and commutes from his New Jersey abode to spend two weeks every month on Exxon consulting business.
A "good news" story comes from Jim Greene, who reports that his cadet saber disappeared in 2002 after the wedding of his third child who had used it to cut the cake. It seems that a Jerry Sisk (of Anderson SC) bought the weapon at a flea market and some years later, decided to track down this James Peter Greene dude of the Class of '65. He contacted the AOG and like magic, the family heirloom was returned gratis. Our Pres wrote Mr. Sisk expressing the appreciation of the class.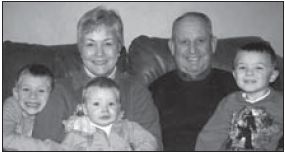 We were saddened by the loss of Fred Eichorn's beloved wife (of 43 years) Karen last September. A service was held for her at Arlington. I received a nice group photo of the '65 DC Picnic at the Ryan's but unfortunately, these far-away group shots don't reprint well in ASSEMBLY. More shots are available at the class website. We were thinking about traveling to La Crosse, WI, to do some fall biking and saw that Mike Shaver lives up there. Never made it up but did get a brief on what he has been up to. He retired in 1990 and began to work as a Student Affairs Administrator for UW-La Crosse, after which he started work as a contract facilitator for the Army's Warfighter Exercises for BCTP, which he continues to do 6-7 time/year. He & Rose Anne have four kids spread all over the place, but were able to get the nearby photo with three of their five grandkids.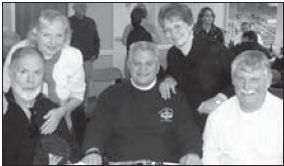 Joe DeFrancisco is the newest member of the West Point AOG Board and received the highest number of votes in last fall's elections. Congrats (I think). Wes Taylor has taken a break from the non-profit sector, stepping down from the Marshall Foundation earlier in 2008 and is now in Afghanistan working a literacy project for the Army. He used the intervening time to help his daughter deal with a potentially terminal immune deficiency illness of his little grandson Caden. Wes & Linda's son just returned from Iraq and his daughter, an activated Reservist, just returned from a year in Afghanistan. Stay well, my friend.
We always like to hear the great stories of S&D helping S&D, and here is another one. It seems Jack Terry (a recruited fullback as I recall) has been dealing with Parkinson's and, although only an hour from WP (Sullivan County, NY), has been unable to see his beloved Army team. His old roomie, Tom Abraham rose to the occasion and, with the assistance of Joe Sanchez, Ed Knauf, and Jim Tomaswick, received the VIP treatment at a game this past season, complete with 50 yard-line seats, etc. Our hats off to you guys and to Sue, Jack's loving mate whom I still remember fondly from my last visit many campaigns ago. Great job, guys!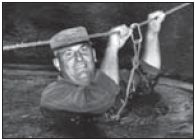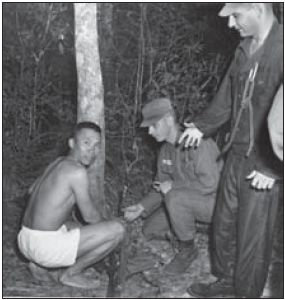 Finally, Chuck Heindrichs sent several great photos from Ranger School. One shows Tom Cindric doing the infamous river rope crossing. Another shows Sonny Archangel talking to Chuck just before the same river crossing exercise. Unfortunately, the best photo of the lot shows none other than Tom Carll at the same exercise but because his cute little tush is right dead center in the shot, I doubt it would be published. I'll see if we can get these up on the class site. Chuck has retired after 27 years as Corporate Safety Manager for Eaton in Cleveland, where he now lives. He has three kids, a daughter in Raleigh, NC, another daughter in Cleveland and a son in Columbus. After a knee replacement curtailed his 36 years of tennis, he got serious about the guitar and now plays regularly. Thanks for the photos and great update, Chuck.
That's it, folks! Stay well, be well and remember to take the time to smell the flowers!