Greetings once again from Chicago! Hope all is well at your end of the Long Gray Line!
First, a few admin details. Army-Navy game arrangements are on, according to Sanchez and the boys. Renaissance Airport hotel. You should have received mailers with all the details. If not, let me know and I will get you the info. Lots of catch-up info this time, since we concentrated on the mini in the last issue.
We have received confirmation that Ric Shinseki (and hopefully, Patti) will be the guest speaker at the Chicago WPS Founders Day scheduled for 14 Mar 09 at the historic Medinah Country Club, site of several U.S. Opens and Senior golfing events. It also looks like we will have our first annual Class Officers meeting that same week here in Chicago. If you are so inclined, contact me (see below) for invitation information about the FD arrangements. We would love to have a great S&D turn-out for the "Chief."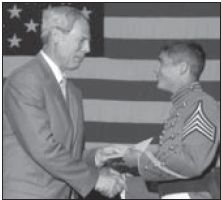 It's always nice to know that you guys are out there helping us keep in touch with classmates and their families. Our thanks to Fred Smith for sending us the latest addresses for Donna Griffith (Bill's widow living in Cincinnati) and Cathie Metzner (Ladd's widow living in Cantreville, VA) as well as Chuck Wuertenberger's son Brad van Spriell (living in St. Paul).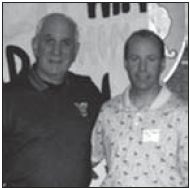 From Texas, we hear that Jon King is in the networking business, big time. More than 40,000 people have attended his gatherings according to the Houston Chronicle. Just before the Mini, Skip O'Donnell joined son Chip '92 at the Ft. Hood Founders Day. Our president, Clair Gill, is shown in the photo presenting the Arvin Award at WP. Clair also reported that he joined Gene Manghi, Ross Wollen as well as Ron Floto and Ron's sister at the memorial service for Jay Stevison in May. Ron's sister was Jay former's wife and mother of their three children.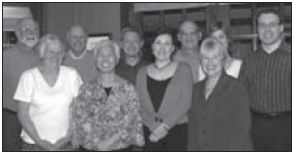 Bruce Clarke, returning from Sicily where he gave the keynote address on the 65th anniversary of the invasion of Sicily (where his father was KIA), ran into Bob Doughty, who was returning to his new home in Louisiana after presenting a military history paper in France. Small world. Another photo shows a Chicago dinner for Judy Hemmingway and her son (Chuck) and his wife, who have recently located to the Windy City where he works for Sara Lee. Joining them were: Jack Cooley, Tom & Anna Croak, Ken & Izumi Yoshitani as well as the photo sender, Tom & Marilyn Kovach, who apparently are moving to Las Vegas soon.
Speaking of Izumi, great photo of her in the local Chicago paper "practicing her moves at a senior citizen yoga class" although we here all know she was more likely praying to the good Lord to give her the patience to put up with a retired Ken for a few more years. Unfortunately, we could not re-print the photo without many releases! In the "how do you know we are getting older?" category combined with the "we still got it" category comes the story of a hobbled Mark Sheridan making that extra effort (with a lot of help from Linda and a be-caned Bob Frank) to attend the Mike Deems memorial service last winter after tearing a calf muscle and blowing out his right knee (again). Now that is impressive! Congrats are in store for Bob Frank, who joins the Class Board, as well as to our out-going Board member, Ross Wollen who served the class faithfully for many, many years. Can it be 12 years since Kala Kukea was taken from us in his prime? The 12th Annual Regatta honoring Kala was run in April on Maunalua Bay, as it has been each and every year.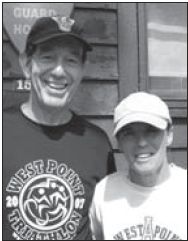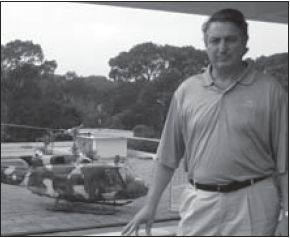 Phil Cooper was laid to rest at WP in June in the company of John Alger, Claude & Leslie Fligg, Tom Henneberry, Ed Knauf, Gordon Larson and Marjorie Marlin, Gene Manghi, Mert & Georgia Munson, Joe Sanchez, the Sheridans, Rick Sullivan, Jim & Maria Talbot, and Jim & Carol Tomaswick. As some may recall, Phil was the Honor Grad at Ranger 2. Rest in peace, dear friend! (N.B. There apparently was a mistake in the name of the Scholarship Fund established in Phil's name--it should be the Cooper Scholarship for Mathematics at River Ridge High School, New Port Richey, FL, 34654). From Vermont comes the report that the WPS president, our own Lloyd Briggs ran a full marathon with his son. Unfortunately, it was dark when he finished, but he DID finish. His time was not recorded for posterity. Doug Gibson assists his with society business.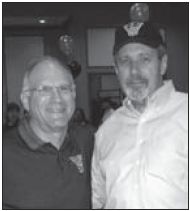 One of my former roomies hung up his spikes and was treated to a spectacular two month tour by his former partners. Bob & Michele Axley traveled from Hong Kong to Singapore with a stop in Saigon where he is seen on the roof of the old Presidential Palace with a Huey war trophy in the background. Another old friend is shown in the next photo--Roger Frydrychowski and Gene Parker are shown at last year's Army-Navy festivities. One last photo that didn't make it earlier in the year shows Paul & Sabine Schulze with their WP shirts on at Camp Buckner.
Stay well, be well and remember to take the time to smell the flowers!