Greetings once again from Chicago! Hope all is well at your end of the Long Gray Line! Lots to report this time around so let's start with the 2nd Mini in Las Vegas. By all reports, Skip O'Donnell and his C/S Marilyn did a great job organizing this event. Here is his edited report.
The entourage arrived at the Orleans Hotel & Casino on a rare stormy Wednesday afternoon to begin the four-day mini with more than 100 classmates, spouses, and friends.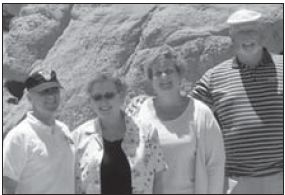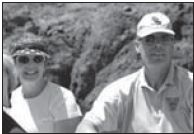 The three scheduled events-Wednesday night Benny Havens, Thursday morning breakfast and Saturday night class dinner--were planned so that everyone would have maximum free time to enjoy the sights and sounds of the Vegas area. Many classmates had made prior reservations with other classmates to see some of the top-notch Vegas shows or they took walking tours of the major Strip casinos and other sights. Others participated in preplanned Red Rock Canyon and Spring Mountain Ranch caravans, the golf outing on Friday morning and/or the Hoover Dam/Black Canyon Colorado raft trip on Saturday morning.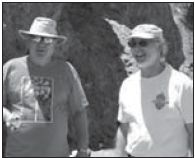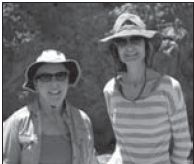 Twenty-four classmates and wives followed Marilyn, assisted by Frank & Kathy Meier to the world famous Red Rock Canyon where they marveled at the beautiful red sandstone formations. Marilyn, who also serves as a docent there, gave a wonderful walking tour of the Spring Mountain Ranch, where the history of Howard Hughes' involvement and the Krupp Diamond were explained. Wild burros that roam around the ranges were also spotted.
Twenty-three classmates and several wives--Mary Frank, Sherry Gill, and Kay Dermody--went to the Siena golf course to compete in the class golf outing. Many of the golf course tee boxes overlook the Strip some 15 miles away. The famous Las Vegas Valley high winds posed a challenge for the last hour of play. Carl Letterie bested Hank Michaels after a 20-year break in their on-going "one on one" competition, but Hank won two of the "closest to the pin" competitions. Larry Bryant and Jack Turner won the other two closest to the pin awards. Sherry Gill won the ladies' Longest Drive and Barry Zais won the men's.

At the Benny Havens hour, Tom Kovach exhorted all to come on the Colorado raft trip to see the Big Horn sheep, eagles, beaches and hot water spots along the river. Twenty-seven eventually went on the trip. They were rewarded with a Big Horn sheep sighting as well as enjoying the spectacular Black Canyon and other geological features.
When they were not going to the shows or preplanned trips, most classmates and their spouses rode out to the Hoover Dam/Lake Mead area to enjoy the engineering marvel built in the 1930s. John Swennson, that old smooth-talking devil, took his wife and some of the ladies around Las Vegas to the various shopping venues.
Ed & Susan Knauf surprised all by getting their pal Elvis to come to our dinner for a performance. Sandy Thames got lucky on the video poker machines and won $1,000. The hospitality room was well attended and many classmates and wives renewed old friendships and made new ones. We all enjoyed Doug Sikorski's first reunion visit with us.
Many classmates made the side trips to Arizona-Phoenix, Sedona, Flagstaff, and the Grand Canyon; Utah Zion, Bryce Canyon and the Grand Canyon North Rim and even to Death Valley, CA, before or after the event.
Please check out all the reunion photos on the class website under the mini reunion link. Send more to Chuck if you have them.
I know that I speak for the class in extending our thanks to Skip & Marilyn and their co-hosts Frank & Kathy plus Jim & Cathy Holmes as well as to Bob Radcliffe and Tom Kovach for organizing events. Chuck Nichols, as usual, did a great job getting the word out. All in all, sounds like a great time was had by all!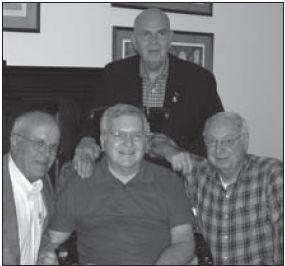 Just a few days after this mini ended, we were reminded once again of the tenuous nature of life by the passing of the "star" of our last mini, Ed Klink as you may recall, was called into action at the Santa Fe Mini as the "resident guest artist" and surprised all by the quality and quantity of his artistic efforts. He passed after a long and valiant battle with lymphoma. His life and accomplishments were saluted in his hometown Indianapolis in early July, well attended by S&D I might add! As Joe Sanchez mentioned, Ed really was a "good guy" and will be missed. He is survived by his widow Sheila, a son, two daughters, and six grandchildren. As some may recall, Ed's first wife Judy and mother of the kids, was Mike Huston's wife Joanie's sister. The next photo shows a hale and hearty Karl Plotkin being visited by Bob Harter, Chuck Boohar, and Joe Sanchez in June. They reported that Karl is handling his battle with ALS in a "fantastic" manner and is attitude was "inspiring" to them all. The old closet Gray Hog also likes the WP memorabilia, as you can see if you look carefully in the background.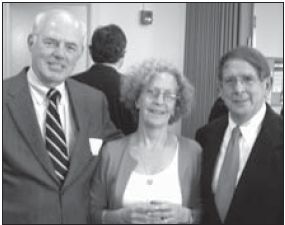 Bob Frank has replaced Ross Wollen on our Class Board as Historian. Our thanks to Ross for his many years of devoted and active service.
We'll close these "Class Notes" with a photo of Sonny & Sherry Ray at his retirement party standing next to some oddball local politician from Ft. Bennng, Pat Kenny or something like that.
Stay well, be well and remember to take the time to smell the flowers before they are on top of you.