Greetings once again from Chicago! Hope all is well at your end of the Long Gray Line! Let's start off with some good news, since the last few newsletters started off on sad notes. During a recent R&R to San Diego, Cathy & I spent some time at their lovely home overlooking La Pacifica with Dave & Rose Kuhn in Laguna Beach. Contrary to previous reports, our former president looks good and says he feels good. At that time in April, he was still on the oral chemo medications, which he will probably have to take until the fall. He will also have another bone marrow biopsy in between. You all have heard me say many times how mutually beneficial our "sharing" can be, and here's several more examples. After reading my eBlast about Dave's condition in April, Jack Cooley responded with some keen advice on a foundation that he has used to dramatically cut his med's cost. Dave LaRochelle referred Kuhn to a V.A. hospital associated with a university resident training program. Pete Lounsbury also deserves a big salute for keeping us all in the loop as he keeps a watchful eye on Dave's treatment. Get the info to me, I will get it out to everyone and we all will be better for it!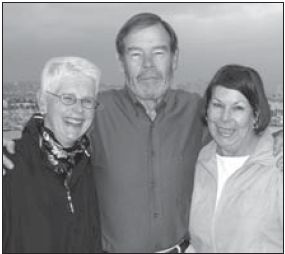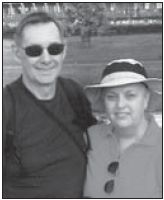 While in Southern California, we were guests of the peripatetic Bob Bradley, shown here with his sister Pat and my Cathy, at Pat's house overlooking the San Diego Bay. Bob lives in his parent's house at the top of Point Loma, also with a spectacular view of the Bay, while settling his father's estate. Nice place, this San Diego. Nice people, these Bradleys. Bob & Pauline deLaar sent the next photo at the Angkor Wat temple after their visit to the King's (of Thailand) birthday bash. Talk about peripateticism, if there is such a word, in 2007 these two visited Boston, Antarctica (to celebrate Pauline's retirement?), Buenos Aires, the Drake Passage, New Jersey, Connecticut Pennsylvania, West Virginia, Tennessee, Georgia, New Mexico, Texas, (Paint the house), Colorado, Florida, South Carolina followed by Australia this May! I'm impressed.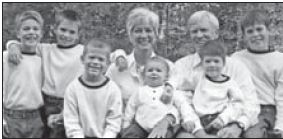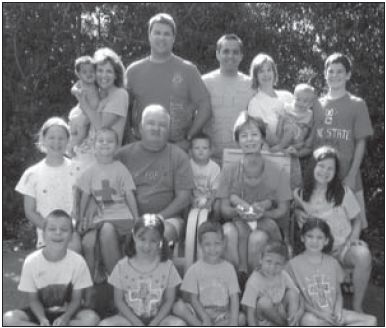 Next photo shows former Pres & his lady with their six grandsons. Fred & Maralee Laughlin are obviously hoping for a cute little "Colleen" one of these days, but in the meantime, they enjoy visiting their son Ryan & his Heather in St. Louis, where he is the Senior Pastor at Covenant Presbyterian Church, as well as other son Reed & his Kathy in Olney, MD, where Reed works for a financial planning firm. The annual Moseley family photo also arrived showing Chuck & Cathy and their (count them) 13 grandkids. Their move to Wake Forest, NC, after Chuck's retirement last September, has taken some adjusting. But because they are close to their son and daughter and their respective broods, life has become very hectic.
Kent & Sherry Lee Brown are retiring again and moving from Idaho back to Fairfax, VA, where some of their kids live. Last June, their son Jeff took command of the USAF's 29th C-130 Weapons Squadron in Little Rock, where a very proud mom and dad were recognized during the CofC ceremony. Dean Loftin has completed his Purple Heart story (1978 in southern Lebanon) that can be found on the Class site. In the "Did you know..." department, there was a neat article at "Snopes.com" last winter about "Christmas at Arlington Cemetery" explaining how the Worcester Wreath Co., Harrington, ME, has, since 1992, donated 5,000 Christmas wreaths (plus transportation) that are placed on the gravesites at Arlington. As we look for interesting things to do with our retirement years, might this be something to consider?

Rick Bunn sent the next photo from the Mesa Country Club of the first annual, pre-Super Bowl S&D Tucson-area, get-together showing Lowell & Judy Lawson, Ron & Janice Walter, Bob & Cyndee Hill, Jim & Cissy Coughlin, Dennis & Diane Hawker, Hank & Trina Mickells, as well as Rick & Donna. I received a nice article about our former classmate Vernon "Scrappy" Matthews which appeared in a fitness magazine last January, as well as a brief obit, shortly after his passing in Biloxi. Speaking of Steve Leach, who sent the info, Steve retired from Square D in 1998 and lived on a tree farm in Virginia, where he owned and managed 500 acres of loblolly pine in various stages of growth (just in case you were wondering) until 2004, when he moved to Knoxville, where he plays golf four times a week. Like all of us, Steve hopes that The Army Team will make us all proud one of these days.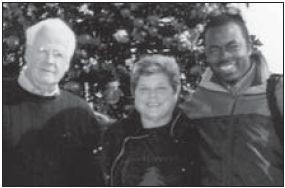 We had great attendance at Chris Deems memorial service at WP in January. According to Joe Sanchez, BJ Mogan, Sonny Arkangel, John Saolomone, Jim & Carol Tomaswick, Tom & Ina Abraham, Fred Smith, Chuck Boohar, Don Rowe, Barrie & Linda Zais as well as John & Linda Concannon represented S&D admirably. We still have heard nothing about the whereabouts of our classmates Paddy Donovan and Mike Shulick--now I just know that one of you guys out there has at least some idea of where these guys were seen last? Let me know. Bob & Barb Anderson sent along the next photo of them and their Cameroonian friend Pierre Bouda, with whom they worked in Africa. Art & Terri Mark are the proud parents of daughter Teresa Rose, who graduated summa cum laude from the U of SC Honors College in biology before moving to Johns Hopkins Medical College. Art and his son Joe traveled to RVN for his son James' wedding in Hue to his bride, Thao, last December.
Our thanks to Jim Tomaswick for volunteering to work with your scribe on the effort to maintain and even improve our on-going class effort to stay close to our widows and orphans. I will remain as "point" on the effort. Buddy Bucha, in addition to his great work with the CMOH Society, is heading an effort to get WP Classes and Societies to offer assistance to local USAREC Recruiting battalions. It will take some work and lots of communication, but seems to be taking hold with the Greensuiters, at least here in Chicago. '65 is backing him 100%! Speaking on S&D backing, our heartfelt thanks once again to Tim Timmerman for his extraordinary efforts to represent us at the February services for Jay Stevison as well as serving as "point" with Jay's family.
As previously reported by Chuck Nichols and John Thompson, Kendall Lemley passed away unexpectedly in at his home in Williamsburg, VA, last February. He had served, with distinction, as an Armor officer for 28 years, including two tours in RVN, where he served as both a tank commander and a UH-1 pilot. He will rest in peace in his home town of Hope, AR. Finally, Raytheon awarded our own Don Nowland with its 2007 ACE Business Development award at their annual dinner in Orlando in March.
That's it, folks. Please keep those cards, letters and photos coming.