Greetings once again from Chicago! Hope all is well at your end of the Long Gray Line! We start off with some sad news. Jay Stevison, an old C-1 file, passed away in February after a long battle with cancer. We were fortunate to be able to have Tim Timmerman hustle back from caring for his elderly parents to represent S&D at the Memorial Service. We had no other classmates in the area who could answer the call to act as our "point man" and as such, Tim's quick reaction was much appreciated by Jay's family and our entire Line! Jay's ex-wife Leslie, and the kids have indicated that they would like to hold a Memorial Service for Jay at WP, as well as tour USMA themselves, later on in the year. Our class president Clair Gill will act as "point" and assist Tim and Ross Wollen to make all of this happen at the appropriate time. Thanks, guys. Great job on very short notice!
Phil Cooper lost his battle with cancer at his home in Bayonet Point, FL, in January. Mert Munson, our "point man," reported the death and that Phil's widow Darlene plans a June memorial at West Point.
Kendall Lemley passed away in Williamsburg in February and was memorialized at a service in Hope, AR, shortly thereafter. Unfortunately, we were unable to find anyone in the area to represent S&D, one of the first times this has happened in a long time.
Also leaving us unexpectedly in January was Mike Deems. Mike's family desires that we honor Mike's spirit of being a private person, which we have done. John Mogan and Joe Sanchez acted as "point" for Mike. We will miss all four of these guys.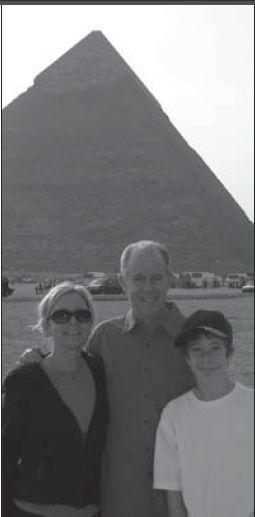 This is probably as good as any a time to review our relatively simple (and historically effective) method to insure that we have representation at the services for one of our classmates. First, if you hear of a death, immediately contact me, or any one of the class officers. If on or just before a weekend, please call if you do not hear back via e-mail within an hour or two. Second, I will try to track down a classmate(s) in the area or ask for volunteer(s) to act as "point." Simultaneously, Joe Sanchez will make sure that our class flower arrangement gets to the funeral home/church, etc. on time. Third, we ask that the "point" make contact with the family and offer assistance as necessary. For example, if they want to have a service at WP, donate the class ring, etc.--get the details and pass them on to me. We will handle any requests for assistance from there. Finally, we would ask the "point" to attend the services as the official Class Rep and try to ascertain follow-on, detailed contact information for the widow or NOK, any suggestions on classmates or friends close to the deceased who might be a candidate to write a Memorial Article, etc. By adhering to the infamous "KISS" theory that we all learned on the Plain, we can continue to make our passed classmate's last formation one of respect and appreciation. Your continued participation and assistance, when called upon, is really appreciated by all of the class officers, especially this ole scribe.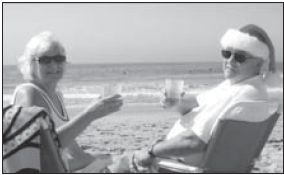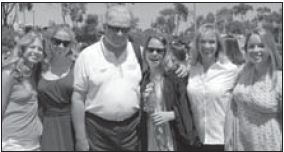 One photo shows Pete Lounsbury and his lovely Heidi lounging on the beach at Santa Monica, where he is still involved with his vending machine business and she is the president of Newcomers in their area. Steve & Cathy Ellenbogen have taken a year off to visit and live in Europe with their son Jake. All are shown here on a trip to Egypt. Dave & Peggy LaRochelle's daughter Natalie, shown to the left of her parents and with her sisters Leah (17), Maggie (21-the graduate), and Flynn (23)--other daughter Tiffany was unable to attend--will participate in the Olympic swim trials this summer in Omaha. Not bad given her bout with Ebstein Barr Virus, the same virus that our own Bill Sherrell struggled with during his senior-year football playing days. We wish her well. The LaRochelle's will have four in college/grad school with no plans to retire from his Napa Valley M.D. practice.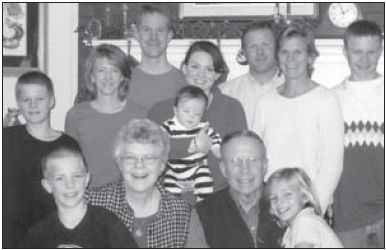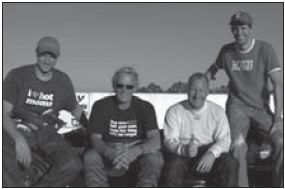 Bob Bradley reported that when the Navy converted the NTC-San Diego into a military/civilian housing, shops, etc. area and you could buy paver-bricks to fund the effort, he was able to sneak in a "Beat Navy--S&D USMA '65" paver as well as one for our fallen First Captain. Nice touch, Robert! Steve Darrah reports that he is still racing his cars and in fact, beat the "arrogant butts" off his two sons in the 12/07 Roos Enduro race. As previously reported, John Pickler is back in CONUS and is "holding put" while he catches up on his many "honey do's" for Karen. The great photo shows them with their family centered on new grandbaby Everett, counting the days until his dad, Jeff, returns to meet him from his tour with the 173rd in Afghanistan. Suzie Scholl reported that after spending a month back home in Wisconsin, she started a business designing jewelry sold through a boutique in Long Beach.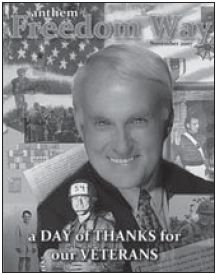 Jim & Diana Webb reported from Cibolo, TX, that after a scare with breast cancer in 2007, they are back to full speed and have enjoyed a trip through the Panama Canal as well as several RV trips to visit family and friends across the country. Diana has taken up, and is doing very well, at her new hobby--photography, while Jim concentrates on giving their hard-earned money to the regional casinos. Our own John (BJ) Mogan was selected to represent all veterans in his community just north of Phoenix, as can be seen on the next cover photo sent in by Rick Bunn courtesy of the local photographer, Barbara Stitzer. Thanx, Rick and Barbara.
Jay & Sharon Vaugh are shown in the last photo at the Grand Canyon a few months ago, after a trip from their home in Sierra Vista, near Tucson, AZ. Jay hung up his boots in 1993 and taught math at the high school and junior college level, an interesting irony, says he, after his "less-than-stellar" plebe math exploits. He also worked for Ron Walter, who as previously reported, does a lot of work for the Spook School at Huachuca and who, according to Jay, "is one of the most upbeat people you will ever meet!"
The class officers have asked Chuck Nichols and I to look at how we use the two Class web nets (the AOG list, which I run, and the WP.Org which Chuck handles). The request came about after the long-running discussions on Army football, global warming and others dominated both nets over the last six months. If you have any opinions, please send them to Chuck or me, or one of the class officers. We will get back to you with a proposal after this situation has been totally vetted.
That's it, folks. Keep those photos and letters coming.