Greetings once again from Chicago! Hope all is well at your end of the Long Gray Line! Sad news to report. As many of you know, we lost Don Kurtz after a long and valiant battle with Alzheimer's. We had good attendance at the memorial services, first in Philly and then at the Academy, where more than 20 classmates and their spouses participated. Ric eulogized his old roomie with these most appropriate words: "Don Kurtz was a good man. He marched to his own drum, and we loved and envied him for it." Joe De Francisco also lauded Don when he noted that he wanted young 2LT Kurtz as his Ranger "buddie," because he knew that Don would "find a way to make it through (Ranger School)." Both eulogies can be found at our class site aogusma.org/class/1965. This Scribe's lasting thought of my good friend and classmate from Pennsylvania is as dynamic and clear now as it was at our 40th that evening of the class party at the Thayer Hotel-Donnie dancing merrily and obliviously with any and all females within his orbit. Rest well, dear classmate! And to his beloved Roz-you have shown us all how love, caring, and compassion can make one's last days on this earth as meaningful as possible under any circumstances!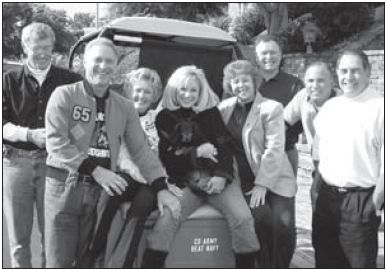 We also need your thoughts and prayers, S&D, for our former president Dave Kuhn, who was diagnosed late last year with amyloidosis, a rare disease which deposits an abnormal protein on tissues and organs, sometimes with devastating results. At the time of this writing, Dave was looking at various forms of treatments. Cards and e-mails to Dave & Rosie are most welcome. Jim McEliece sent the photo of our former president with his child-bride Rosie surrounded by Jim & Julie, Jack & Vicky Blau, and Steve Bliss (standing on right) around A-N time last year (note the golf cart bumper). Standing on the left is Tom Casey '63, who is still living but for the grace of God, according to McEliece, who, along with roomies Frank O'Leary and Tom Ridenhour, had a tough year thanks to Casey's excessive zeal for the Plebe System in the Lost 50s, way back when!
Jack Cooley is back from Mayo and doing well. It takes some time to determine whether his transplant was successful, so let's all say a few prayers on his behalf. Last year, in a note late to the class, he observed that he had "many friends in the class" that he didn't know he had. As he also noted, the many cards, flowers, e-mail, books, CDs, etc. helped keep his mind off what was happening to his body at Mayo and afterward. Our thanks also to his lovely caregiver/daughter Christina, who spent most of the time at Mayo with him.
Many of you have contacted Bob Huffhines, who is struggling and really enjoys hearing from all of his friends at S&D. He lives in a retirement home n Castle Rock, WA, and spends his time working with local church groups, developing his music for guitar and piano. George Ruggles is our "point" on this contact. Bob joined the USAF after graduation and went immediately to Harvard Law School, where he graduated in 1968. He left the AF in 1974 and stayed in the Boston area, where he published his first album of original songs in 1979. A year later, he moved back to his home town of Longview, WA, and started a small law firm across the river in Kelso, representing indigents for the city from 1980 until 2003. He reports that he became a Christian in 2000.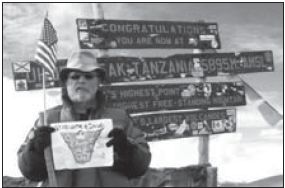 Terry Ryan came up with a neat idea for the next time one of our line has a problem. It involves a site www.carepages.com where we can all go and post our messages. I am sure that there are other sites out there, so if you know of one, please let me know and we will check them all out and try one. Ed Maness has retired from Tekplan Solutions-Georgia. Not sure what he is doing now.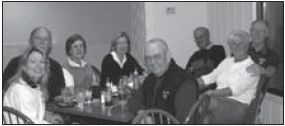 Our peripatetic Ralph Adams is shown after summiting the Uhuru Peak at the top of Mt. Kilimanjaro in Tanzania last October. Ralph dedicated his climb to "our classmates who are climbing their own 'mountains' where the steps are slow and the air is thin." From Barefoot Resort at Myrtle Beach, Steve Leach is shown with Bo Forest, Curt Adams, and Walt Kulbacki. Another golf photo was sent in by Bob Frank at the Harbourtowne Golf resort "Rally for a Cure" last September and shows MaryJo & Steve Ammon, Kay & Harry Dermody, Bob & Mary Harter and Mary Frank. Apparently, Harters and Dermodys took their opponents "to the cleaners!"
Dave Mastran is making us all proud at his second career in the music industry. Look him up at grandvistamusic.com under management. The story is right out of Hollywood casting. It seems that when Dave's dad ('40 and the founder of the now defunct WP Symphony Orchestra) moved in due to bad health, he asked Dave to play him some songs on the piano. Dave replied that "he did not know how to play the piano" and so the senior Mastrangelo (the family name from the old country) instructed his son "to make something up." Surprisingly (at least to Dave), the songs were "pretty good" and numbered about 50 by the time of his dad's passing in 2003. Chapter Two started on a cruise, where a professional piano player overheard Dave on the ship's piano, which led to collaboration and a CD of some 20 songs. It should be noted that all of the songs that Dave composed for his father were kept in "his head." Chapter Three involved them sending the CD to Nashville and, much to Dave's surprise, receiving a positive response. After retiring as the CEO of Maximus (MMS) in 2004, they met a producer and then formed Grand Vista Music in Nashville. Of particular note to S&D, check out the January 2008 release of the CD "Orchestra Mastrangelo." Guys, I know some of you doubt it, but seriously, I am not making these stories up! Details on the movie version will probably follow shortly!
Cathy & I spent a long weekend at the Dermody's in August, in conjunction with a wedding at USNA. In addition to one of Harry's infamous boat excursions (this time piloted by my oldest grandson Addison, who almost killed us all by unexpectedly accelerating in a "no wake" zone), a round of golf at the USNA club was enjoyed by all. The bridegroom, LTCDR Mike Cooper (USNA 1996), barely bested young 12-year-old Addison (who had an 84), who in turn beat his dad (ex'92), Dermody, the ladies, including the bride, as well the rest of the group! Speaking of Harry, our congrats on his election as an "Advisor at Large" representing us with the AOG!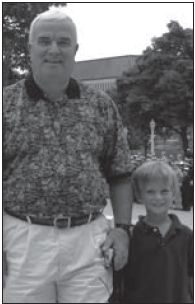 I thought it might be fun to take a tour of USMA with my grandson Ethan, so I called my daughter's father-in-law, Greg Horne (USNA 1968) who lives near-by. I must admit, while both WP and USNA have beautiful campuses, the town of Annapolis makes our dingy little Highland Falls pale by comparison. Greg gave us the grand tour, to include a bird's eye view of the Middies forming for chow formation. A proud day for this Navy vet, at least until the Swabbies began their march-off. In the understatement of the day, my Swabbie friend noted that "We're not big on marching here!"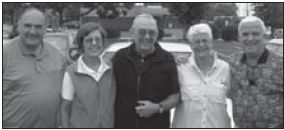 We have always thought that S&D had a pretty good showing within the Army, but nothing compared to Greg's Class: One Supe, two CNO's (their equivalent of Ric's CSA position), one SecNav, and now, the new JCS Chairman plus, I believe, the new CinC/CENTCOM. Not bad! The final photo shows the Dermodys and Colls with Greg Horne on the left.
The Heckers hosted a large group for the USAFA game last fall. The Blaus, Madias, Neals, and Longs were joined by the Simmons, Tredennicks, Algers, Bunns, and Isaksons. The Thames had to take a last minute rain check since their move to North Phoenix was delayed a bit.
That's it from a very cold and snowy Chicago. Please keep those cards and photos coming!