Greetings once again from Chicago! Hope all is well at your end of the Long Gray Line! Skip O'Donnell reports that it is still time to join your fellow classmates at the mini-reunion 4-8 Jun 08 at the Orleans Casino/Hotel in Vegas. The Reunion will start Wednesday night with a Benny Havens reception. A class dinner on Saturday night closes out the official activities. This schedule permits max free time for everyone to take in the shows, attractions, shopping, gambling, and maybe even some golf. And don't forget the close-by attractions such as--Yosemite, Hoover Dam, Grand Canyon, Zion, Flagstaff, Death Valley, San Diego and Disneyland--all within a half-day's drive.
Several of our authors are at it again, namely Bruce Clarke with his new book Expendable Warriors: The Battle of Khe San and the Vietnam War is receiving good reviews and can be purchased at Barnes & Noble. Our former president, Fred Laughlin, has just written the authoritative book on governance for non-profits, and since many of us now serve on these kinds of boards, it should be "must read." Unfortunately, our humble leader forgot to give me the title, but you can go to Amazon and look it up. Based on the impact that Freddy had on the long-overdue governance re-org of the AOG (now called the "West Point AOG"), I am betting it is chockfull of good, common sense tips.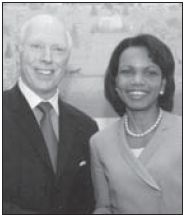 Received a few nice photos from Dan Christman after his trip last year to Iraq. One shows Dan and Reg Dryzga in Amman, Jordan, with several key Sunni tribal leaders whom Reg was introducing to Dan. These leaders have been instrumental in getting the U.S. "outreach" program started in Anbar Province. Reg is our man on the scene. As Dan describes our man, "I can't imagine a more selfless exhibition of public service than what Reg is doing. He has been energetic and absolutely inexhaustible in his efforts to help his Sunni Arab friends." The other photo shows Dan with the Secretary of State, for whom Dan was the Chamber's official "greeter" at her talk on a subject on which Dan and our own John Bundy Rich have been working, namely a new agreement with India that will permit the sharing of U.S. civil nuclear energy technology. "Hooah!" as our former Supe used to say!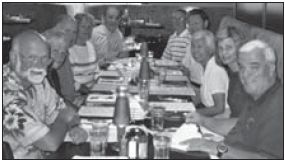 Now for some more great photos. One shows Jack Cooley on his send-off to Mayo, surrounded by the Chicago contingent: Tom & Anna Croak, Tom & Marilyn Kovach, George & Jill Seaworth, Ken & IzumiYoshitani, and your Scribe. As of this writing, Jack, according to his lovely caregiver and daughter, was struggling with the effects of some of his meds, but as Christina told me (and others) many times, when the e-mail, cards, and letters arrive, Jack just "lights up!" Our thanks to Paul Schultz & his Sabine and others who have also made the trip to help keep Jack's spirits high.
Jack's travails have brought about an awakening, of sorts, within the class. Tom White had chronic lymphatic leukemia as well as non-Hodgkin's lymphoma and suffered through the stem cell transplant process, which was, in his words, "Unpleasant but doable." He, like so many others within the S&D community, wonders just what connection there may be between our high incidence of cancer and our exposure to Agent Orange in RVN? Sherry Ray wrote to remind me (to remind all of you guys) just what a difference these cards, letters, and e-mail can make, when one of our Line is sick, not only to him but also to the caregiver! As she stated about Sonny when he was going through the transplants, "...when Jack Lowe put the e-mail out that he (Sonny) was sick, boy did the e-mail and calls perk him up. I saw what a difference that made."

Speaking of Tom White, he also reports that he retired from the Army in 1993 and worked for MPRI in Bosnia, etc. and then back to the International Group in Alexandria where he has been the RCI Housing Manager since 2003. He had heart surgery in 1994, various cancers as stated above, and remarried in 1996. Four kids, six grandkids as well as being "happy and doing well!"
Nine of the 12 Phoenix-area couples assembled at John & Dyanne Mogan's beautiful home in Anthem. As can be seen, the group included: Donna & Rick Bunn, Cyndee & Bob hill, Diane & Dennis Hawker, Jacki & Larry Clewly, Ron Walter, Jay Vaughn, Trina & Hank Mickells, Cissy Coughlin, John & Dyanne, Jim Coughlin, and Janice Walter. Jay Vaughn's wife had a church event.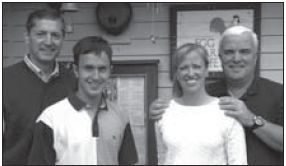 I know that someone out there just has to have an idea of where Paddy Donovan (D-2 file from Massachusetts) is. Ditto Mike Shulick.
One of the great aspects of recruiting for our alma mater is seeing the young men and women enter WP, grow to be young, outstanding leaders of our Army, and then proceed off on their careers. One such young man, who I had the privilege of watching from Beast to Graduation, was Court Harris '07, shown with his dad (our former IL TAG) and my daughter Shannon Coll Horne '95 over the 4th of July weekend. Court is now at Ft. Sill and "enjoying every minute of his chosen field!"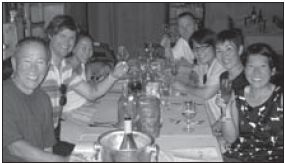 Jim McEliece reported that he attended the Memorial Service in San Diego for Kathy Zaleski and reported that Z did a fantastic job. Also attending were; Jim Olivo and Tom DeJonckheere. Never did get the photo though, Jimbo. Clair Gill reported that he was joined at the Arlington Memorial service for Kathy (who died after a battle with ALS) by: Applin, DeFrancisco, Shinseki, Frank, Harter, Dermody, Hewitt, Gabel, Hennesssee, Kulbacki, Layer, Dave Vann, Simpson, and Viani, many with their spouses. Andy was "truly overwhelmed by the tremendous support and love displayed" by S&D. Tad & Hiro Ono spent some time in Italy last summer with their three daughters, two sons-in-law, and one grandson celebrating their 42d anniversary. Hard to believe that Hiro has put up with this guy for that long. Walt Oehrlein, Paul Kantrowich, and Ross Wollen played a '65 reunion tour tennis match on Roosevelt Island, which was supervised by Reg Dryzga--unfortunately, no photos!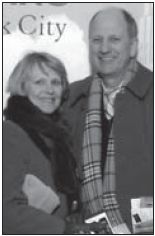 Jack Turner reports that he retired last April after 30 years in lab medicine and finds that he likes grand-parenting his four grandbabies more than he did with his three kids. Our pres, Clair Gill, represented the class at the annual C. Robert Arvin Scholarship Dinner at the Ypsilanti VFW, where ten outstanding young men and women were honored with scholarships in our fallen leader's name. Art Hester has been the "cog" in the wheel that keeps this event going in a first class style. Also attending were: Joe Anderson, Walt Oehrlein, Mitch Bonnet, and Dave Gnau. Clair observed that Bob would have been proud of how this event has evolved.
Terry Tutchings sent the photo of his "nomadic" existence, but not much more substance as to what he has been up to. Terry, some details would help. That's it folks. Please note how some of these stories would have been so much more fun with a photo or two. Keep that in mind as you meet up on your travels with our guys and gals. Thanks!