Greetings once again from Chicago! Hope all is well at your end of the Long Gray Line! Skip O'Donnell reports that it is not too late to join your fellow classmates for the Las Vegas mini-reunion 4-8 Jun 08 at the Orleans Casino/Hotel. Many classmates have already made their hotel reservations. There are about 60 rooms left (as of September) under the Reunion rates. The Reunion will start Wednesday night with a Benny Havens reception, followed by a Thursday breakfast, where you will get tips on what to see on the Las Vegas Strip and outlying areas. A class dinner on Saturday night closes out the official activities. This schedule permits max free time for everyone to take in the afternoon and evening shows, attractions, shopping, gambling, and maybe even some golf. According to the September 2007 National Geographic Adventure magazine, Las Vegas is one of the best places in the country for spectacular adventure areas--Grand Canyon, Hoover Dam, Zion, Bryce Canyon, Flagstaff, Death Valley, Yosemite, San Diego, Pacific Coast beaches, and Disneyland--within a half day's drive.
The Orleans hotel reunion rate for Wednesday and Thursday nights is $60 plus taxes and $120 plus taxes for Friday and Saturday nights. Call the Orleans hotel at 800 675-3267 Monday through Friday between 7 AM to 11 PM Pacific Time and identify yourself as attendees of the "West Point Class of '65 Reunion." Skip needs a good head count when he negotiates the food and beverage costs early next year. Send in your RSVPs before New Year's Day or just e-mail Skip at [skipod3@cox.net]. Please indicate how many are coming, who wants to play golf. A final class letter with catering, costs, etc. will be sent out in December.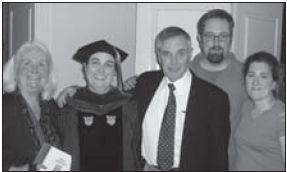 A "proud pop" missive was received from Jim Kelly out of Sarajevo where he & Mary Ellen are finishing their second year. He works for MPRI as a consultant for the Bosnia and Herzegovina Ministry of Defense. The first photo shows them with daughter Bridget (as well as their son Mike & wife Jennifer) at her graduation from a nine year MD-PhD program at Duke. Jim also indicated that S&D is permanently on display at the Tunnel Museum, where the famous tunnel that helped beat the siege of Sarajevo is located. In the museum, which is in the house that concealed the tunnel on the "unfriendly" side, stands a display case in which there is a photo of our Ric, serving as the four-star COMSFOR commander, presenting an award to the woman who was the owner of the house.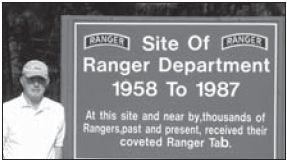 I was driving by the Ranger School one day last May, while on a consulting gig to to Columbus, and as I wizzed by what used to be the old barracks, low and behold I see this guy leaning against the sign. Looks like "an over-the-hill" Ranger to me, or could it be Pat Kenny--not sure myself.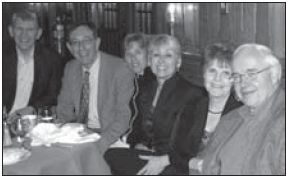 I mentioned in the last "Notes" that Paul Schultz married his lovely Sabine last May, but unfortunately, we had no photos. The next photo is of the just married couple at the Thayer with Les & Marily Hagie and Dave & Darlene Hopkins. They had a party the night before at the Old Train Station, a very nice venue indeed! L.B. Lawson wrote an included a nice photo of his extended family with newest addition, grandbaby Oran Wright. L.B. retired from teaching in 2005 and has been serving as a Frosh basketball coach and substitute math teacher in the Phoenix area ever since.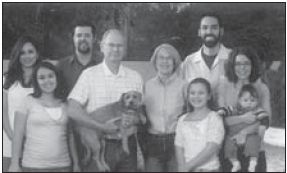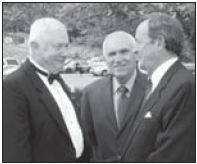 Our former classmate and now '66 Scribe Jerry Cecil, sent the next photo of Barrie Zais at the wedding of his friend Frank Akers' son in Knoxville, TN. While there, Barrie did a recon on where he and his grandmother had lived, gone to church, etc. Barrie and Frank attended Duke together. Dave Bangert & his wife are embarking on a new land venture by acquiring 38 acres on the Big Island in Hawaii, "complete with water and soil" says he, and are looking for partners. Any interest in investing or retiring there, contact Dave [dbangert@hawaii.edu].

Speaking of our peripatetic Reg, Tom Kovach sent a photo showing Reg in Hartford, CT, where he, Reg, John Salamone, Buddy Bucha, Ric and Ross Wollen (plus singer SFC MaryKay Messenger from the USMA Band) attended the CN World Affair's Council annual Luminary Dinner. Buddy was Chair and Ric the keynote speaker. Ric & Patty keep busy with their seven grandkids, plus a hectic travel schedule for both. He is still the Visiting "P" in Leadership at USMA and Patty keeps busy with the Military Child Education Coalition, which joined with Sesame Street and developed an Elmo DVD for children with deployed parents. Preston & Sandy Motes have a life that some of us would enjoy, e.g. visited their son and his family on Antigua followed by a short trip to Puerto Rico, then, ten days in Kauai with their (adult) children Amy and Stacy, followed by camping on the Colorado River, all while renovating an older, rental house in downtown Salt Lake City for "kicks!"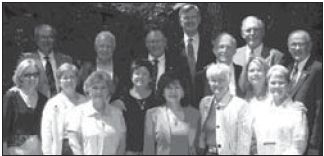 Bill & Nanc Hecker wrote to thank everyone who came to the dedication of the Vienna Post Office in their son's (Bill III '91) name. The photo shows the group after the ceremony including Mary & Bob Harter, Linda & Jack Concannon with an unknown lady in-between, Ann & Curt Adams, Martha & Bill Birdseye, Nanc & Bill Hecker, Steve & Maryjo Ammon, and Nancy & Terry Ryan. Missing from this photo was Clair & Sherry Gill. The Heckers have moved to Colorado Springs to be near their daughter-in-law and grandchildren. Speaking of appreciation, our Pres also received a nice note from Jeanne Thompson's daughters Tawdra Kandle and Robyn Carlisle, thanking the class for our support and friendship, as well as our donation, during their time of need.
After I published a photo in the Jun/July "Class Notes" of Jack Cooley with several "hotties," Jack goes ahead and has himself admitted to Mayo in September for tests that required him to return for about six weeks for a stem cell treatment for his multiple myeloma. Let's all say a few prayers for my man Jack's full recovery.
John & Cheryl Longhouser hung up the spurs (again) last August and have moved to Savannah "in concert with (his) interest in pursuing other opportunities" plus near-by family and grandchildren. Sounds like politics to me-eh what, John? Taking a page from the old Tennessee senator's playbook?
That's it from this end, folks. Please sign up for the Mini soon and make sure the Skipper doesn't take a header off the reunion hotel. Keep those letters and photos coming!