Greetings once again from Chicago! Hope all is well at your end of the Long Gray Line!
First, if you haven't yet signed up/indicated your interest for the Mini Reunion next June (4-8 June 08), please let Skip O'Donnell know at your earliest convenience. These things take a lot of advance planning and early indications of attendance will make Skip's life that much easier. They have secured a great hotel with fantastic rates, so why not take your honey out for a fun long weekend?
Secondly, we inquired in June if there was a need for a chat-room or the like for some of the excessive "chatter" that certain subjects create (e.g. anything to do with Muslims, etc.). There was not much response, so the Class Officers would ask that we keep all of this type of chatter on the WP.Org net so that we can keep the AOG net open for other notifications which require action and your immediate attention. Please also remember that excessive use of the "Reply All" button also causes a lot of excessive traffic for us all, and often results in people just deleting e-mail that we need them to read. Thanks for your consideration and continued cooperation in this matter!
If you haven't done it yet, and you have a great Army-Navy story, one of the Sunday newspaper magazines is looking for stories for their 25 November issue. Just email it to: [usaw@usaweekend.com] with "Army-Navy" in the subject line. Ross Wollen has sent in the story about our telegram from Ike.
News from the home front. The Supe has announced a committee to "conduct a thorough review of Army football" to be led by Tom Swartz '67 and will include our own Rollie Stichweh. Should be interesting, to say the least. Our own Jerry Madden received some recent kudos for his work with the Texas legislature, especially with the Texas Youth Commission. Two local newspapers named him to their Best Legislator's lists. Our president wrote all of us in June on the state of the class. Included in that missive was a mention of one individual who was claiming to be a classmate, which he was not. After some early histrionics, I am delighted to state that the situation was handled very smoothly by our man on the scene, Rick Bunn. Thanks, Rick!
Please keep Don Kurtz (and his loving and great caregiver Roz Ruby) in your prayers--he is not doing well at all. One year, almost to the day, after we lost Bob Thompson, his beloved Jeanne also passed away. Her Pittman, NJ, services were attended by Betsy Reed, Sherry Ray plus the Jay Stewarts, and Jose Sanchez, near the local high school where she met her "OAO!" Donations can be made in her name to the Leukemia & Lymphoma Society in Pitman. Also on our 42d anniversary, the Ledzinkis, Ralph Adamses, Swenssons, and MacVicars gathered in California to celebrate. Swensson also reported that Marty Johnson has mover to Bozeman, MT, with his Vickie.
Bob Bradley had lunch with Mike Berdy's brother, Andy, who wishes S&D well. Tad Ono was spotted in the Tuscany, Italy, area with a jug of wine in one hand and a loaf of bread in the other. "Photos?" asks the scribe. We need photos!
Harry Dermody has been nominated (and hopefully elected by the time you receive this) as an AOG Advisory Council member. Hope that you voted "early and often" as we say here in Chicago! Another great Class Golf Outing was hosted by Bob Radcliffe, who now makes Ocean Isle, NC, his home. Forty attended the three-day blowout, with Barrie Zais acting as Tourney Director and Bob Selkis as CinC of Nightly Poker. Dan & Susan Christman joined the group for cocktails one night, Daved Hurley brought "Ric was Right" hats for all. All in all, a great time was had by all. Bo Forrest reports that the next outing is at Pinehurst in October. Contact Radcliffe if interested. [Editor's Note: Guys, we REALLY need an official photographer for the next one!]
Jon Thompson's search for Emilia continues, having searched 1,200 sq. miles of ocean bottom at 1,800 feet, but only 400 square miles to go. "Quite an adventure for an Old Fart!" says he! Stay tuned! We have several folks living in/around Annapolis. Jack Coletty is there, after working for Harris Corp., as well as Northrop, Honeywell and Allied Signal. He will be working on the Army-Navy tailgate this year. I think Frank Hennessee is also in that area, serving as an usher at one of the churches on base. I received news from Kwajalein that the Picklers headed home in July to their real home in Lebanon, TN, at least until John's next assignment with Bechtel?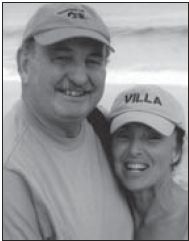 Out of the cyber sky in late June comes a totally unexpected missive from Tony Pryz, who observed that I had seen more of his brother (who lives here) than I had heard from Tony in the last 42 years--right on that one! Tony served in the USAF Engineering and Services Group for 25 years, after which he joined Parsons. He & Marianne have two sons, six grandchildren, no holes-in-one, a really bad hip--so what else is new? Great to hear from you, old buddy. Keep it up and get involved with the class. It has been too long.
Another long-overdue missive, this one (with photos, yes sir!) from Joe Barkley, reports that he is still with the AIG fellows in Newtown, PA. He & Diane spent time with their offspring at the beach recently, while Joe recovers from knee replacement surgery in February. Unfortunately Joe, since you were not in the photo with the kids and grandkids, I can't print it. It should be clear from the number of photos in this column that your Scribe REALLY NEEDS PHOTOS!
Tim Vogel's last services at West Point were well attended by about 35-40 classmates. Lots and lots of great messages (which I sent out in several e-mail blasts at the time) were sent in on Timmy and what he meant to all of us. He will be missed!