Greetings once again from Chicago. I hope all is well at your end of the Long Gray Line. Sad news to report from Beartooth Lodge. In late April, Tim Vogel lost his long and valiant battle with PSP (Progressive Supranuclear Palsy--a debilitating/terminal brain disease). It was a battle ably fought and assisted by a tremendous outpouring of love and kindness from S&D. Our hats are off to Dennis Lewis, Rollie Stichweh, Dick Chaffer, and the many, many others who traveled to Montana to cheer up the ole redhead. Our thanks also to his daughter Sherri, his primary caregiver, Becky Mitchell, Dr. Brad Fouts plus our local classmates Bob Frey and Marty Johnson and all of his other caregivers, all of whom rose to the occasion. Tim was one of those rare guys--what you saw was what you got, and that is exactly how he apparently was right up to the end. The photo of him that was published in a previous Notes, flying in a small plane over the ranges (a flight arranged by another great care giver, GEN Mathis (USAF Ret, USMA '48) , was prototypical Vogel--determined to enjoy life until the end! He will be missed.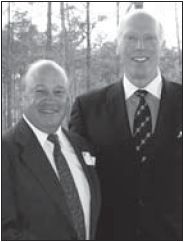 On a brighter note, we will start providing updates on our second S&D mini reunion. Skip O'Donnell, our OIC, describes it this way: Viva Las Vegas! The mini is scheduled for 4-8 Jun 08, starting with a Wednesday evening Benny Havens, followed by a Las Vegas Tourist Tips breakfast on Thursday, a class dinner on Saturday with departure Sunday. Maximum time has been allocated for the Vegas Strip attractions and glitz, great afternoon and evening shows, excellent cafes and restaurants, fabulous shopping, morning golf everywhere and of course, gambling. Our headquarters will be the Orleans Hotel and Casino, just off the Strip. It is very popular with the locals for shows, restaurants, buffet, Irish Pub, and better gambling odds. While you are in the American Southwest, plan on taking some extra days before or after the reunion to visit the Arizona, Utah, and California sights within six hours of Las Vegas. Marilyn O'Donnell, Frank & Kathy Meier, and Jim Holmes will join Skip as your local hosts. More information on the hotel reservations, food and beverage costs, and the side trips will be forthcoming via a class letter.
As I was looking through the USAA annual report, the photos of two individual board members caught my eye--Dan Christman, a long time member, and Tosh Barron, Tom's lovely wife, a relatively new member. Speaking of our former Supe, the first photo shows Dan and Jerry Dernar at the West Point Society of the Triangle in Raleigh-Durham, NC, Founders Day held at the Briar Creek Country Club. Dan was the guest speaker and did a great job, according to Jerry, who is partly retired, but still teaches math part-time at Durham Technical Community College. He also does a little contract engineering work for a local telecommunications firm, but mostly spends his spare time on the golf course. Another FD's gathering found Bill Zadel, Chris Spire, Dave Hurley, Bruce Hulin, and Lew Green at the Atlantis Country Club in Palm Beach. Anyone visiting SE Florida is welcome to contact Lew or the others.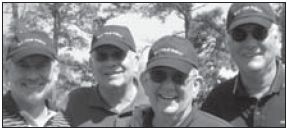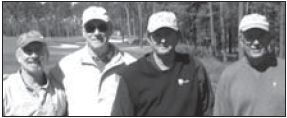 Speaking of golfing, one photo shows Radcliff, Dermody. Bonnett, and Hurley followed by one showing Hurley, Chase, Frank, and Harter at the annual S&D golf outing in April. There were a number of other photos but unfortunately, they were all shot into the sun, so not much can be seen of the faces. Others in attendance were: Zadel, Thomaswick, Selkis, Zais, Grates, and Paske. A good time was had Frank, and Harter at the annual S&D golf outing in April. There were a number of other photos but unfortunately, they were all shot into the sun, so not much can be seen of the faces. Others in attendance were: Zadel, Thomaswick, Selkis, Zais, Grates, and Paske. A good time was had by all. Not too early to start thinking about Army-Navy 2007 in Baltimore this year either. The deadline for ordering tickets is 15 June, according to Joe Sanchez and he suggests that we all remember that the last time it was held in Baltimore, there was a mad scramble for tickets. Details on the '65 gathering will be forthcoming also.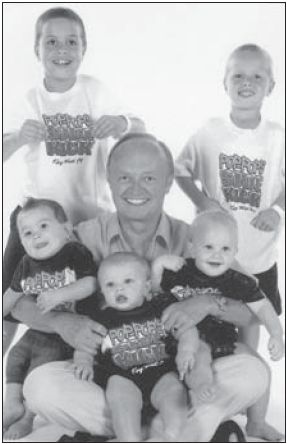 Received a second copy of the Ron & Nancy Floto Kung Hei Fat Choy Happy New Year card (literally translated as "I really loved Beast Barracks but have been terribly afraid to tell anyone") with the great photo of Ron and his five grandbaby boys. Ron is stepping down as the CEO of Dairy Farm in Hong Kong after ten wonderful years. They have left their mark on this part of the world by establishing the Floto McCormick School in Anyan County/Hunan Province, deep in rural China. New HQS are in Tampa.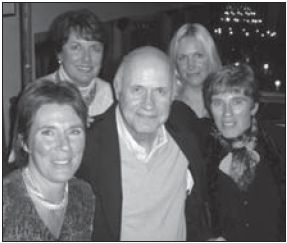 Bob & Pauline DeLaar have retired and are into travel big time. China and Tibet, then a two-week cruise on the Mosel and Rhine Rivers and finally Antarctica last February. Unfortunately, their photo was too distant to re-print well. I was searching for Jack Cooley earlier this year and heard from Paul Schultz (and then Jack) that our man was last seen with a few comely muses in the Theater District of Manhattan as well as writing the music for a new musical called Shoes. Jack is also keeping busy teaching at Northwestern Law School, writing two books and playing in a jazz band. Not bad for a St. Louis-area guy who took his mom as his date to an All Academy Ball as a cadet!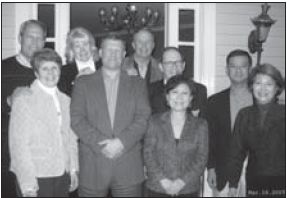 There was an interesting article, complete with an aerial photo of the Kwajalein Atoll/Ballistic Missile Defense Test Site, in a recent copy of Soldiers magazine, where Karen & John Pickler have spent the last few years. It noted that the highest point was not that high. Shortly after the article appeared, a serious hurricane hit the area wonder just how high that high ground was? Speaking of the former C of S to the CSA, he was in the DC area in March and dined with our Pres & Sherry Gill, Annette & Jack Lowe, his hosts Tom & June Fergusson as well as Ric & Patty Shinseki, who had just returned from the USAREUR Commander's conference in Trier, Germany.
Some of you may remember one of our old Regimental Tacs, COL Maertens, who passed away earlier in the year. We were well represented at his final services by Emory & Eleanor Chase, the Lowes, and the Franks, all of whom were impressed by the performance of The Old Guard, almost as if they knew that one of the other mourners was their old CO, our own Frank Hennessee. Well folks, that's about it. Keep those photos and letters coming!