Greetings once again from Chicago! Hope all is well at your end of the Long Gray Line! As many of you know, we have lots of "chatter" on one of our two class nets (the WP.Org net) on various and sundry matters. Many of you actively and wholeheartedly participate in these exchanges. Some have complained that it generates far too much traffic and as a result, delete the e-mail. This could be a problem if we/the class officers, are trying to communicate important and timely information such as a recent death, on which we need your help. This topic is being addressed by the class officers and will hopefully be resolved within the next few months. If you have an opinion as to what should be done, please e-mail me with your thoughts. I would appreciate receiving it in as short and concise a form as you can generate, certainly no more than 1/2 e-mail page. It would help if you would address these key issues: 1) Do you think it (the heavy "chatter" traffic) is currently a problem? 2) Do you delete classmates' e-mail if you think they are "chatter?" 3) Would you be in favor of us limiting these types of e-mail to just the WP.Org net and keep the other net (AOG) just for class business and emergencies? 4) Do you have any other suggestions on how to handle this problem? I would appreciate your honest and concise comments within 15 days after you receive this copy of ASSEMBLY. I will then "bundle" them for the class officers to review.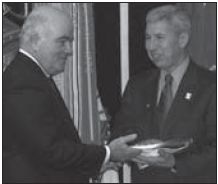 As mentioned last time, Joe De Francisco was sworn in by the SA as the Civilian Aide (CASA) for Virginia in a neat ceremony at the Pentagon, according to our class rep (my son Brian). Joe observed that he went into consulting to free up some time, but that this and other "pro bono" activities have him right back to a full plate.
As you have heard me often say, I love this (scribe) job and one of the reasons is that every so often, I receive a letter that starts off something like this: "Denny, my apologies, but I have been meaning to write you for a long time [Scribe's note: Translate that to "...meaning to write you for 40 and a butt years"]. Now, I am not complaining, because these are usually the most fascinating letters that I receive. And so it goes with my old buddy Dennis Sellers--"Finally broke down a bought a computer. I am catching up reading your great stories and vignettes--when did they allow women into WP; why did Dan C. and others before him go lax and let plebes out of bracing?" Dennis headed to Southern California with Chuck Shaw and Tom Thompson after graduation, where he married Karen 41 years ago. Their two sons are in North Carolina and two daughters are in San Francisco. He got out in 1969 and then earned an MBA from Stanford followed by 25 years as an investment banker. He recalls some interesting plebe stories, like the time an upperclassman stuck his spit-shined shoe next to a plebe's and asked the obligatory question, to which the about-to-be-recognized plebe answered: "Mine sir, but yours are coming along nicely."
But most of all, this closet Gray Hog observes that "these memories (of cadet life with S & D) become even more precious to me..." especially when he recalls his old buddies like: Steve Phi- lo, Jim Stephenson, Don Nowland, Fred Smith, Buddy Bucha, and Steve Ellenbogen. If any of you would like to respond in kind, the scribe's mail box is always open! One last story made me laugh: In a previous column, I mentioned that the AOG was looking for Dennis. He was positive it was because of the mess hall plate he 'absconded with' during firstie year. Seems they had a Swabbie for a semester who decided to give the M-2 Plebes a "real Plebe year." Just before returning to the Severn, M-2 presented to the aforementioned Swabbie the aforementioned plate mounted on a plaque with the inscription: "The First Annual Otis T. Lee Award." Said Swabbie took it in, hook, line and sinker. Apparently, "OTL" had no meaning at the USNA! Great letter, Dennis, and thanks!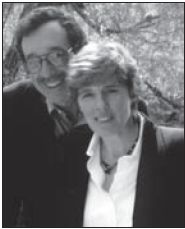 A Christmas update from Sonny & Sherry in Nashville finds the Rays doing as well as can be expected. Sonny had to miss their son Mike's April 2006 wedding near Charleston, SC, due to follow-on leukemia that was a result of his previous stem cell transplant, but he & Sherry's brother-in-law listened to it all phone at Sonny's bedside at Vanderbilt U. Their other son Pat is still in Kona, HI, living the good life. Immediate plans for the Rays are to move closer to Charleston and to spend more time in the North Carolina mountains near Cullowhee at the "Ray Compound." Now doesn't that just sound like a Sonny Ray sonata coming down the pike? Stay well, dear friend!
Paul Schultz made it a special Christmas by asking Sabine Luttenschlager to marry him. The foolish lass agreed and they will exchange vows at the Catholic Chapel at USMA in May. Paul III, returning from his Foreign Service post in Slovenia, will stand up for his old man. And who said S & D has lost the magic touch?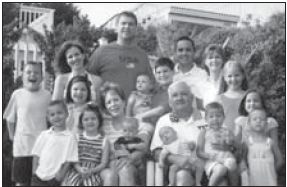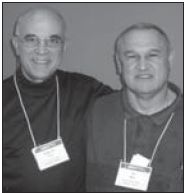 Chuck & Cathy Moseley's Christmas missive was chock-full of tidbits, as usual. In anticipation of Chuck hanging up his (nuclear) spurs next year, they will be returning to North Carolina after 13 years in Oak Ridge, although Chuck has been spending most of his time at DOE HQS in German- town, MD. Bob & Barb Anderson's year was highlighted by Bob's three-month missionary tour as a hospital administrator in the very wet and dense jungles of Liberia near the Guinea border. The next photo is of our two "math" teachers, Art Mark from the East Coast (Georgia and South Carolina), and Roger Wolff from Louisiana. The McElieces in green, with their three cute little grandbabies no less? That's what their Christmas photo looks like from sunny Rancho Bernado in the San Diego area of Southern California where Julie has retired and ole Jimbo motors on.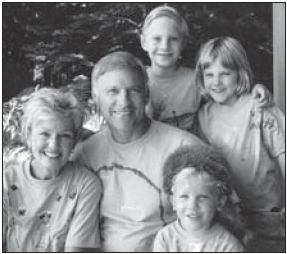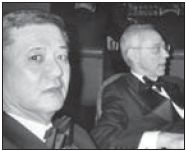 Ross Wollen sent the next photo of Ric and MOH recipient Jack Jacobs at a NYC event where Ric received the Eisenhower Award from the Business Executives for National Security. Joe Sanchez is spearheading another award for Ric at the FD dinner in Philadelphia this year. Speaking of Ric, I am always amazed at how often his stance on "boots on the ground to keep the peace" issue resurfaces around the country. Take a look at the Orlando Sentinel's February 2007 article on "Shinseki's Hat Trick" at www.orlandosentinel.com/news. I hope that I speak for everyone in S&D in expressing my/ our admiration for how the Chief has maintained a professional and most admirable silence in a time when retired green-suiter hind-sighting is in abundance.
That's it for now. Keep those photos and photos and photos coming!