Greetings once again from Chicago! Hope all is well at your end of the Long Gray Line!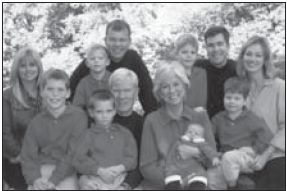 The good thing about the holidays is that it brings lots of classmate's Christmas newsletters. The bad thing is that it also brings news to remind us that not all of our line is doing well. This past holiday season was no exception.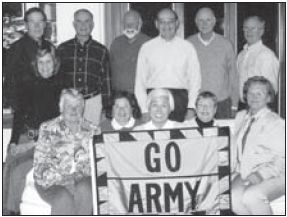 The former president and his lady, shown here with the Laughlin family--all grand-baby boys it looks to me--should seriously consider marketing this photo. Everyone is smiling and looking at the camera--a true feat in itself. From Chicago (the Scribe & his lady were under the weather), the local group joined ranks at the beautiful home of Ken & Imi Yoshitani to root on the Old Army Team. Joining the hosts were: Tom & Marilyn Kovach, Tom & Anna Croak, Paul & Nancy Singelyn, George & Jill Seaworth, and our visitors from the west Bob & Dorothea Bradley. Looks like Ken will hang up his slide rule after 25 years and sell his engineering consulting firm. Imi is onto her third language and hopes to try it out on 2007 trips to Spain and Mexico. Both of their sons (Shaw at C&GS/Ft. Leavenworth with grandsons, and Dunn in Minneapolis/Bethel U) are doing well. [Scribe's Note: notice how much better a close-up photo reprints in ASSEMBLY!]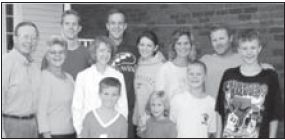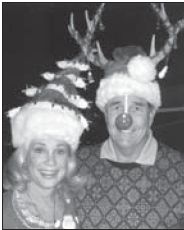 We even get mail from the far off Marshall isles, where John & Karen Pickler had an exciting year, what with our Korean friend firing off missiles. They were able to take ten days off and visit New Zealand with friends. Their daughter Nevelyn visited this lovely western central Pacific island with her four children. The next photo shows the en- tire family at Thanksgiving, including son Jeff who, following in the old man's combat boots, was the Distinguished Honor Grad at the FA Career Course before setting off for the 173rd in Vicenza. Now, if I can ever find out what happened to my Navy two-star neighbor whom John replaced and whose home has remained vacant for about 3-4 years, things will be back to normal.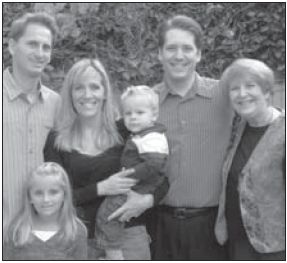 Most of our former president's depart this distinguished job after five years and jump off onto bigger and better things. Some just, well, jump off! Exhibit #1 would be "Rudolph" and his still gorgeous Rosie Kuhn. I do love those antlers, Dave! It is just great to see the next photo showing Susie Scholl and her brood, especially those two lovely grandbabies, Emma (7) and Kade (17 months). You are right, Grandpa Wayne would be very proud.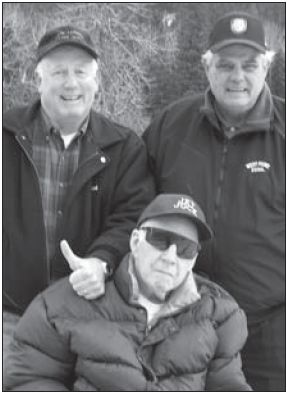 This missive will have to be short because of the large number of photos, but as I said at the beginning, not all of S&D is doing well. But even those who are struggling make us proud, none more so than Tim Vogel, shown in the final photo with Denny Lewis and Rollie Stichweh during their visit just before the holidays to Beartooth. Their on-site report was encouraging: "Tim is doing well" and as you can see in the photo, he looks well. They still have to feed him through the stomach and his mobility is limited, but the fighting spirit is still evident. The really big news is that, thanks to his amazing care-giving staff, local Fire Dept and EMT, as well as a local Red Lodge pilot, our former fly-boy was able to fly once again in October, thoroughly enjoying his flight around the local area. The photo that was taken would not reprint well, but you can tell from the look on his face that he was in seventh heaven! 2007 looks to add more excitement in Tim's life. He is expecting two new grandsons, local classmates Dick Shaffer, Chuck Pfeifer as well as the "regulars" (Denny, Rollie, and others) are scheduled to visit, but what we as a class need to do is to keep those cards and letters coming to Tim, c/o Becky Mitchell, Beartooth Hospital, 600 W. 21st St., Red Lodge, MT 59068.
That's it for this time. More of the holiday cards and photos next time. Please keep those cards, letters, and especially photos coming--they make all the difference in these columns being fun to read and to write!