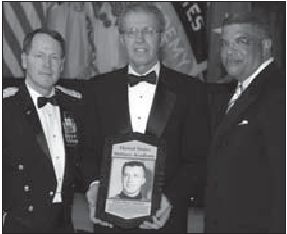 Greetings once again from Chicago! Hope all is well at your end of the Long Gray Line! The big news right out of the box was Walt Oehrlein's induction into the third class of the USMA Sports Hall of Fame. The nearby photo of the Supe and the AD shows our inductee with his award for squash and tennis. Representing S&D at the ceremonies were: Wollen, Kantrowich, John Johnson, Lewis, Stichweh, Paske, and Bumpass.
He was joined as an inductee by his brother Ernie as well as two others that many of us will remember. Our old Plebe Q-back coach (and All American), Don Holleder was inducted as was a great pitcher from the early 1990s (Steve Reich), who played during the time that several of our off-spring were cadets (and baseball players). Steve was KIA in Iraq. Eleven were inducted, bringing the total to 41.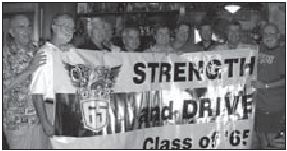 In August, Doug & Diane Kline hosted a B-1 (Firsties) micro-reunion at their beautiful home on the Shenandoah River some 75 miles west of DC. Ten (of the 23 surviving) classmates were able to join the Klines, including: Jim & Janet Dyer, Dave & Patti Jones, Arpad & Judy Kovacsy, Pete & Susan Linn, Jack & Annette Lowe, Don Rowe and Brenda Fleming, Joe & Nancy Sanchez, Jerry Stockton and Ines Siscoe as well as JC & Linda Thompson. Doug was able to locate Steve Aron in Wyoming, but unfortunately, Steve could not make it.
Speaking of reunions, Skip O'Donnell reports that he and his crew are busy getting quotes from hotels in Las Vegas to see if a second mini-reunion can be held out there, sometime in 2008. If any of you have contacts out there, as did Denny Lewis, let Skip know. I am sure that most of you saw the news about the ?rst annual Nininger Award (for valor at arms) that went to a member of '97 last October. Interestingly, the awardee's job was as the CO, Company A, 1st/87th Infantry, for his gallantry in Enduring Freedom IV in Afghanistan, the same unit commanded by our own Pete Lounsbury in 1967.
Dean & Diana Loftin just returned from a three year hitch in Casablanca with General Dynamics, where he trained the Moroccan Army on depot level overhauls. They have one daughter and family in Holland, MI, and another in Birmingham, AL. All are doing well.
In reference to my previous "Class Notes," Dean mentioned that he also was an advisor to the RVN airborne in 1967-68. John Alger remembered one more name that we had forgotten from that group of highly decorated advisors, Ernie Westpheling. One wonders whether with the numerous cases of hepatitis, amoebic dysentery, malaria and other maladies that these guys endured, something like Parkinson's might not have been a follow-on. As John observes "Truth is, we'll probably never know," at least not in this life, I would add John.
Steve Bliss reports that he should have listened to Kuhn and moved to Southern California earlier, where he currently runs the Army and Naval Academy military boarding school in Carlsbad (north San Diego county). Ross Wollen reports that the mysterious and peripatetic Reg Dryzga returned for his fourth tour in Jordan/Iraq. He joined Ross, Jon King, Dan Christman, Knauf, Bumpass, Lewis, and Stichweh at the Kent State game in September. I still like my theory that Reg is really the "Company's" station chief in Iraq!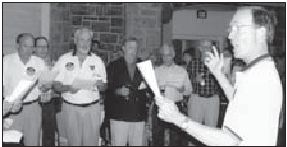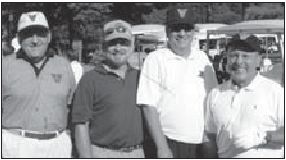 I close with two photos from the archives, one showing Duncan MacVicar and the Glee Clubbers seeing if they still had it, the other showing a gleaming Fred Grates exulting after he had taken his golf-mates to the cleaners! When I have to use archival photos, guys, you know that I am low on more current photos. Please keep those cards, letters, and photos coming!