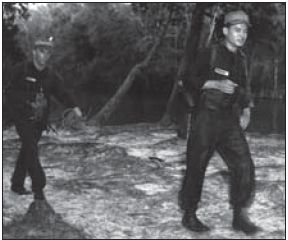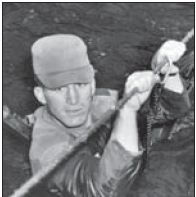 Greetings once again from Chicago! Hope all is well at your end of the Long Gray Line! Lots of input from all over the world, so here goes. In answer to my call for old photos, Ric sent along the three shown below. The first shows the future CSA walking through the (very dry) swamps during Ranger School. Tom Carll is seen traversing the rope ladder with his gear neatly stowed behind him. I love this third picture of Jack Terry and Tom Borkowski on either side of me during rope training. Several years ago, I took my oldest son and grandson to this very spot and replicated the photo. Great memories. Thanks, Ric! By the way, if you send me old photos, please mark which ones you want returned (usually takes 4-5 months for me to get them back from ASSEMBLY). The others I will add to the S&D archives.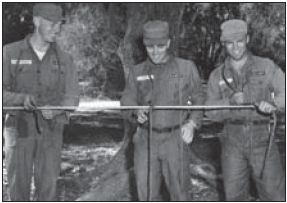 A new gallery was opened in July at the Hawaii Army Museum at Ft. DeRussy dedicated to Ric, who was born in Kaua'i. It includes his plebe uniform and expands the temporary display that we mentioned in these columns back in 2004.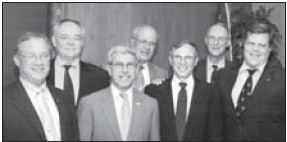 The next photo shows a smiling Tony Gamboa at his June retirement surrounded by: (first row) Mullin, Wolff, Peter Linn, Bill Lehman, Harter, and Clover. Tony retired after a most distinguished second career capped off as the General Counsel to the GAO. He had previously served in the DA's general counsel office for more than 22 years as both a civilian and military attorney. He graduated from the U of Maryland Law School where he edited the law review. During his tenure, he received numerous awards including the Meritorious Executive Presidential Rank Award. Now what? How about a new RV for he & Irene to cruise across America! Great job, Tony! Our doors in Lake in the Hills (i.e. Chicago) are always open!
I now know who Jack Jacobs is (from my July/August issue comment on the "Ric was right" hats and Imus in the morning talk)--a great American who has earned the CMOH, two Silver Stars, and currently teaches at WP. I apologize to Jack if any negative inference was taken from that paragraph--none was intended.
The infamous "J. Phoenix, Esq. of Gray Matter fame at AOG had a neat article about Palas Athena recently and her (Ahtena's) revered place at West Point, but forgot to mention her revered place in our own Jack Cooley's first novel. Time for a follow-up, Jack? Just asking!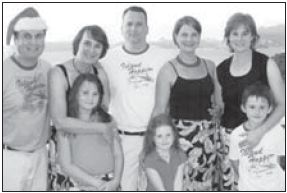 Arp & Judy Kovacsy still live in Mt. Vernon in the same house that the first DC metro class get-together was held back in the mid-1970s. Their daughter has given them three grandchildren and lives in Williamsburg, VA, while her Navy Seal's Reservist husband serves in Iraq. Their son, a VMI grad and former Apache pilot, lives in Alabama with his wife. He still runs Integram (www. integram.com), but after 14 years, is looking phase out over the next few years. The next photo shows the entire family at their place in Nevis. Great update, Arp! As you can tell by this photo, the closer the better. I received several other more distant photos from Mert Munson and Art Mark that will just, unfortunately, not print well in ASSEMBLY. I also received a photo from Bob Bradley with he, Seymour, and Lewis that was corrupted somehow in transit. Moral of these stories is PLEASE double check your photos before sending them.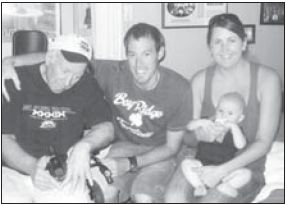 Speaking of Art Adam (who, by the way, is one of my most consistent contributors over the years!), he retired from his second career as a consulting engineer in the wireless commo industry (actually his third career if you include raising a large bunch of very talented and patriotic kids and kids-in-laws) last March and moved from Virginia to Round Rock, TX, (20 miles north of Austin and about six hours from Linda's family--a "good distance," notes Art!). They also try to get back to their "Kennebuhlport" vacation home near Buhl, ID, on the Snake River near Art's hometown. They visited Red Lodge after a trip to Yellowstone, during which they took the great photo of Timmy Vogel, Tim's son Tim, Jr., & his wife Valerie. Their young son Hunter had a great time with a very alert Tim and did, at one point, manage to "pop" the old man on the chin as they were messing around. Tim was also looking forward to Denny Lewis' coming visit and was able to communicate well with hand and thumb gestures. As with every visit, we always hear of the deep appreciation that Tim has for these many classmate visits. Keep them up, S&D!
Well folks, I had better stop here due to the large number of photos. Photos make these columns fun and exciting, so please keep them coming, especially the ones of Beast, Buckner, cadet days, Ranger, Airborne, and RVN! Also, please remember that my e-mail address is now [comcast. Net] NOT [aol.com]. Unfortunately, AOL will NOT forward nor bounce e-mail sent to them. Let's beat both Navy and Notre Dame.