Greetings once again from Chicago! Hope all is well at your end of the Long Gray Line!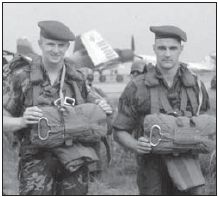 I thought that I would start off with a "blast from the past," especially apropos with everything that is going on with the new Arvin Center. The first photo was sent in by John Alger, showing him and our First Captain at Tan Son Nhut preparing for one of the six qualifying jumps necessary to be awarded the RVN jump wings. Note the old prop planes in the background. The time was June/July 1967 and probably represents one of the last photos of Bob, who subsequently went off to be the assistant battalion advisor to the 7th Bn of the RVN Airborne Div., which was deployed near Quang Tri, while John was deployed near the DMZ and was probably the closest when he heard of Bob's death in combat.
John made some interesting observations about serving with our ally: "When advisors jumped on the same flight, we took care to check each other's jump equipment thoroughly. We also made sure that all advisors were the first out of the door" (although I must admit, I did not understand this latter observation). John recalls the following S&D members who served as advisors during the 1967-68 timeframe, in addition to him and Bob: Johnny Johnson, Jim Echols, Wes Taylor, Bill Beinlich, Don Erbs, Ray Pollard, Johnny Olson, Chuck Hemmingway, and Ed Klink. Did we miss anyone? It would be great to hear from some of you guys on your recollections during this time, especially Beinlich, Erbs, Pollard, and Olson (hint, hint!). You may recall, from a previous "Notes" shortly after the 40th, that great photo of John standing with the then USMA Brigade Staff. Every once and again, your old scribe gets a good photo like that and is especially delighted when the recipient writes indicating that he was "especially proud" of that photo. So were we, John, so were we! Be well, my friend. We are all pulling for you!
"Hamblen's the name, tactics the game. I look like a pear, but I don't care!" was the oft-stated ode that one of our Regimental TACs was fond of saying. He was a good man and will be missed. Thanks to Bob Frank for the memory.
Bob Hill reported that he & Cyndee sold their company in Maryland and went to work for the new owner in 2000 (I am not sure what the company did), but decided to re-retire and moved to Superstition Mountain, AZ, where they telecommute to the East Coast about 25 hours a week. They are building a new home in Santa Fe and will snowbird to the Arizona digs in the winter.
It is just amazing how many people read these "Notes!" Steve Sperman '62 wrote that when he was the newly appointed G-S Air Advisor for II Corps in Kontum, he was in the hospital visiting a wounded soldier when Mark Sheridan called his name and asked him to cross over the aisle to say hello to a severely wounded Tony Borrego, whom Steve knew but could not recognize through all of the bandages. Amazing. Thanks for the story, Steve.
As we all know, we are still missing some long overdue memorial articles on our fallen classmates and are making every effort to re-establish contact with the NOK for the next reunion. These things often take time and extreme patience. The effort for Chuck Dickey is illustrative. Johnny Wells has been working it hard for a few years. He started at the cemetery in Wauchula, FL, and located Chuck's sister Carolyn (Muffy), with whom he has met and started the ball rolling for the next reunion. After relating how great it was to see Ladd Metzner's family at the 40th, Johnny feels that "wild horses" will be unable to keep Muffy, and perhaps her brother George, from the 45th. We need to make the effort, guys, so if you would care to help, let me know.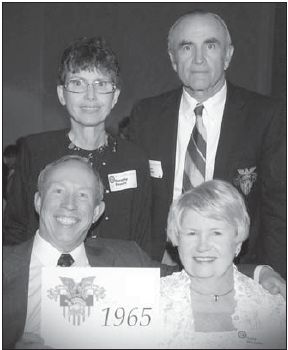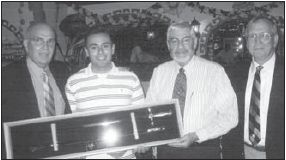 One of the "really great guys" (my words, shared by many) at AOG, who spent many years helping S&D with our manifold requests, has retired and moved on. Tony Ferraiuolo, "Your Man on the Scene," retired from his job as the Director of the Class Support Program. I worked with Tony from day one on many AOG committees and efforts, to include the DNS (Death Notification System) which lets us all know when a classmate passes, the "First Brass" effort where about-to-be-grads received their first officer's brass, "Dinner with the Class Officers" where we reached out to the graduating class officers and many other great efforts. Additionally, Tony worked closely with Sanchez, Dermody, Laughlin, Swensson, and Doughty. I think I speak for all S&D in saying, "Job very well done, friend!" Joe and Bob co-presented Tony with a cadet saber along with the 2006 class president, Brandon Archuleta.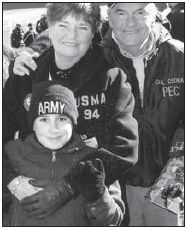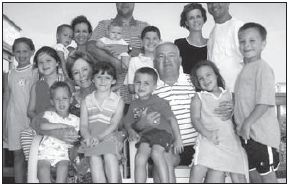 Duke Wheeler sent along the next photo at the Florida West Coast FD dinner with his Sally and Tom & Dorothy Powers.
In closing, I include some photos from the holidays and Army/Navy. A smiling Lou & Judy Csoka huddle with their grandson before it became really cold, while Chuck & Cathy Moseley and their extended family smile from a place a lot warmer.
That's it for this time. Please keep those cards and letters coming.