Greetings once again from Chicago! Hope all is well at your end of the Long Gray Line!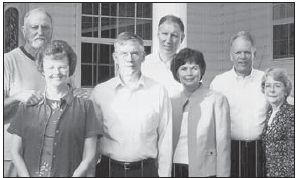 I received a nice Valentine's Day card and photo of Dave & Rosie Kuhn's daughter Rose walking down the aisle last November with her betrothed Peter Helm. Good looking couple. Unfortunately, we need the grad or spouse to be in the pic to have it printed. Sad news from Hombeck, LA, where the Atteberrys joined Preston & Ann Hughes in attending a memorial service with Duncan Brown celebrating the life of Carolyn, who passed away in March after a valiant battle with cancer. Also in the first photo is Carolyn's brother & his wife.
Bill Birdseye reported on an "Imus in the Morning" talk show about comments that a certain "Jack Jacobs" (whoever he is, clearly not part of S&D) supposedly made about the class wearing those "Ric was right" hats during the 40th. The inquiry to Bill was made by a General Editor at Newsweek. I happened to be there when the topic was discussed at the 40th and agreed that it would be most inappropriate. My sense of the class' feeling is that unless and until Ric wants to say something about that issue, publicly, we as a class, should follow his lead!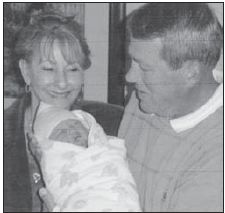 The next photo shows the smiling Roger Griffin's with their grandbaby last December. Roger has that look of "Oh my, what do I do now?" The third photo comes from the DC contingent at FD and includes Fergusson, Harters, Heckers, Adams, Birdseyes, and DeFranciscos.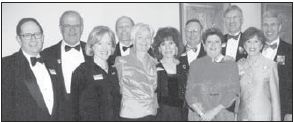 Lou Csoka has resurfaced for a second time, following his sighting at last year's very cold Army-Navy game. Lou has duplicated his WP Center for Enhanced Performance at his new civilian offices in Charlotte. There was an article about his work in a previous ASSEMBLY, a copy of which can be found at the class website.
Bill Zadel hung up the spikes with Mykrollis/Entegris in April. No word yet on his retirement plans. Joe DeFrancisco appeared to have re-hung his guns again, retiring from Honeywell where he was the VP for Defense, Space & Technology, but upon closer investigation, one finds that he has merely hung his hat on his own hook, hooking up with some other folks in the defense industry business and working out of "World Hqs" at his home in Springfield, VA.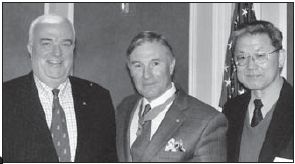 I have mentioned this before but just wanted to bring it up again--our Rich Sinnreich writes some VERY interesting articles on the Army for the Lawton (OK) Sunday Constitution, which are often reprinted in the Army Magazine. One of his recent articles was entitled "Dismissing Army's Manning Problem Won't Solve It." Thought-provoking and well researched. Buddy Bucha was in town for some speeches sponsored by The Pritzger Library. The nearby photo shows Ken Yoshitani and I with Buddy at the Union League Club speech. Buddy's message had to do with what being a CMOH recipient (not "CMOH winner," as he points out) means and the responsibility it entails. Quite interesting, actually. Shortly thereafter, Buddy was appointed as the Civilian Aide to the Secretary of the Army (a CASA has a three-star protocol rank and serves as the Secretary's civilian rep in his state) for CN by SA Harvey. Welcome aboard, Buddy!
I went in to great detail the last time concerning the amazing and loving S&D turn-out in support of Nanc & Bill Hecker during their time of grief. At the recent Founders Day in DC, they joined with the other classmates in cheering the new DC president (Joe D.), but as they began to sing the "Alma Mater," the Heckers were having great difficulty. Suddenly, they were engulfed in arms, lots of S&D arms, as our classmates provided the "strength and drive" to finish that last verse. Bill summed it up when he said: "This touched us deeply!" Well done--again--S&D!
It's great to hear from classmates that have been out of touch for some time. Jim Tully is alive and well and has just retired for the third time. He has three grown children and six grandchildren. Oldest son is '85 and lives near dad. Oldest daughter is a retired Army nurse and lives in Deutschland with her husband '90. Second daughter also lives nearby and is a teacher. Jim re-married 12 years ago and they have an eleven year-old who keeps the old man busy. Great update! Thanks, Jim!
Mert Munson is looking for Ray Ludwig--has something to do with "some Eastern Airline stews they met at a Brauhaus on 86th street during Cow year." (Ed. Note: Now you just know that I can't make some of this stuff up!) Ray, if you are out there, your scribe would also like to hear from you.
Finally, we need your help again S&D. Carl Letterie's 36 year-old daughter Barbara Lynn, has been diagnosed with colon cancer which has spread into the liver (not good). She has three small children (ages 2, 4, and 6). Carl and his family are really struggling with this issue. Please feel free to contact him at .
Again, please note that my email address has now officially changed from "aol" to "comcast.net." The AOL account has been closed and they do not forward or bounce back e-mail.