Greetings once again from Chicago! Hope all is well at your end of the Long Gray Line! Please note that my e-mail address has now officially changed from AOL to comcast. net. The AOL account has been closed.
The class has nominated Harry Dermody to be an AOG Advisor at Large for the upcoming term. If you get this issue before the vote, vote early, and as we say here in Chicago, vote often (just kidding). The Old Man doesn't have many friends left (his have all died off), so give him your vote.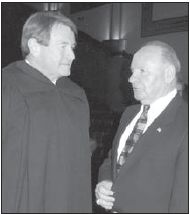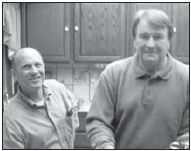 The photo shows our newly sworn-in Federal District Judge Dick Smoak, in full court garb, talking with his long-time friend, Donald Joubert, at his investiture. The second photo shows Dick and Ron Walter in the kitchen in Dick's lovely Victorian home in Panama City. 1SG Joubert had high praise for the competence, courage and personal integrity of his former CO in RVN. You've done us all proud, Your Honor!
From all accounts, the class did a superb job both at the DC and WP funeral ceremonies for Bill & Nancy Hecker's son. The Heckers were humbled by the outpouring of love and concern from so many of the S & D family. Some of those in attendance at WP were: Salomones, Timmermans, Tomaswicks, Sheridans, Zais', Boohars, Reeds, Lanes, Hewitts as well as Jannarone, Doughty, Sanchez, Gabel, Manghi, and Campbell.
An additional 40-50 attended the DC ceremonies where our Bill wore his uniform in honor of his fallen hero/son. Those attending included: Kennedy, Harper, Ferguson, Fergusson, Gill, Shinseki, Frank, Linn, Hewitt, Simpson, Chase, Guenther, Cindric, Skidmore, Charles, Molepskie, Clover, Sterbenz, Watson, Dermody, Hennessee, John Thompson, John Vann, Birdseye, Ammon, and many with their spouses. The Harters escorted the immediate family onto post and served, with the DeFranciscos, as the official class reps. As one of our line stated: "We all mourned the loss of one of our class sons who died in our nation's service and the Army he loved." First class, S & D!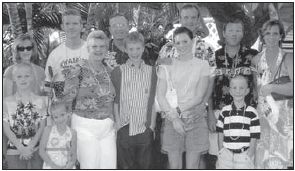 Speaking of Joe DeFrancisco, he has just been elected as the new president of the DC WPS. The next photo shows the extended Pickler family on R&R to Honolulu over Thanksgiving. Nevelyn & husband Mark came from their new home in Tennessee with their brood: Logan, Dalton, and Morgan. Andy & Laura came from Denver, while Army Ranger Jeff came from Ft. Lewis. John & Karen are still on the Marshall Islands where they get to watch both the gorgeous sunrises and sunsets (the island is only 1/2 mile wide). They expect to remain on Kwajalein until the spring of next year and are opening their doors to any/all S & D folks swimming nearby.
My apologies to my good friend Karl Plotkin for misdiagnosing his illness as Alzheimer's, rather than the ALS he has been battling so valiantly, in the last issue. I still think that the photo from that last issue, where Karl was at the head of the S & D column as the cadets marched by, was one of my finest.
Reports from Beartooth indicate that Tim Vogel is holding his own and probably needs a social secretary, given the large number of recent visitors. These include Dennis Lewis and Rollie Stichweh in February, preceded by Dick Chaffer, Chuck Pfeifer & Lisa, and Tim's brothers. Chaffer had a great idea--he taped some Army football games and other Army specials for Tim. If you would like to contact Tim or send him something, let me know and I will pass along the contact information. We were finally able to locate Frank Koleszar in the DC area with help from Nichols, Dernar, and others.
Mike O'Grady is alive and well in Augusta, where he is "ecstatically married" to the same girl whom he met on a blind date on 19 Jan 63 with Ted Kleinmaier. Their 40 year old son just produced twin grandbabies and their daughter just graduated from the U of Georgia. Jon Thompson is off to (hopefully) find Amelia Earhart's plane in the South Pacific, accompanied by National Geographic. This is his second attempt.
One last request--I receive quite a few photos via e-mail over the course of a year. Unfortunately, there are so many photo formats out there, that trying to convert them into a format that I can read and pass along to ASSEMBLY has become a real task. Half the time I cannot open them and the other half, ASSEMBLY has trouble. I would suggest that you just send me the hard copy--we know that format will work (4x6 print or larger will suffice). Please keep those cards and letters coming.