Greetings once again from Chicago! Hope all is well at your end of the Long Gray Line! PLEASE, PLEASE note that my email address has changed from aol.com to comcast.net! The aol account will no longer be used by the time you receive this. Your assistance in changing your address books would be greatly appreciated.
As reported previously, we were all saddened by the untimely passing of Don Parcels a few months after our 40th. Those of us who were able to chat with Don at West Point saw a resolute and healthy-looking classmate who was taken from us just a few months later. He was just one of those "really good guys" that you always hear about but rarely get to know. I know that I speak for the class in saying that he will be missed!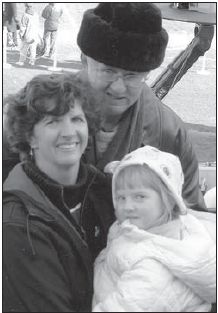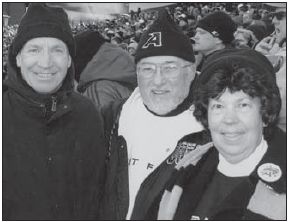 For those of you who missed the Navy game, well, you missed freezing your butts off and watching our guys, especially the O and D lines, get their butts kicked by a superior Navy team. We are clearly improving but still have a ways to go. Weathering the cold like good ole troopers were John Alger and two generations of lovely Alger women, daughter Kelly and my new "best friend," young Margot. A retired Ray Pollard stands with his Peggy and Andy Walters, a Navy '65 grad who sat with us and continuously reminded us that although it was bitter cold, it seemed less cold if one was on the winning side! Yeh, right on Swabbie! Warming themselves afterward at the class suite were Don Kurtz talking with our new Class VP Bob Harter. And of course, what would the '65 class suite be like without the obligatory game of cards being intently watched/participated in by Jay Stewart, Barrie Zais, Ray Hawkins, and Tom Carll, along with two visiting (but non-playing) cadets, Court Harris '07 and Will Dahlstrom '08.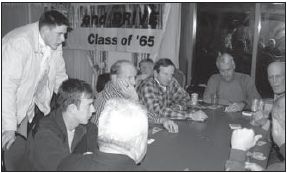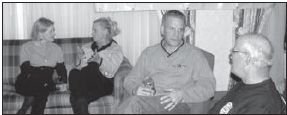 The next A/N photo shows the Scribe and his lovely lady with Cathy's two cute, twin nieces, Megan and Catherine Stefanek, from Cleveland, who just happened to have a passing interest in those two studmuffin cadets in the previous photo.
As previously mentioned, the class received another wonderful honor when one of our own, Wes Taylor, was elected as the new president of the prestigious Marshall Foundation. He assumed his duties in early January. We look forward to great things from him. Our congrats to Wes & Linda.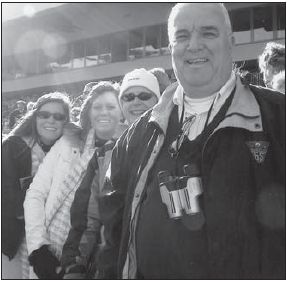 Christmas newsletters. The Lounsburys are doing well in Santa Clara where Pete still runs his vending business. He & Heidi visit their kids in Maryland, New York, Utah, and Hollywood while awaiting grandbaby #4. Preston & Sandra Motes' missive included some neat photos from Israel, Alaska, Hawaii, and mentioned a "tent camping trip" with a friend. If some of us were to pursue such a "tent" trip, they would need a heavy-lift helo to extract us from said tent! The Motes' kids are scattered from Arizona to Tennessee to Oklahoma and Utah, but the one I like is their son Preston III, who has just taken a two year job in Antigua. Any clue as to where the Motes' will be traveling in 2006?? More Christmas newsletters next time.
Finally, let me tie up a few loose ends and follow-ups from the 40th. Jim Kelly had a great time at the Reunion and thought the trip that he & Mary Ellen made from Sarajevo was well worth the effort. He works there as a contractor for MPRI and works with the local military to try to get them to reform and adopt the "ways of NATO and the West." He has been doing this same kind of work throughout the Balkans for the last nine years and is always accompanied by Mary Ellen. Now THAT sounds like an interesting and exciting job/way of life!


Several group photos were taken at the Reunion, two of which I have included here. The first was D-1 and includes Tomaswick, Abraham, Helberg, Seaworth, Archangel, Sterbenz, Timmerman, Bennett, and Lehman. Not to be outdone, the C-2 files are Leskovian, Walter Keats (brother of our deceased classmate Bob), Olivo, Lane, Motes, Barkley, and Scully.
Well folks, that's it for this issue. I would like to extend my personal appreciation to those of you who have taken on the task of writing a memorial article for one of our fallen comrades. Several were completed in 2005 and several are well underway in 2006. Writing these is, indeed, a tough task, but it also, in a way, defines us as a class, just as our continuing response system to classmates (and their families) in need also defines us as a class. Both are activities in which we, as a class, should take great pride!