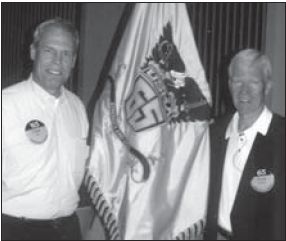 Greetings once again from Chicago! Hope all is well at your end of the Long Gray Line! Before we move on to the 40th Reunion, let's all a prayer or two for our classmates, especially Don Parcells, who passed away in November from a brain tumor. Your responses to Don & Elaine were magnificent, S&D! Simple, from the gut and with a lot of love and compassion. More on other ailing classmates later on.
Now more on that magical weekend in September we will all remember for the rest of our lives. We left off last time at the Friday Class Business Meeting, where our old and new president posed for the Scribe in front of our class ?ag. After lunch overlooking the beautiful Hudson, we walked up to the new Arvin Center (a.k.a The Arvin Cadet Physical Development Center) for the official class dedication of our formal entranceway, where Fred, Moseley, Christman, Doughty and the Master of the Sword did the honors. All of the USMA brass were in Boston for the BC game. I was particularly impressed with our old Supe's politic comments about how one courageous Pennsylvania Senator stood up to one irate Ohio Congressman and was able to get the funding for Arvin reinstated. Ah, ain't politics wonderful--and the Ohio Congressman's beef had nothing to do with WP! It was a proud and auspicious moment for all of S&D.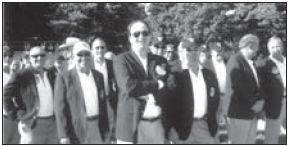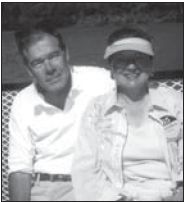 We then bussed down to the Supe's "yacht" for a delightful cruise up the Hudson, trying to remember the difference between a river and a tidal estuary that we had all learned as a cadet. Some of us even remembered the Sunday morning "tidal wave" that wiped out one of the docks. The Bob Bradleys take in the beautiful day--anyone happen to remember the Assembly photo many campaigns ago of Bob in his mermaid outfit? Just asking.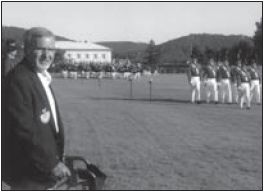 The special cadet parade followed, with S&D--all 233 of us--smartly attired in official parade uniform (blue blazer over tan slacks with open collar shirt, some with Panama hats or the class cap). We were led onto the field by a couple of guys who never figured out whether it was the left or right foot on the ground when the drum beat, let alone what the uniform of the day was (note the lack of an open collar shirt for our tattooed Canadian, Dan Steinwald). And, of course, we had to have those guys who never marched in a parade and were proud of it. They could usually be found nearby with a couple of cute females (Kurtz hasn't lost his touch). But what made this day special was seeing several of our ailing classmates enjoying the moment. Karl Plotkin awaits the Pass in Review, while John Alger stands with the current Cadet First Captain, Stephanie Hightowerr, and staff. Little did she know that John was on that same staff during our day.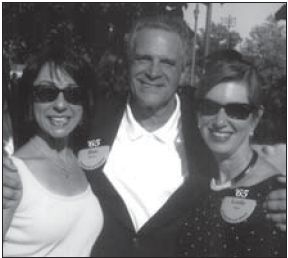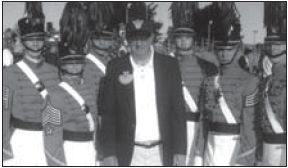 Cocktails and dinner followed at the Thayer, where a good time was had by all, especially the old Glee Clubbers--do these guys get to sing at every reunion? Duncan MacVicar and his band of merry carolers serenaded us with an interesting version of "Benny Havens, Oh!" It was a fine tribute to COL Schempf and Doctor Davis. Afterward, many retired to the back grass area of the Thayer, where cigars, conversation, and merriment continued well into the wee hours. We had some interesting dancers in the crowd. Ray Paske, a great slow dancer, but to the twist? Chuck & Rosemary McCloskey, in from Raleigh/Durham, where Chuck just built his umpteenth airport. Jim & Jeanne Harmon, showing off their dancing lessons, and Jim showing why he needed them so badly. Step Tyner dancing with his first ex-wife.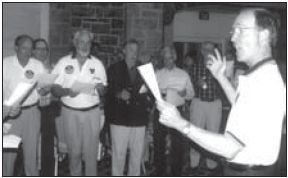 There were other great and lasting memories of these marvelous four days at our "rockbound highland home." The sheer joy, relief and feeling of closure felt by our returning widows, especially if they returned for the first time with adult children who did not know their dad that well, and they realized that they are still part of S&D and always will be so. Another Alzheimer's warrior, Karl Plotkin, insisting that he wanted to be at the head of the March On to see again his beloved Corps. And how about the amazingly high number of couples that are still married and going strong with their cadet OAO!
We formed on the western edge of the West Point Cemetery on Saturday morning for what many told me was one of the finest Memorial Services we have ever held. Our outgoing president led the services after his minister son '95 led us in prayer. The widows (with a fresh rose) and family members sat in the front row--their sponsors and the rest of the class behind them. Close friends, Ranger buddies, company mates, etc. read off the names of each of the fallen, one by one. Doughty conducted some tours of the historic final resting place, made even more poignant by the recent interment of our own Supe, Westy, a few days before. It was just a very nice and fitting tribute to our fallen comrades.
In closing, I would like to share one vivid memory that will stay with me forever. Remember the previous photo of Don Kurtz? Well, just after I took it, Don and I had a very private chat. I asked him how he was doing. My notes clearly reinforce my clear recollection of that moment. My old PA buddy looked through my eyes into my soul and told me he was going to beat that terrible disease (Alzheimer's). He then proved his determination by becoming a "dancing machine" (my wife's observation) Friday night. That is what S&D is all about, my friends!