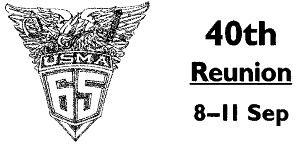 Greetings once again from Chicago! Hope all is well at your end of the Long Gray Line! This will probably be the last "Class Notes" received before the 40th Reunion, so I will try to bring you up to date, but please remember that this is being penned a few months BEFORE you will read it. Some aspects of the actual Reunion may change. Check the class website or one of the Reunion Committee members (e.g. Bob Frank bobfrank@dmv.com or Steve Ammon sammon@cox.net) to verify details.
The Reunion dates are 8-11 Sep 05, with some arriving on Wednesday the 7th. Tee off for golf (at Central Valley CC) on Thursday for the 60+ who have registered will be 0930. Ditto for the dozen or so tennis players (at the new USMA tennis facility) who have registered. You can still register for either; just let the committee know. Class HQ will be at the Thayer Hotel, where we have most of the rooms. Overflow is at the Holiday Inn Express and other locations, as needed. We are expecting more than 400 classmates and guests, certainly one of the largest turnouts ever. We also expect a good number of widows, some with their families, which will add a nice touch to the festivities. A list of attendees can be found at the website. Check-in will start Thursday afternoon.
On Friday, we will have a business meeting in Ike Hall. Election of new class officers (Clair Gill has been nominated to be our Pres with Bob Harter and Harry Dermody as his deputies) and other class business. The meeting will be followed by lunch and the class dedication of the Arvin Center. Tours of the cadet area, Cadet Store, Supe's boat, etc. also will be available that afternoon. We are trying to arrange a cadet parade. Friday dinner will be at the Thayer. "Preferred" uniform on Friday will be blue blazers, white shirts over khaki/tan trou. Our '65 straw hats (optional for wear) will be available for purchase. For those of you who never liked to be told what to wear, wear whatever makes your day!
One of the fun exercises that has come out of the preparation for the 40th has been our efforts to re- establish contact with all of our widows and families of our deceased classmates. While we have not been 100% successful, we have made great strides. We could still use your help in locating the NOK/immediate families of the following: Brown, Charlie; Dickey, Chuck; Lee, Bob; O'Toole, Pat; Clark, Al; Endicott, Dick; McArthur, Pete; Clark, Jerry; Gagne, Bob; McMillan, Jerry; Collins, Richard; Glynne, Mike; Momcilovich, Mike; Davis, Leonard; Hutton, John; Myers, Chet; DeWitt, Spotty; Kadetz, Gary; and O'Connor, Joe. If you have any information, even a guess, please pass it along to me via e-mail, and I will try to track them down. For example, we located Chuck Burghart's sister in northern California. Hopefully, she will come and bring Chuck's son to the reunion. Speaking of e-mail, please note the new address in the column header.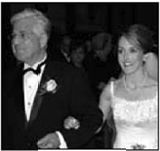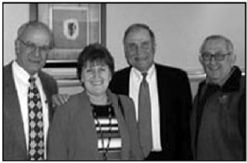 Several great photos show the diverse activities with which our mates have been involved. The first is Mark Sheridan and his lovely daughter Jennifer at her recent wedding. Fortunately, the maternal genes seem to be dominant. The class was well represented by the Abrahams, Algers (with John looking well, according to one observer), Dave Jones, Don Kurtz (looking well also) & his Roz, Munsons, Scully, and Tomaswicks. Only the Salomones had to cancel due to the arrival from Iraq of their son Stephen '00. The next photo shows Dick Chaffer on one of his visits to cheer up Tim Vogel at the nursing home in Red Lodge, MT. Carol Maimone sent Tim a nice note admiring his courage and effort to communicate by whatever means he can, citing her years watching Manny lose that same ability. Others visiting Tim have been Denny Lewis, Dave Kuhn and Chuck Shaw. Bob Harter and Harry Dermody are shown with Walt & Cathy Kulbacki at a recent DC luncheon. Bob Bradley's "date" at the San Diego FD was none other than George Ruggles, or was it the other way around? Both are shown at the Club the next morning.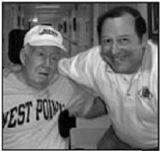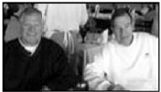 The issue of V.A. Benefits, Agent Orange exposure, etc. has become a hot topic within the class and may well warrant a detailed discussion at the 40th, since we have some resident experts like Terry Carlson, who has been dealing with these issues from a medical perspective. Terry has been a psychologist with the V.A. for more than 25 years. Speaking of health and possible Agent Orange after-effects, several of you inquired about Ron Bailey's well-being. Ron reports that, as a result of his vigilant nurse-in-residence Raine, he finally had a CT a few years ago in an effort to determine the cause of his recurrent and unexplained pains in his hips, back, feet, and shoulders. It turned out that he had non-Hodgkins lymphoma in the red blood cell producing bones of his pelvis. Three years after his last chemo/radiation treatments, he shows no "hot spots," which is good news.
Buddy Bucha keeps busy in real estate development, working with the Fisher brothers (of the Intrepid Foundation fame) on developments in Boston, NYC, Palm Beach, and even one pending in Highland Falls. He also is very active with the Fishers in getting Congress to improve benefits to our veterans. By the time you read this, we will be down to one uniformed classmate as a result of (new BG) Bob Doughty's 20 June retirement from the History Department. More on that in the next issue. USAF COL Larry Isakson is now our last remaining active duty soldier, sorry, airman.
Someone from WP was recently looking for vignettes concerning those that had availed themselves of the General Sedgwick spurs ritual. Well, according to his friend and best man, Nic Merriam, Bill Bradley (now deceased), although a devout Catholic and academic "turnback," was struggling in Fluids, donned FD under arms, and made the midnight stroll to the General's statue. He arrived and began the spur spinning ritual just as the OC appeared. Being fleet of mind (at least in FD under arms), Bill executed a perfect rifle salute followed by a "Good evening, Sir!" The OC smiled, returned the salute, and disappeared into the night. Who'd have thunk! If any others have had a similar experience, please let me know.
The Picklers are on the move again, as previously reported, although I am interested in the "price" that John had to pay for Karen's acquiescence. The last time he pulled one of these moves (to Baghdad), a big, new house in Tennessee was the quid pro quo. This time they will be running the missile range test site in the Marshall Islands for Bechtel.
We have had several classmates in sick bay since the last "Class Notes." Johnny Johnson, recovering from colon cancer, is undergoing treatment to shrink a tumor. Ed Knuaf successfully navigated a stem cell transplant, and Roger Frydrychowski is recovering in Richmond from his bout with cancer. Good news from Mayo via his son John and Step Tyner--Tim Thames received a new liver in late March and is apparently doing well. Since his liver is about 25% younger than he is and (as one wag pointed out) about 50% younger than the remainder of his body, we expect big things (twist, floor dancing, etc.) from "His Honor" at the 40th!
There was an article in the 12/6/04 Army Times concerning DoD's mail policy to Iraq and Afganistan. In the article, mention was made of our very own Mary Kay Salomone's three- year effort, in conjunction with her 500 "angels," to send more than 250 tons of goodies to our troops in the war zone. Great job (as usual), MK!
Several of you wrote to say that you had heard of or read Dave Bodde's recent book on entrepreneurship, reviewed in the January ASSEMBLY. In other non-Reunion news, I have received considerable feedback on the impact that our out-going Pres, Fred Laughlin, had on the AOG governance debate. Three Governance Committee participants have told me the same thing--Fred's input was fair, insightful, balanced, and amazingly effective in getting the key issues to the surface for debate without getting everything tied up in the emotion of the day. For those of you following the governance debates, they are long overdue and, when implemented, will set the course for the AOG to move ahead smartly into the 21st century. Fred also gave the speech, well received by all, I am told, at the dedication of the Bob Arvin VFW post in Ypsilanti, MI, several years ago. We now have a copy of this inspirational speech on our website.
Reg Dryzga spent almost two years rebuilding housing for the poor in Baghdad and then Fallujah, before deciding to depart after several close calls with the bad guys! Reg met Ross Wollen in Dubai on his way back to the U.S. in April. He has also promised to make the 40th! Never a dull moment with this former Marine! Well folks, that's about it for now and until the 40th! "Be there or be square" as our kids used to say. Oh, I almost forgot--Bradley spun the spurs, returned to the barracks, aced the WGR, graduated, and became another facet of West Point folklore.
---Denny