Greetings once again from Chicago! Hope all is well at your end of the Long Gray Line!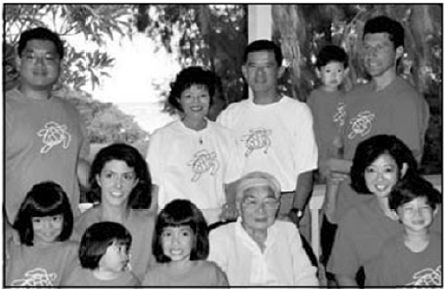 Ric & Patty Shinseki took the entire family, including grandbabies, to Hawaii in August to see Ric's 93-year-old mother and to introduce the third generation to their Hawaiian heritage. A great time was had by all!
National media articles continue to appear about Ric's wisdom re the rebuilding effort in Iraq. There was also a fascinating PBS/Washington Post 90-minute TV special on Don Rumsfeld that prominently featured Ric. It may still be available at PBS.org.
Dan Christman underwent heart by-pass surgery in October and is doing well. He was also on the main stage at the Democratic Convention in Boston with another USMA #1 grad, Wes Clark '66, and other retired flag officers supporting John Kerry. We all wish the Supe a speedy, complete recovery.
Tim Thames is having some liver problems. Please keep him in your prayers.
Pete Howard passed away in early September after a valiant battle with cancer. The class was well represented at his services by pointman Chris Needles, backed up by Dave Bodde, Les Hagge, Jim Harman, Pres Fred Laughlin, Terry Ryan, Rog Wolf, and Ray Woodruff, plus many spouses. Harman gave an outstanding eulogy, according to several attendees. In lieu of flowers, the class made a donation to the Capital Hospice in Fairfax, VA. Our love and prayers go out to Susan and her family. Pete was a good man.
Two Buck Chuck, you say? Our peripatetic vintner, Chuck Shaw, is at it again. He has contracted to buy a "scenic, hillside, south sloping vineyard and winery" near Saugatuck, MI; with a little luck (and some financing), he hopes to be up and running in 2005. Stay tuned--maybe we'll have a repeat of the special wine Chuck supplied for the 20th.
The VFW post in Ypsilanti, MI, was renamed after our fallen First Captain. The C. Robert Arvin Post Education Fund was established to encourage local young men and women to pursue academic excellence. Art Hester reports that our Pres had the shot of the day, a double eagle on a front side par five. In addition to Fred, Art & Cinda, others in attendance were Mitch Bonnett, Walt Oehrlein, and Dave & Marcella Gnau. Holes were sponsored by Joe Anderson and Jim Conley. Scholarships totaling the amount of $5,900 were awarded to eight local students with a combined 3.9 GPA (out of 4.0), three valedictorians, five athletic team captains, 19 athletic letters, and a "ton of community involvement." Our Pres was guest speaker and challenged the recipients to look at their lives and the people who influenced them to be successful, and then apply that standard in being influential to people around them.
Nancy & Terry Ryan hosted the annual DC-area class picnic at their Diamond Hill Farm with a great turn out from local classmates. Pictures can be seen on our class website. The attendees donated $1,200 for "Manny's Majors," an ALS charity established in Manny Maimone's name.
Joe Sanchez sent a sitrep on Don & Roz Kurtz's participation in the 12 Jul 04 National Alzheimer's Education Conference in Philly. They sat on a three-couple panel ("The Voices of Alzheimer's Disease") and Roz was later interviewed by Heathday (go to HealthDay.com for the 12 July Alzheimer's article). "One never knows where one's path may take them, and it is important to put one foot in front of another to find out." Well said, Roz, and may God bless you on this journey.
In October, I had the privilege of helping organize and then speaking at a "Support the Troops" local rally that drew about 1,000. It was a great way to let the troops know that we are behind them. If any similar effort is initiated where you live, the Army can and will provide support, but the rally must be apolitical. The Army calls it "Operation Tribute to Freedom." You can also help by pitching in with Mary Kay Salomone at "Operation Support Our Troops" (www.west-point.org/family/support-our-troops). As you find out when you talk to a soldier, the little things REALLY count!
Also at that rally, I met a volunteer (uniformed similar to a USAF captain) from "Bugles across America" who played "Taps" at the event. Leighton Atteberry brought this group to my attention several months ago. Look them up at http://www.buglesacrossamerica.org if you need a real bugler for a military ceremony. Great group, from what I could tell.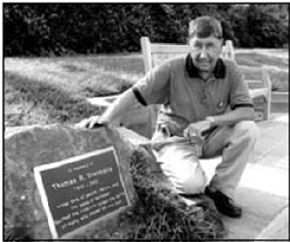 We were able to include a photo of Cam McConnell and his father, Class of '31, in a previous issue, but unfortunately, his father joined the "ghostly assemblage" of the Long Gray Line in July before the article was published. Cam did, however, manage to get his dad back to West Point for his 70th. In previous articles we mentioned the Sheckell memorial at a high school in North Bethesda. The submitted photo shows Art Adams beside that memorial.
We also mentioned how many of the class traveled to Montana to see Tim Vogel. In a June photo, John Seymour and Denny Lewis are shown trying to get a smile off the old Navy file's mug! Tim, there are classmates all over the world who are following your progress. Preston Motes, for one, wrote from Ankara, Turkey, where he is working on improving cooperation between U.S. and Turkish defense industry companies, that he thoroughly enjoyed reading about you and wanted you to know that he is pulling for his old buddy to get better!
Although my plea to hear from Tony Livic was received, my only contact was a note from Dave La Rochelle indicating that Tony & Kathy are, in fact, alive and well. Tony is a very private person, and, as such, I don't expect to hear from him. They used to live in the Napa Valley with the La Rochelles and the Shaws. Dave and his family were in Long Beach, where daughter #5 participated in the Olympic swimming trials. She finished 25th out of 76 swimmers, which would permit her to set about 95% of the women's records at USMA! Unfortunately, Natalie is not a soldier and is looking at UC/Berkley if Stanford does not come up with a scholarship. Dave also reported that they saw John & Donna Seymour in Mission Viejo. One last La Rochelle note: Flynn, daughter #3, was elected co-captain of the UC/San Diego Women's Water Polo team as a junior.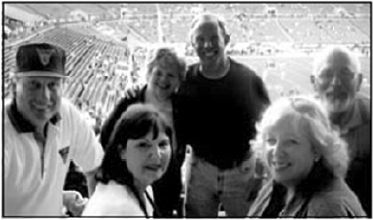 Cathy & I had hoped to attend the USF game with daughter Shannon '95 but had to cancel at the last minute. Shannon & Paul took their two oldest munchkins (Colby and Kirby) to see a "most exciting game." Also in attendance were Lew & Barbara Greene, Duke & Sally Wheeler, and Don & Sharon Parrish. Missing from the picture were John Scobie and Jim Knowles.
Finally, mark your calendars and get your reservations into the Hotel Thayer (remember, first come, first served; limited number of available rooms) for our 40th Reunion in September. Bob Frank and his reunion crew have been working long and hard to make this the best ever S & D reunion. We are also making an extra special effort to get all of our widows to attend, which means that we need each of you to reach out, if you are close to one, and try to get her and her children to attend. If financial assistance is needed, let Bob know. If you are not close to a widow, consider contributing $100 or whatever to the Reunion Committee to help those in need.
---Denny