Greetings once again from Chicago! Hope all is well at your end of the Long Gray Line! First, an update and request for understanding on the 40th Reunion. By the time you receive this issue, we will be looking at 7-8 months to go. Please do not call the Hotel Thayer for rooms until you receive notification from Bob Frank and his band of merry reunion men. The hotel will NOT take early reservations, so don't waste your time.
From previous issues: Don Appler continues to do well with his recovery, thanks to good medicine, a great caregiver, and lots of prayers and letters from S & D. Ditto Tim Vogel. I am told that Tim is still amazed at the calls and letters he receives on a regular basis, to say nothing of the personal visits. Write or contact him at Beartooth Hospital and Health Center, 600 W. 21st Street, Red Lodge, MT 59068, or contact his favorite social worker, Becky Mitchell, at bmitchell@beartoothhospital.org.
Dick Chaffer visited Tim in August, turns out he is only about two hours by car from where Dick lives (Bozeman, MT). As Bill Hecker found in a previous visit, it was a very, very uplifting experience, and Tim seemed to enjoy the time as well. They looked through the '65 Howitzer. Tim identified many of his friends and clearly enjoyed their bio entries in 1965. Tim had on his Class of '65 ball cap and a T-shirt from an Army alum golf outing that probably some of you may have attended. Dick reports that Tim still is in fighting spirit but has some trouble communicating. The nurses sincerely care about him and seem to be doing a good job for him. They are very taken with the class' interest in Tim. He especially seems to enjoy e-mails, so let's get those messages off to Becky. Anyone interested in visiting will find Red Lodge about 50 miles south of Billings and on the way to NE Yellowstone Park via Beartooth Highway, U.S. 212. Also nearby is the Custer Battlefield, which some may find of interest. Dick's final observation: "Tim shows our class motto at its best."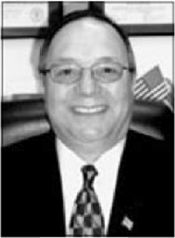 Our own "Rebuilder of Kuwait," to say nothing of the new Cadet Library (and the demise of our Class Tree), Hoffman Press Box, Rowing Center, Everglades Restoration Project, the Boston to DC Acela Hi-Speed Rail Project (to name but a few), the one, the only Ralph "Loco" Locurcio, reported to his new job as "the professor" at Florida Tech to teach his version of Engineering Leadership! Loco also ran into Dr. Mike Barker at the faculty reception of his new digs. He is so-oo happy with his situation wherein he can impart some of his 35 years of experience to new students that he wants everyone attending the Army-USF game in October to come over for a sit-down, catered meal at his new estate. What you say? You did not receive this notice until well after the game? Perhaps next year then!
When I asked Loco of his oft-stated goal of buying a vineyard in Italy, he indicated that was his next goal in life. He did visit the homeland last year, rented an Alfa, and "blasted through the villages from Rome to Foggia." Great update; thanks!
Ralph Asplund reported that he and Bart Barry have received many favorable comments on the memorial article they wrote on Mike Thompson, from their Ranger buddies in "Frost Bite Five," the Ranger class made infamous when Mike punched out one of the TACs. Mike's memorial article, as well as Manny Maimone's, were published in the TAPS that you should have received with your May/June ASSEMBLY. Ralph has recently purchased a home on the Cape close to Mike's kids, who he sees often. Jessie just completed her first year in college.
Tim Thames is working on the Special Ops article for the Class History (with a twist, says he). Tim reports that it's hard work and that he could use input from all you "black-bag" guys, so if the cloak fits, give Tim a call. Tim also reported that Hank Mickells, Jimmy Coughlin, and their definitely prettier wives, had a delightful evening over at Hank's in Tucson. Hank is an amateur, gourmet chef, and a good one at that. The guys and their ladies relived Santa Fe and gave Coughlin a ration for missing a great time and being disloyal to his heritage. After receipt of the August issue, Tim sent and got a response from LTG Reinke. What a guy! He remembered '65 in particular.
Jon Thompson recently wrote to a local talk show host in Memphis. He reiterated his thoughts and impressions on visiting the (North) Vietnamese "War Crimes Museum" in Saigon (Ho Chi Min City) as a member of a Clinton administration government-sanctioned visit and seeing the "prominently displayed" pictures of some activist Americans, to include Hanoi Jane and John Kerry. No indication of what the radio guy did with the letter.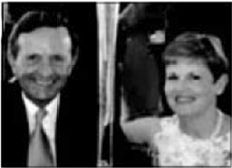 Barry & Lynda Zais attended the wedding of Jerry Cecil's (former '65, Class of '66 scribe) son in Winchester, KY, and sent along the following photo.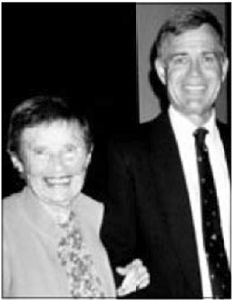 This next photo is of one of my favorite people in the entire world, Anna Mae "Audrey" Jannarone, with her son, our classmate Jack Jannarone. The photo was sent by Dave Bodde after the funeral of his father-in-law, our former deputy head of the Math Department, BG John SB Dick '35, at West Point. Dave remembers him as a "kindly and gracious father-in-law, a man of wholehearted integrity." Well said! Dave & Priscilla relocated, in August, to South Carolina. Dave has accepted a faculty position at Clemson (Go Tigers?) Audrey is doing well after her stroke earlier in 2004. Jack, who lives a few blocks from her, is considering getting involved in the local politics of Highland Falls. Having had a taste of that myself through some friends there, I cautioned him "to proceed with utmost care!" Tough (little) town that plays hardball.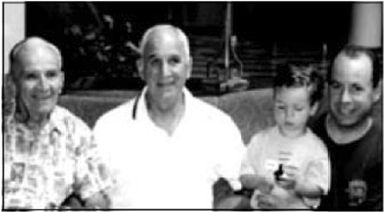 Here we have a photo that shows four generations of O'Donnells: Bud (WWII, Korea, and RVN), Skip, Chip '92, and Chase (Class of 2023?) planning for a big family reunion that will take place at the USAFA game this year. And how, you might ask, did Skip get his name? Born a month early and, therefore, "skipped" month #9.
The author, Walt Cross, from Oklahoma State University, went through us to track down John Harrington for a book he is writing on John's great-grandfather, 2LT Henry Moore Harrington, Class of 1872, who was KIA at The Battle of the Little Big Horn in 1876. John was delighted and is cooperating with Cross' effort. Cross seems to think that the elder Harrington may well have been the one dubbed by the Indians as "the bravest man the Sioux ever fought." Small world, stay tuned.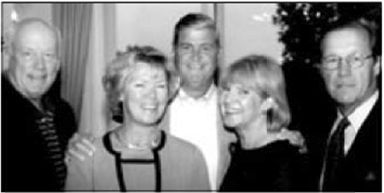 Ray Paske passed along this photo of he & Ginny, with Rollie Stichweh, at a fundraiser in Summit, NJ, in July, celebrating our own American Cancer Society Man of the Year (see details in previous "Notes") Don Parcels with his favorite fan/caregiver Elaine. In Don's remarks, he noted that the meds that helped him with his battle with cancer were not available ten years ago. He looks GREAT!
Well, folks, that's about it for this time; have to run to jury duty. Keep those letters and photos coming, please!
---Denny