Greetings once again from Chicago! Hope all is well at your end of the Long Gray Line! We may have caught a break in our efforts to contact Jim Echols' widow, Smokey. Cyndee Hill (Bob's wife) reports that they drove to Ft. Wainright, Fairbanks, AK, from Ft. Sill in 1968 with the Echolses and the Echolses'daughter, Michelle. Jim met a pilot there and wanted to gain some flying experience.
Jim and the pilot volunteered to fly a light plane (owned by a relocated general officer) to DC in 1971. They departed in bad weather and en route crashed into a mountain in southeast Alaska. Because of the vastness of Alaska, it took 30 days to locate the crash site and recover the bodies. Bob escorted Jim's remains to Atlanta where he was buried in a family plot. Shortly thereafter, Smokey and her young daughter moved to L.A., presumably to be near her actress sister, Shelley Faberes, who is married to Mike Ferrell of MASH fame.
Michelle was married in 2002 and lives in Cleveland, where the Hills joined Smokey (and Shelley) for the festivities. Smokey had just undergone treatment for breast cancer and was doing "real well," according to Cyndee. I have asked Cyndee to contact Smokey again so that I may talk to her. Cyndee doubts that our concern that Ferrell was "protecting" Smokey was a valid one. More later as it becomes available.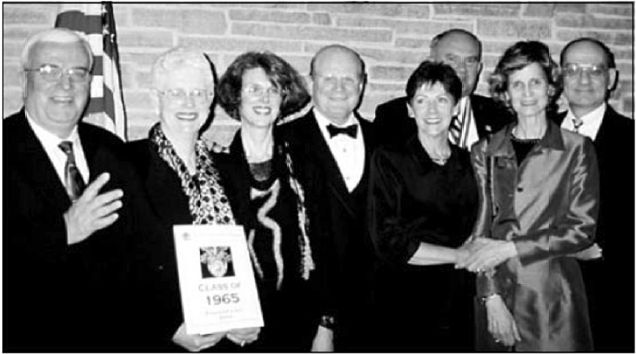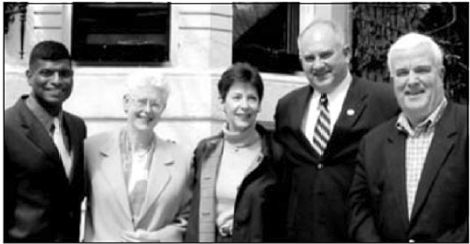 I am listening to the owner of Trader Joe's on the radio as I write this, hucking his "Two Buck Chuck" wine over the air. I had the pleasure to sit next to our own Chuck Shaw (and his lovely new bride, who runs a local art gallery on the Miracle Mile here in Chicago) at our recent Founders Day Dinner in March. So how did the "Two Buck Chuck" wine get a life of it's own? It is clearly without the participation of our inveterate 150-pound football captain! Seems the "Charles Shaw" name went with the divorce, several bright guys who had been with Gallo saw an opportunity (due to the excess of good winemaking grapes in California), and the rest, as they say, was history. Chuck looked great and is back to his normal, ebullient self. Also at the Founders Day Dinner were Wes & Linda Taylor (who came up from South Bend for the weekend) as well as Tom & Marilyn Kovach. The Taylors joined Cathy & me at brunch for one of Wes' young Ranger Company commanders, BG Leo Brooks '79. The Com was the guest speaker at the dinner. Neat guy and great speech to this sector of the Long Gray Line! Leo would be the good-looking guy to the left of those two young babes in the picture.
Our peripatetic Joe DeFrancisco is on the move again, having retired from Lockheed Martin. He now is wearing his spurs as the VP-Military Markets at Honeywell. Now I wonder how that one came about? Incidentally, say a prayer for his lovely Lynne; she is back undergoing treatment for her skin cancer.
Speaking of Honeywell. Ric Shinseki called in March asking for ideas on how he could get from his three-day New Director's class here at the U. of Chicago to O'Hare during Friday night rush hour. Seems he absolutely had to make a certain flight back to DC to join Patty for another certain flight to his native Hawaii (both he & Patty were born on the island of Kauai, he in Lihue). He must have made it on time, because all of the reports from the Army Museum's newly dedicated Shinseki Exhibit at Ft. DeRussy in Waikiki speak of a fabulous exhibit of the life and career of our classmate and his lovely wife. Ed Winstead visited the Shinseki exhibit and gave it high marks. He was also interested in seeing the film clips there of the 16-inch battery guns, especially those guarding SF Bay during WWII, where Ed's dad was the last Battery Commander. Small world! They stayed at the nearby R&R hotel Hale Koa on the beach and within walking distance of the museum and highly recommends it to all of you retirees.
We have attempted to arrange a tie-in from our class website to the exhibit without success so far. I am told by Ross Wollen that you can contact the Army Museum (or maybe try Amazon) and order Ric's biography written by New York Times reporter Richard Halloran. A detailed news release can also be found in the 28 March Honolulu Star Bulletin.
Former classmate Eddy Dye wrote that he is alive and well and trying to figure out how to transfer all of his cadet-day photos to a computer so that he can send some along for our viewing. Eddy, it is simple. If you have a son or daughter, assign them the task!
We were all saddened to hear of the loss, after a long battle with cancer, of Mary & Bob Harter's daughter. It is never easy to lose a loved one, but doubly difficult when that loved one is your child. I recall meeting her several times and always being impressed at what a neat young lady she was.
If you were impressed by Don Parcell's fight with cancer detailed in the last issue, look again at how Don Appler has been handling his battle with squamous cell carcinoma with like-minded determination. The cancer apparently spread from the back of his tongue--go figure. According to Carol, he looked good, had no symptoms and everything appeared normal. Don had neck surgery in March followed by chemo and radiation at Johns Hopkins. The class has risen to help, en masse, as has become our norm and our expectation. "The calls and e-mails are," says Carol, "like hugs across the miles, and we both enjoy them."(N.B. My only concern is that they may go to Dermody's Eastern Shore abode to recover after their stay at Johns Hopkins! Don, Carol--PLEASE make sure that Kay is there also. And if you see "The Old Man" rolling down the hill toward the water in his wheelchair, DO NOT follow!) Many thanks also to Bob Frank and others who kept Chuck Nichols and me "in the loop" on Don's progress so that we could share the information via both of our class networks on a timely basis.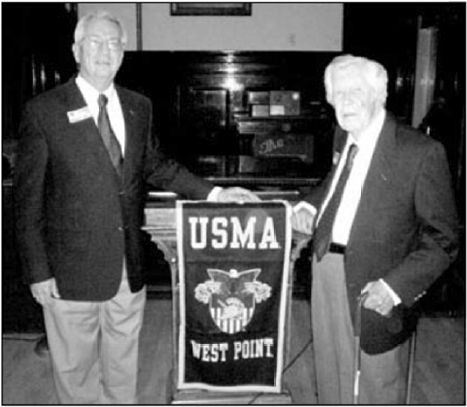 Camden McConnell sent the photo of him and his dad at the San Francisco Founders Day Dinner in March. Camden has been in the Bay Area for some time and hoped to be able to get more involved, but, unfortunately, his dad is taking a lot of his time.
As you have read here many, many times, my key goal prior to any reunion is to try and get as many memorial articles written as is possible. It is simply unacceptable (at least to me) that we still have MAs missing for comrades who have left us many years ago, some as long as 30-plus years. Slowly, but surely, we are inching toward that goal of no outstanding/long overdue MAs. Ken Yoshitani reported that he and Jim Harmon, with a lot of help from Carol, have completed Manny Maimone's MA, and it should be published shortly. Greg Letterman also completed the MA for Rick Wetherill with help from Rick's brother. Our class president, Fred Laughlin, then worked with Rick's widow Mary Ann to get it finalized. It should be published this year, as will Manny's.
For a class that "rallies at a moment's notice" to assist our classmates and their spouses/family members in times of need, we have dropped the ball on the issue of long, past due MAs. This is an important issue, guys, and one with which we need your help. If you have already volunteered to do one, please let me know how you are progressing. If you decide to opt out, please let me know that also.
MAs are very difficult to do properly, but, once completed, they establish a permanent and visible record of the life of our friend, our classmate, and maybe even our Ranger-buddy, roommate, best man, or whatever. If you want to help with any of the missing MAs, just contact me, and I will help you get it done: Bob Berdan, Ladd Metzner, Guy Riley, Jim Echols, Bill Mitchell, Wayne Scholl, Jim Gardner, Mike Momcilovich, Jim Smith, Bill Griffin, Pete Peterson, Mike Thompson, Kala Kukea, Rich Pullen, Jim Woodard, Ken McArthur, and Don Philpotts.
Well, that's it from Chicago. Keep those cards and photos coming. And don't forget to clear the schedule for the September 2005 40th Reunion!
---Denny