Greetings once again from Chicago! Hope all is well at your end of the Long Gray Line! In case you ever wonder if '65 has lost any of its Strength & Drive, never doubt. For the latest, go to our class website and read the inspirational article from the Star-Ledger paper in New Jersey about Don Parcells and his continuing battle with cancer. Don is "living his normal life and feeling great" according to Elaine. Old #31, who has just been named the American Cancer Society's Man of the Year for 2004, has certainly shown us the lead, as he did so many times leading Stich through the line on those great Saturday afternoon games, in how we all can handle life's challenges.
S&D works in many ways, some public, some not. At the mini-reunion, Jim Webb spoke with Sonny Archangel concerning Jim's brother Greg '70, who had been in the ICU at the hospital where Sonny works in San Antonio, since receiving a new liver last August. Jim did not ask for Sonny's assistance but did promise to see him on his next visit to see his brother. Unfortunately, Greg passed away in November. As Jim awaited the beginning of the funeral mass for his brother, Sonny came up to pay his respects. It seems that Sonny had visited Greg several times during his last days, unbeknownst to Jim. "The memory of Sonny's kind and unselfish act," Jim told me, "still makes me cry."

As mentioned last time, we still have folks in harm's way, with three in Baghdad. The photo of John Pickler and Reg Dryzga shows them with our adopted Marine "FAST" company. Sandy Hallenbeck was not due back in Iraq until several weeks after this February photo was taken. The Marines have thoroughly enjoyed our contributions to their well being, viz, the New Year's and Super Bowl parties as well as commo equipment additions to their dayroom that enable them to pick up Armed Forces stations, according to their CO, MAJ Matt Hollinger. As I understand it, the FAST company basically provides security and intel services for the senior American military and civilian leadership in country. Thanks to all of you who answered Reg's call for contributions for the Marine's cause.
John & Karen Pickler will be joining Jack & Annette Lowe (from Stockholm) for a week of R & R in London in March.
You will note that both John and Reg are wearing their class jackets from the 35th Reunion in the "FAST" company photo. I have been receiving calls from those of you who want to order a replacement or an additional jacket (check out our website for ordering info).
Speaking of reunions, Bob Frank and Steve Ammon are making great progress in planning our 8-11 Sep 05, 40th Reunion, at West Point. At this point, it look like there will be no football game that weekend. This means that West Point will be less crowded and thus give S&D more freedom of movement during the weekend, a fact that many of the mini-reunion attendees stated was one of the biggest fun factors of the Santa Fe weekend. The Reunion Committee is anticipating up to 300 people participating. We have sufficient rooms at the Hotel Thayer and in Highland Falls for that turnout. Things have a tendency to change, however, so stay flexible until the official word comes out from Bob and Steve later this year.
The next time you look at your class ring and wonder if Athena's helmet really does hold the key to understanding the true history of the human race, think no more. Thanks to Bob Johnson, the answer can be found in his new book, Athena and Eden. Check it out at www.AthenaandEden.com.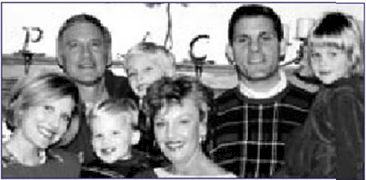 The McElieces sent this photo of the family with their cute grandbabies. I had originally thought that their daughter Annabet and family had moved to San Diego but now find out they are in Erie, PA. Jim & Julie are still at Pt. Loma Nazarene College in San Diego. Speaking of grandbabies, my Shannon '95 just had her fifth child, all under six!
The Art Mark Christmas letter arrived, as it always does. Art's look-alike son Ed is in Iraq with the 2-3rd Infantry.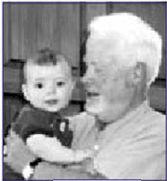 Another Christmas letter included the photo of Bob Anderson and his first grandson William. Barb & Bob just returned from a three-and a-half year healthcare mission in Cameroon.
Chuck Moseley's usual Christmas letter also arrived with a family photo celebrating Chuck's mother's 95th birthday.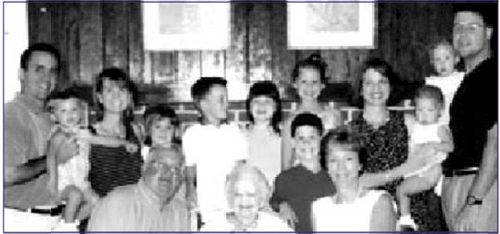 Pete & Heidi Lounsbury's Christmas tome had some great photos of their two grandbabies, but unfortunately, we need to have a classmate or spouse in the photo to be published in ASSEMBLY. The four-year-old, Olivia, was diagnosed with AML, a form of leukemia, which has rocked the Lounsbury world, to say the least. But as they say, things happen in threes. The Lounsbury's house was spared in the great California fires last fall and their second grandbaby Ryan was born in early February.
Ric & Patty Shinseki's newsletter had some great photos of their five cute grandkids and some wonderful words in appreciation of their send-off by the greater Army family. Ric is getting on with this civilian living and business thing, visiting Chicago in March for an intense "How to be an effective Board member" type course at the University of Chicago.
As some of you may know, I often ask for personal/family updates from you after receiving an e-mail or note. Most of the time, you all kindly reply to your old scribe. One such reply came from George Seaworth here in the Chicago area. George retired after 28 years with Quaker Oats and is awaiting Jill's retirement from the cardiac rehab nursing business so they can move to "some place warm." Oldest son Brian and family are in NYC, son Doug '93 and his family are in Houston, and daughter Theresa works at Lampert Airport in St. Louis as an engineer.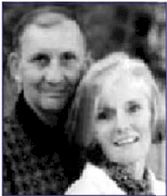 One of our last "greensuiters" hung up his spurs (or more likely his sliderule) when he passed command of one of the two major Engineer commands in the Reserves to Bob Williamson '72 in Vicksburg, MS. Our congrats go out to Rick & Beth Coleman on a job well done.
We have been searching for the exact details of Jim Echols' death in the late 1960s. Ed Armstrong remembers a call from Jim's widow Smokey, shortly after the accident, informing Ed that Jim had died in a non-military plane crash in Alaska while on a bear hunting trip. We have had absolutely no success in trying to contact Smokey, who is related to Shelly Faberes. If anyone knows how to contact her, please let me know.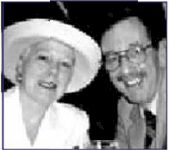 Roy Garms reports that we were well represented physically and musically at the memorial service for Diane Schultz in Weston, CT, in January. Paul and his extended family were joined by Ed Knauf, Nate Kantor, Dave Hopkins, and our own piano playing Jack Cooley. The great photo of Diane & Paul was taken last year at Ric & Patty's retirement in DC.
We were also well represented at the service for Kathy Woodruff in December by Bob Axley, Bob Bedell, Frank Prokop, and Mike Stanko. Kathy was diagnosed with cancer shortly after their marriage and fought it valiantly for the next ten years. Our class easel of red roses was beautiful and reminded many of the roses Ray & Kathy grew in their back yard.
One vexing question from the class history was finally answered by George Seaworth as he sorted through some old files--the first classmate married at the Catholic Chapel was Bob Higgins at 3pm, 9 June. If you have any tidbits that make sense to include in the 40th Reunion revision of our class history, please send them along. I also have asked Tim Thames to spearhead a section in the history about all of you guys who were involved in Special Ops. So, if you were in that business, give Timmy a call in the next few months. That includes you also, Needels!
---Denny Coll