Greetings once again from Chicago! Hope all is well at your end of the Long Gray Line! The holidays have come and gone, and so it gives us a good chance to catch up some past news and activities.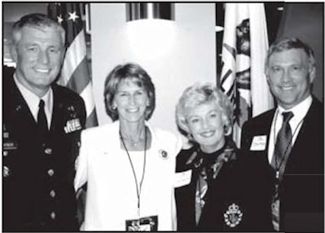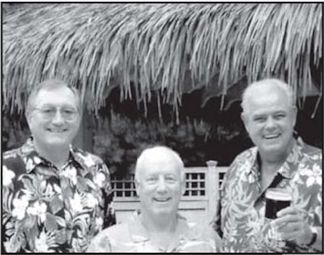 Don't hear much from Jim & Julie McEliece anymore--must be the California sun. Jim still is the economics department chair at Point Loma Nazarene College, where Julie is the director of the business center. They attended a Billy Graham Mission in San Diego, where they met up with their old friends, LTG & Mrs. Bob Van Antwerp '72; he was the main speaker before the packed stadium of over 60,000. I also seem to recall that daughter Annabel and her family have moved from Chicago to the San Diego area to be closer to mom and dad. Speaking of the sun, the photo of Bill Zadel, Rollie Stichweh, and Denny Lewis shows them relaxing at Bill's Cape Cod home after visiting our Alma Mater for the Southern Florida game. Bill still runs Mykrolis Corp in Billerica, MA. Rollie is retired, I think. Can't remember what Denny is doing.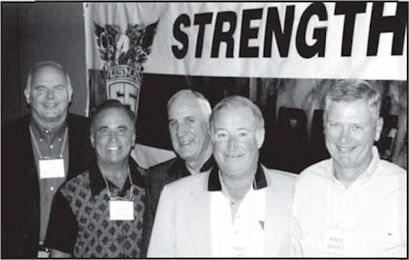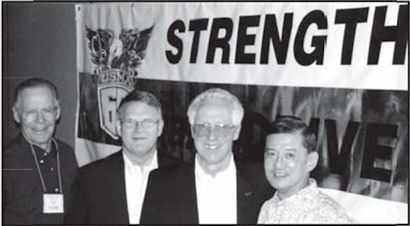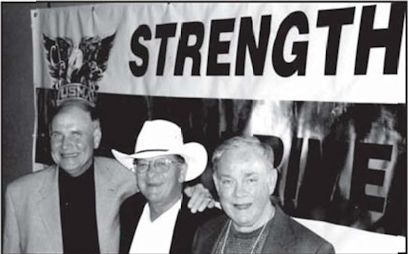 Ralph Locurcio is working on the New Cadet Library. He tells me that that our Class of '65 mini-amphitheater is "safe" from the new construction and that the first floor of the new facility will probably "enhance" our facility in that it will be used as a learning center and will make our facility a nice (warm-weather) extension. Patton's statue will have to be removed and our Class Tree will be destroyed (we are working with Gus Fishburne at the AOG to find another suitable replacement). Thanks to the efforts of Ross Wollen and others, the new library will be called Thomas Jefferson Hall. They hope to start construction in 2004 or 2005 at the latest.
John Longhouser is on the move once again. He has been appointed the president of MTC Technologies, a DC-area company (that had been predominantly Air Force oriented) that is trying to acquire two other companies to forge a "land forces group." Busy guy this John!
Another great photo comes from southern California, where Pete Lounsbury sent the picture of a party that Dave & Rosie Kuhn had for John & DeDe Malpass. In addition to Pete & Heidi are the McElieces, Jack & Vicki Blau, and Donna & John Seymour. Pete has started a new business of taste-tailored vended refreshments; the Blaus recently have moved to Orange County; and the Malpasses were visiting from Atlanta, where he still is with IBM and she is a psychologist. Both have earned Ph.Ds. Seymour just started a new business selling Weyerhauser products to car dealer associations, according to Pete. John, you might want to clarify for your old scribe how you go about selling tree products to car guys!
Cammy McConnell sent a photo of him and his dad (Class of '31, "Oldest Grad" in attendance) at the WPS of the Bay Area last year. Unfortunately, the photo was not reprintable. With Cammy were Bob & Barbara Anderson, recently back from missionary work in Cameroon, and Harley & Myrna Moore. Harley is a principal with a transportation consultant; Cammy still is a structural engineer with TransSystems Corp. in San Francisco. Preston Hushes had dinner last October with Duncan & Carolyn Brown as well as COL (Ret.) & Mrs. EG Heilbronner '45, who was the 1st Regt. TAC in 1962. Dean Loftin could not make the mini-reunion due to an assignment for General Dynamics in Casablanca, Morocco. He & Diana expect to be there for several years.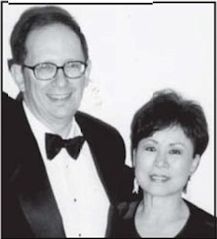 Speaking of overseas assignments, we have at least three in Iraq as of the 2003 holidays. John Pickler, Sandy Hallenbeck, and now Reg Dryzga. Anyone else? Bruce Clarke was at a local inn in El Segundo, CA, for breakfast and ran into the "Z" man, Andy Zaleski. Roy Garms was in Saudi recently for a reliability assessment for a JV petrochemical complex. He then traveled to Sicily via Cairo and Milano for some additional survey work for Esso.
More photos from the mini-reunion in Santa Fe last October and elsewhere. In front of our S & D sign and flanking our own C-1 cowboy: Hank Mickells, Walt Kulbacki, and Tim Thames. Also in front of the sign are M-2 files Joe Wetherall, Jack Blau, Skip O'Donnell, Bruce Clarke, and Fred Smith. Our resident Santa Fe artist, Ed Klink, is seen in the shot with other 1st Regiment folks Bob Cato, Mike Huston, and Ric Shinseki. And finally, at a Founders Day Dinner in DC last year, Tom & June Fergusson cut a great pose.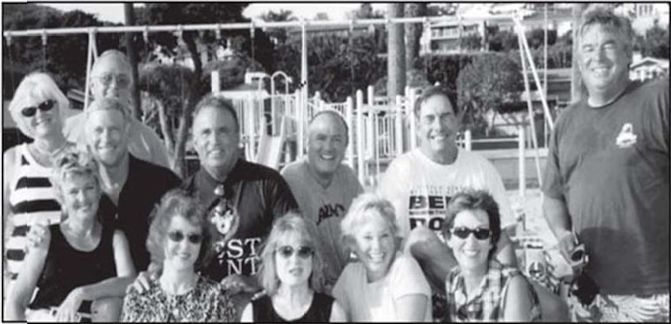 A few closing notes. Diane Schultz passed away shortly after the mini-reunion as did Ray Woodruff's wife Kathy, both after long battles with cancer. S & D rose to both occasions and was well represented in sharing our classmates' grief, I would also like to personally thank each of you who sent a note or e-mail wishing my speedy recovery from total left knee replacement surgery. Before the surgery, I recall talking to several who had the surgery and getting the same response: in three--four months, your only regret will be that you did not have the knee replaced three-four years earlier. True! They also mentioned, almost as an aside, that there would be pain. True also. As Dan Christman shared with me afterwards about his surgery, the recovery pain can be excruciating during the PT period. The old saying, "No pain, no gain," was probably penned by an active dude immediately after completing PT for knee replacement surgery.
---Denny Coll