Greetings again from Santa Fe. Hope all is well at your end of the Long Gray Line! Cathy & I still are here following the four-day (first ever) Strength & Drive Mini-Reunion, relaxing and enjoying this magnificent old city. When I think of this long weekend, the following comes to mind: lots of first time attendees (since graduation), classmates throwing candy off the balcony at the Halloween revelers, Reggie's salute, Milk Duds, howling at the moon, a budding S&D artist taking Canyon Road by storm, Thomasson's double dip, Thames poetry, old broken fences being mended, and lots more. But more on all of that later.
I am slowly, but surely, getting input for the Class History. Keyes Hudson wrote after a long interlude with some great "poop" for the next revision as well as corrections on the History's version of John Hay's death. I also did not know that the ACAV in front of the Patton Museum with "G6, 1/11 ACR" on its bumper was a memorial to John (who was awarded a DCS along with Keyes). Thanks Keyes!
Some sad news to report. Just before the mini-reunion, Bill Bradburn's wife Ann suffered a stoke in August and has been confined to the Columbine Manor Nursing Home in Salida, CA. She is making progress but unfortunately was unable to attend the mini-reunion, for which they had registered. Also unable to attend were the Paul Schultzes, Diane taking ill and passing just after the mini-reunion, according to Jack Cooley. Joe Sanchez reports that Karl Savatiel is undergoing chemo for a melanoma and is having a tough time of it. Let's all say a prayer for these classmates and spouses and please keep them in your thoughts!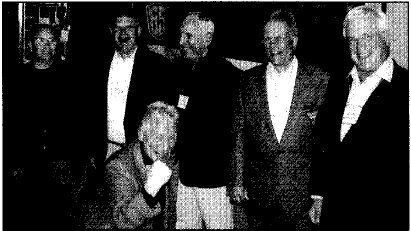 Now, back to the mini-reunion. The town? Old Santa Fe. The venue? The lovely La Fonda Inn at the end of the old Santa Fe Trail. About 120 classmates, spouses, family members, and two widows arrived Thursday in time for the Benny Haven's hour (actually two). They wined and dined to the melodic strains of an authentic Mariachi trio in the lovely La Terraza room. About one third had not been to a class function EVER or had not been to one in many, many years. It was magic! Whatever was in the air that night started the four-day festivities off on just the right note. When the mixer ended, everyone headed for their choice of one of many fine restaurants, most within walking distance. Welcome bags awaited each classmate and contained a small rista (strand of chili peppers), a hand-painted tile from La Fonda, and other goodies, maps, and the like.
Friday started off early (to accommodate the duffers) with an informal breakfast featuring the famous Santa Fe Breakfast Buffet in the North Ballroom. Unbeknownst to the weekend planners (your scribe and bride), these breakfasts were to be the best part of the entire mini-reunion. Informal, come when you want, sit with whom you want, and renew old acquaintances. It was so successful that we decided to schedule a second breakfast on Saturday.
For weeks prior to the mini-reunion, we had been proffering a bit of a tease in terms of the identity of our secret artist, who has taken Canyon Road (where many of the finer art galleries are located in Santa Fe) by storm! The tease ended at a two-hour cocktail party at two adjoining galleries on Canyon Road. Most walked the easy two-three blocks in ten-15 minutes, while Wollen, Dryzga, Step Tyner, and others, maps in hand, took the "scenic" tour and arrived a bit later.
Who'd have thunk it? Ed Klink, the Hoosier and Harvard MBA, retired after a very successful business career, now is exhibiting his work in premier galleries in Santa Fe as well as Phoenix, Scotsdale, and Indianapolis. Who'd have thunk it? And if you think that is a hoot, you should hear Sheila's famous (at least in Indianapolis and a remote "suburb" of Santa Fe) moon howling! I think they call it hog calling in the Midwest, but you get my drift.
A few figured it out beforehand; most did not. Several spent hours Friday searching for a clue as to the identity of the artist. Ed was kind enough to offer the raffle winner the choice of one of two of his pieces that were displayed in the Hospitality Suite and, later, at the party. Whose ticket does Sheila pull out of the envelope? The same guy that beat the Dermodys, the Radcliffes, Fred Smith, Swensson, Clarke, Adam, Bunn, Gnaus, Knauf, Kulbacki, Laughlin, Malpass, Mickells, Neals, Parrish, et al that morning at the fantastic PAA-KO golf course, our own "industrial rubber" guy (honestly, that is what he told me) Jack Thomasson!
Later, at dinner that night at the fantastic La Casa Sena restaurant with the Blaus, after we had chased a couple trying to have a romantic interlude out of the small, private room, Jack started the frolic. All guns were aimed at Dermody, and since he is half deaf, the volleys landed twice. Let's have another raffle, says Jack. Fortunately, Ann was able to quiet the beast by suggesting that she REALLY liked a VERY expensive piece that she had been eyeing at the gallery!
Saturday morn brought the second, and unscheduled, informal breakfast before everyone headed out for wherever. The only "glitch" in the weekend was when Patty Shinseki got stranded at the Denver airport for 36 hours due to an ice storm. She finally hooked up with Ric, and they arrived late Halloween night. As they pulled up to La Fonda, imagine their surprise to see Reg Dryzga, urged on by traveling 'mate Ross Wollen, down on San Francisco Street policing up a Snickers bar, one of many "goodies" that they had been tossing at (mostly female frolickers under the age of 12--just kidding of course) passers-by from their second floor balcony. Only problem with Reg offering the candy to Patty was that she prefers Milk Duds! By the way, Reg headed to Baghdad at the end of November, sponsored by the UAE, to assemble a development team to build low-income housing in the old-Saddam City.
But alas, back to my train of thought! Many of our Ranger brethren, and their Rangerette spouses and significant others, followed Mert Munson to the unbelievable Bandelier National Forest near Los Alamos, where they scaled the ladders to the ancient cliff-dweller's settlements. The less venturesome enjoyed the lovely fall day browsing through the many shops within walking distance. Our own Easy Rider, Steve Sperry, resplendent in "Hog" leathers, tooled on up to Taos on his Harley. Our president, always on the lookout for ways to please Maralee, spent Saturday afternoon in a Sports Bar with her! Several of us found the pool and especially the hot tub. Heavenly!
The only "formal" activity, although it was far from that, was Saturday night's Southwestern buffet. Again, informal, no ties, sit with whomever you desired, etc. By this time, the old war stories were getting better and better. It was really a fun evening. I think this was Judy Hemingway's second class function, and she was joined by Cynthia (Tom) Johnson, both of whom were in demand by all of their classmates.
The class presented Ric & Patty with a beautifully engraved silver platter as a small reminder of our pride in their distinguished service. Ric, as usual, was quite humble in thanking everyone. One classy couple! After they sat down, an interesting thing occurred. Unexpectedly, Dryzga stepped to the podium and rendered a hand salute to the Chief, after stating that his classmates were prepared to "follow him anywhere, anytime."
At the end of the brief ceremony, two other things happened. A slowly ascending crescendo, sounding like "two more years" could be heard echoing through the dining hall, aimed at our out-going president. The other was a standing "O" at the organizers of the reunion. The one for your scribe was nice but brief and greatly appreciated. The one for his lady, who most had figured out had made it all happen, was deafening and well deserved!
We had people from near and far. Steinwalds from Canada joined the locals (Klinks and Roths). Most came by air via Albuquerque, while the Jim Webbs came in their well-traveled RV. Dermodys drove from the Eastern Shore of Maryland while Bunn drove from Seattle. Others from the East Coast included the Catos and DeFranciscos while Midwesterners included the Kovachs (and son Tom, Jr.) and the Ron Williamses. The Walt Divers joined the other Texans, Hank & Trina Mickells (the one wearing the white hat in the photo). We were also joined by the Fishes, Jim Holmeses, Dave Hurleys, Ed Knaufs, Walt Kulbackis, Bill Lehmans, Don Parrishes, Tim Thames (our resident poet, more on that next time), and Jim Webbs.
I think that a truly great time was had by all. Many cited the informality and the venue as being key to the mini-reunion's success. It also showed that L-2 couples can plan, organize, and implement a mini-reunion--if you keep it very simple. An activities template and local helper from another class' mini, like we had in Tom Claffey '58, was also invaluable in making this a fun weekend. I think that just about covers all of my points from the first paragraph except one. I'll leave that one to your imagination.
It was just a relaxed and wonderful time to meet and greet old friends. Hopefully, you will be able to join us at the next one!
---Denny