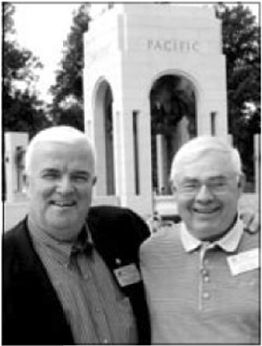 Greetings once again from Chicago! Hope all is well at your end of the Long Gray Line! I ran into our former classmate Jerry Cecil during a recent trip to DC. Jerry spent some time in L-1 until he decided to take the "five-year plan!" He and I are shown at the just-opened WWII Memorial. Jerry is the '66 scribe.
I received some photos from the Virginia class picnic in June, but, unfortunately, the group shot would not reprint well in the magazine. I am theoretically to receive some individual shots and will post them next time. One attendee, Ross Wollen, reported that he and Buddy Bucha were guests of our former Supe, GEN (Ret.) Bill Knowlton Jun '43, at the latter's induction parade at the Academy when he received the Distinguished Grad Award. They were joined by Knowlton's son-in-law, LTG Dave Petraeus, just back from commanding the 101st and the main subject of Rick Atkinson's book, In the Company of Soldiers. Speaking of Wollen, he reports hearing that Bob Arvin received nine major A's (wrestling, track, and pistol); this could be a record at USMA. Anyone care to shed light on this issue?
Sad news from Massachusetts. In June, MG (Ret.) George Patton passed away after a long illness. George commanded many of our line in the Blackhorse Regiment in RVN and other units. He was a good man. Another old '65 favorite, LTG (Ret.) Rienzi, who introduced us to "Spizzerinctum," according to Bob Doughty, is recovering from a June heart attack in Hawaii, where he has continued to live after his beloved wife Claire passed away a few days earlier. Another friend of '65, LTG (Ret.) Roy Thurman, passed away in late May. I am assuming that he and Max have the "Heavenly Gates" fairly well organized by now--two really great and unassuming, guys.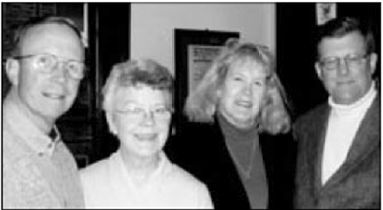 Tony Livic, where art thou? Your high school and scribe are looking for you! Reunion update: remember to mark your calendars, the 40th Reunion is set for the weekend of 8-11 Sep 05. The Lowes and Picklers were able to meet for some fun R&R at the Lamb and Flag, one of the oldest pubs in London. Jack & Annette are still in Stockholm, working for EDS, while John is ending his year in Baghdad working for Bechtel while Karen minds the home fires.
We mentioned previously that there was a memorial erected in Tom Sheckells' memory. We now have the details, as reported by Richard Wolfe. It is located behind the North Bethesda Middle School in Bethesda, MD. More details at www.mylax.org and at our class website. Ed Knauf had a stem-cell transplant in June and was advised on it all by our own stem cell expert, Sonny Ray. We all hope it went well and that Ed will see a full recovery like Sonny!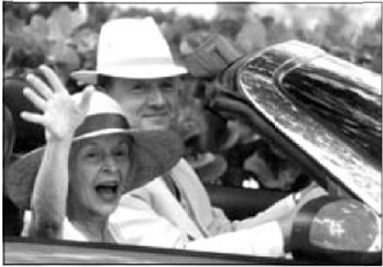 Mert Munson and his love Georgia married in May, then went to Paris for their honeymoon. They will reside in Green Cove Springs, FL. Just before the wedding, Mert's home was burglarized, and he lost several valuable items, including his dad's German Walther P-38.
Mike Shaver wrote concerning Pete Mc Arthur's memorial article. Mike & Rose Anne still live in LaCrosse, WI, where he retired as a ROTC Bde commander in 1990. Mike has been doing some consulting for Northrop Grumman with the Army's Battle Command Training Program, requiring some travel. Rose Anne continues to teach Early Childhood school.
Ed Winstead, among others, continues to give rave reviews on the Shinsek exhibit at the Army's museum in Honolulu. Heidi & Pete Lounsbury report that their granddaughter's fight with leukemia is going well and that they are most thankful for all of the class' love and support for Olivia and the extended Lounsbury family.
A cute voice from the past remembers stud-muffin, CDT Preston Moats! Seems Preston's blind date for the Knox Firstie trip (and also Ring Weekend), then nursing student, Janeen Engleman Langley, found our website and passed along the following: "Hope all you grads of '65 are doing well. Thanks for all you have done for our country and God Bless America!" She still has the photo under the ring at the Ring Hop. Preston, you must have made one heck of an impression, you devil!
And finally, Don Appler and his most-able caregiver Carol, seem to have weathered the storm from throat cancer. After multiple trips to Johns Hopkins, Don is slowly but surely recovering and gaining strength day by day.
Need I remind any of you folks in S&D of the impact that our love, prayers, and communications can have on a classmate and his family. Look no further that the Applers, Rays, Parcells, etc. Prayers and communications work--please keep them coming when we ask.
---Denny