Greetings once again from Chicago! Hope all is well at your end of the Long Gray Line!
By the time you read this issue of ASSEMBLY, the class' "first-ever" mini-reunion will be history, and we will be looking forward to September 2005 for the 40th. A great big thank you to those of you who had to cancel for various reasons but were willing to donate your sign-up fee so that we could assist some of our widows and others with their expenses to attend. I will have more details on the mini in a subsequent issue.
Even months after Ric's retirement, I am still receiving copies of media articles from those "experts" who claim to know what Ric's command was all about. My sense is that the class overwhelmingly feels that Ric's estimates and actions will be proven out.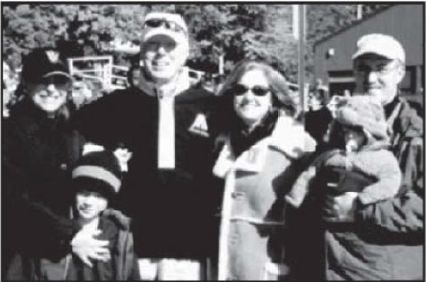 The kudos received by your scribe for the class article on Ric were quite numerous, amazingly kind, and unbelievably diverse in terms of sources in and out of the class. That article was a collaborative effort with input from many folks. To quote one classmate on Long Island (you know, the one with the cute wife, S & D license plates and strange accent), the article "was on the money and totally apt." My heart-felt thanks to my coconspirators, Dan Christman, Joe & Lynne DeFrancisco, Fred Laughlin, John Pickler, and especially my cute proofreader Catherine Ann as well as Ross Wollen and those special guys in the Chief's speechwriter shop, led by Ed Ledford. Many others, too numerous to list here, sent third party articles and helped in other ways. Ric & Patty probably paid us their highest compliment when they wrote (individually) that the article will be cherished as something to show to and be read by their progeny.
The folks at ASSEMBLY still are in need of your help, viz subscriptions. Please re-order, if you haven't done so already, and ask your close classmates to do so also. It has always been one of life's great mysteries that when I constantly hear how much classmates like the "Class Notes" and other ASSEMBLY articles and then I am told that an abysmal 263 members of the class subscribe. Go figure! It only costs $30, certainly not a deal-breaker. So, S & D, let's each try to get one classmate/non-subscriber to sign up!
My personal thanks to our "Class Notes" editor of many, many moons at the AOG, Cathy DeCoster. She has been simply fantastic and always made your ole scribe look good! Because of the way they divide classes for the editors, we now are on the "backside" of the curve and have a new editor, Joyce Perkins. You're right, Addison, grandpa really is getting old. Speaking of the AOG, they now have a new website address: www.aogusma.org. Now all we need is to get USMA to change their impossible-to- remember e-mail addresses.
We had an unfortunate situation with Lucky deLaar's father and his season tickets. It seems Mr. DeLaar, Sr., an ardent Army season ticket holder of over 41 years, missed the cutoff date (he has used either his son's or Dave Gnau's ticket app) this past year due to travel and was unable to get his normal seats at the AAA. The unfortunate part was that the AAA computer looks at customers as either grads, nongrads, donors, etc. but does not distinguish between the ticket buyers and users. Mr. DeLaar, Sr., is a non-grad who has used his son or son-in-law's ticket apps for all these years. It probably could have and should have been better handled by AAA. Rick Greenspan, our AD, stepped in, talked to Lucky's dad and helped to straighten it out.
And how about that sexy lady from the far northeast? Everywhere I go, I hear great things about Mary Kay Salomone and her efforts to assist our troops in harm's way. Her project, "Operation Support Our Troops," has sent boodle and other goodies to over 50,000 troops and warranted a personal note from our own CofS. Their son Steve now is over in the sand somewhere. As MK said, it's harder seeing your kids deploy than your spouse, in that we were so young then, we really didn't understand the ramifications of being in the "Profession of Arms."
What do old Supe's do after they depart Qtrs. 100? Well, in our guy's case, he has moved on from running Jim Kimsey's DC- based school reform effort to becoming SVP for International Affairs at the Council on Foreign Affairs, also in DC. In between job moves and a knee replacement, Dan & Susan showed up at an Army crew regatta where his name-sake rowing shell and our other class shell took top honors in their class. The photo shows the Christman's with my son Brian ex- '92, Carolina '92 (who in her time was an outstanding lady's four-crew team member and the first to win in a major event), and their two boys at the regatta.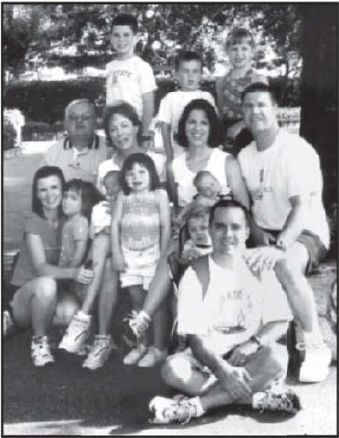 Also in attendance at the Occoquam Regatta but now overseeing Bechtel's operation in Baghdad, John Pickler has e-mailed many of us that they are making progress in Iraq, albeit slowly, but that it is a very dangerous place in which to work. John reported running into Sandy Hallenbeck (with SAIC) at Saddam's palace late one night.
Because of the space allocated to Ric's retirement in the last two-three "Class Notes," I now have room for some of last year's newsletters (still one of the easiest way's to keep the class updated on your happenings). The Moseley's photo took me by surprise, with all the little munchkins. Turns out that their daughter Debbie & husband adopted twin boys that bring their child count to five. Chuck & Cathy are doing well and staying active. Ron Williams has remarried. He is a public defender in Madison County, IL (isn't that where all of the tort lawyers are making their millions of $$), and Mary Beth is a prosecutor. Both are shown doing the "three coins in the fountain" bit at Trevey in Roma. Ron looks great due to having run his 20th marathon here in Chicago.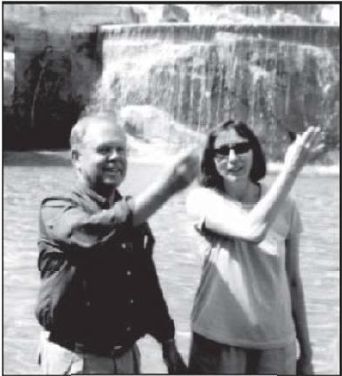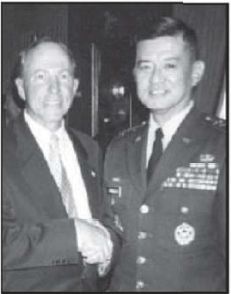 Prior to Ric's retirement, he stopped in NYC and saw Russ Campbell and other classmates at a Union League Club function. Jack Lowe came back to the U.S. earlier this year for prostate treatment before returning to his hectic job with EDS in Europe. He is doing well now but was sorry to have missed Ric's retirement, which Annette attended in his stead. Bob Guy was named Georgia's 2004 Teacher of the Year! He is an eighth grade science and reading teacher at an Athens middle school. He also has received several other distinguished local and national teaching awards as well as overseeing student teachers at the U. of Georgia for the last decade. How many of you guys in S & D have ever thought about going back to teaching kids? Hooah Bob--you make us all proud!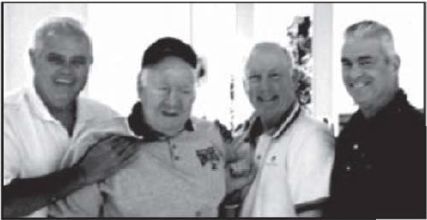 Still looking for relatives of our deceased classmate Tony Borrego who supposedly live in the Patterson, NJ, area or for Marshall Swartz, who wrote Tony's memorial article. Doug Gentzkow was seriously hurt test flying a plane out in the northwest and will require extensive recovery and rehab. Judging by the input from Harry Dermody, he is lucky to be alive. Pete Howard continues his fight after a recurrence of his cancer (originally a melanoma). Apparently Jon King finally received a new heart and is doing okay in Texas. All of these guys could use a call, letter, or whatever. And as I have said many times, when the going gets tough for our line, S & D gets going. The photo of Lewis, Stichweh, and Parcells shows them visiting an ailing Tim Vogel last June. They were there to "prop him up" as he did for them so many years before.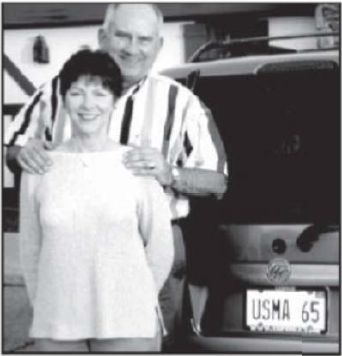 On the way through South Bend earlier this year, we stopped and had dinner with Wes & Linda Taylor. Wes runs a large not for-profit there. Their daughter Kathleen was activated recently and serves as an Army O-4 here at Ft. Sheridan. Neat, young (and single) lady for any of you with eligible sons in their 30s! One of our remaining active duty types, COL Larry Isakson, USAF, told several at Ric's retirement that he is being transferred to New Mexico to serve out his final two years. Maybe we'll see him at the mini-reunion.
Well, folks, that about does it from this end. I hope that you enjoyed your entrance into the sexagenarian stage of our lives (that means you are 60, for those of you with more purient minds) and that life remains good for you and yours. As I contemplated the responses to the article on Ric & Patty, I reminded myself once again what an honor it is for me to be your scribe. Thanks!
--Denny