Greetings once again from Chicago! Hope all is well at your end of the Long Gray Line! On a bright and humid June morning, about 240 classmates and spouses, along with two of our military offspring (in uniform), joined another 1,000 or more VIPs and other guests representing all branches of our military and our allies' military, to witness a special retirement ceremony for our own Ric & Patty Shinseki. The Shinsekis were well represented as well with about 70 of their extended family, mostly from Hawaii. It seemed to many of us at the march off that it was going to be a very special day--and indeed it was!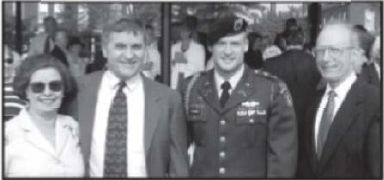 The first photo shows a young (and STRAC, as we used to say) CPT Helberg '99 in full Old Guard regalia with very proud parents Jim & Lynne. Also in the stands for the ceremony were numerous other couples: Curt Adams, Bennetts, Russ & Maryann Campbell with Douglas and Elizabeth, the Concannons, Donaghys, Franks, and Fields, the Gnaus, JP Greenes, and Lew Green, as well as the Steve Harmons, Longhousers, O'Briens, Needles, and the Nichols. Young USAF CPT Matt Jones '99 on R&R after spending time flying jets in the Mideast, was there with his dad and former POW Bob Jones accompanied by Jon Thompson. Jon reported that his participation in the search for Amelia Erhardt's plane was called off after two months. He expects that they will try again next year!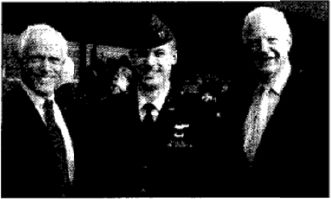 Others watching the ceremonies included Don Parcells, looking trim and fit and "enjoying life one day at a time", and a likewise bufflooking Rocco McGurk. They were joined by the Harters, Heckers, Lounsburys, Loftins, Annette Lowe, Carol Maimone and daughter Lauren, the Plotkins, Doug Richardsons, Schaltenbrands, and Schultz.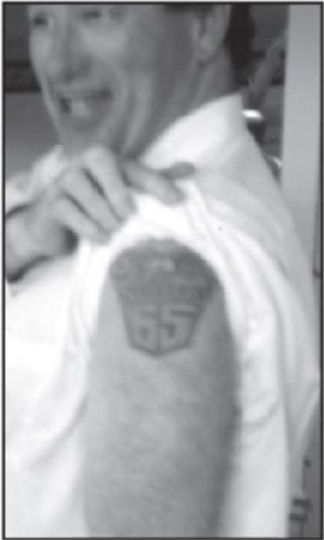 While we awaited the march-off, I was told by unnamed sources that Dan Steinwald had lost a bet with his daughter and, as a result, had to have the S&D class crest tattooed on his arm. Several minutes later, Dan wandered over and asked if it was possible to withhold such information from the greater S&D public. I assured him that the odds were greater than 100% that it would be a highlight of and maybe even make the cover of ASSEMBLY. Here it is in all its splendor and glory. Dan reports that it has been a "chick-magnet" so far at the beach, although it has a tendency to disappear when Dan flexes his "muscles" and the tattooed area goes flacid! Someone was heard to suggest a skin shot of viagra! Dan has spent way too much time in Canada! Seen ogling the corporal landmark were the Thomassons, Tom Shaws, and Fred Smiths. Even Swick & his lady, as well as the Wolffs, Zieglers, and Zais had difficulty believing what they saw. Ross Wollen, Herb Smith, and Hank Sterbenz were even considering a similar show of loyalty, or so I was told. The Old Guard retirement ceremony was conducted by the Acting Secretary of the Army, who was very laudatory in his comments on "Ric's Army" and all that Ric had accomplished in his four years at its head. In Ric's comments, he was, as usual, very humble in acknowledging everyone who had helped him on his most amazing journey from USMA cadet, through his graduation with S&D, to Viet Nam and through two very serious wounds, one of which was career threatening, through all levels of command from platoon to the A my, culminating in Quarters One, the Army Chief's official residence.
All of the speeches and many related articles on Ric, as well as the newly revised Class History and photos, can be found at our class website. Speaking of the history, everyone at the ceremony received a copy of this fifth revision, while those who did not attend were mailed a copy. It should have arrived sometime in mid-July.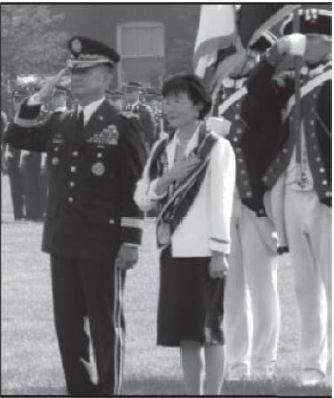 The photo below shows our leader and his lady in front of the Colors, as they both were presented with numerous awards and gifts by the Acting Secretary. Shortly afterward, Ric surprised Patty with a lovely full bouquet of yellow roses--a very tender touch by the leader of the free world's most powerful Army! He also mentioned how proud he was, and thankful, for the support from S&D during his toughest times. Another very nice touch.
Following the ceremony, the class retired back to the O'Club where we wined and dined while Ric & Patty said their goodbyes to the official guests in another room. That line of guests wound half-way up the walk toward the stables. It took more than three hours for everyone to make his way to the Shinsekis. Meanwhile, the class enjoyed old times and older war stories while welcoming some long lost souls. The next photo shows a revitalized Sonny Ray with his lovely wife Sherry and Ray Schaltenbrand. Sonny has been through a very tough battle with cancer and really looked and sounded just great! Hang in there, buddy.
While the wait was long and the air conditioning non-existent, many of our line met and greeted long-lost buddies. Swensson and Step Tyner contemplated a new movie (just kidding), the brothers Vann still confused your scribe as to who was who, although their wives seem to get cuter by the year. A limping Dan Christman held court in a side room with Susan, explaining that he still had a lot of pain in his newly-replaced knee. Dick Coleman was the only classmate in full military attire (other than the Chief), Clover, Cindric, and Bruce Clarke made sure the food table was continually stocked, while Ron Walter, Jim Golden, Tim Thames, Jim Talbot, and several others rehashed old cadet days while noshing on the goodies.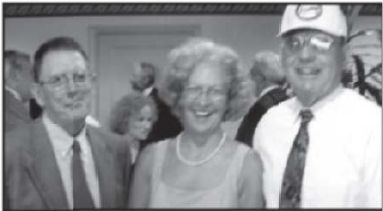 The guys who made the day happen were also there with their ladies, particularly a svelte looking Joe DeFrancisco with his lovely, lei-attired Lynne (said purple flowers brought over to the mainland by one of the Shinsekis), president Fred Laughlin & Maralee, and Joe & Nancy Sanchez. Everyone sent their money in to Joe S.; Joe D. arranged the room and grub; and the President gave what many of us thought was his best speech ever as he welcomed and lauded Ric & Patty. We owe a debt of gratitude to these guys for making it a truly special day.
Most of us were seeing classmates whom we had not seen for a while, such as: the Catos, Berrys, the Bill Connollys, the Clair Gills, the Roger Griffins, the Randy Guenthers, Hagies, Harveys, the Jim Harmons, the John Harringtons, both of the Hewitts (Lance and Lee), Hopkins, Howards, and Howses as well as the Isaksons, and the Marty Johnsons. We were very excited to also see Carol Maimone and her daughter, Lauren, as well as Cynthia (Tom) Johnson and her guest, adding icing on the cake as one person put it. S&D stood very proudly during this day, very proudly indeed!
I heard the same story from Sonny Ray and Randy Guenther and their spouses in terms of how amazing was the bond that seems to develop instantaneously when members of S&D would call or visit ailing comrades, even if we had not been close during our cadet or military days. Cherry Ray related the story of how many classmates would stop in to visit Sonny after his many surgeries and how this same bond would instantaneously materialize as the classmate walked through the hospital room door, even if Sonny did not know him that well. Simply amazing, she observed!
The guys who were there unaccompanied (like your scribe) also held their own, to include: Stichweh, Denny Lewis, Koropey, Jack Cooley, TJ Kelly, Kantor, Kuhn, Locurcio, Peter Linn, Dryzga, Burrell, Lloyd Brown, Boerckel, Barron, and George Bell. Others included Applin, Steve Ammon, DeMoulpied, Nowland, Kovascy, Kramer, Malpass, and Mullen who were joined by McChristian, Tad Ono, Principe, Rowe, Scheiner, and Seaworth. Quite a turnout.
I had a long talk with John Alger about his fight with Parkinsons. He looked great and had a keen insight and a fantastic attitude toward the terrible disease. While I felt sad on one hand, I felt encouraged on the other. John has always been a fighter! Steve Ellenbogen took a lot of flak about his infrequent class appearances, while his Cathy loved every minute of the hazing.
Others seen enjoying the festivities included: the Abrahams; Leroy Adams; Tom Fergussons; Mike Hustons; and Marty Johsons; Dave Jones (who supposedly has moved here to Chicago); the Leo Kennedys; Klines; Kovachs with their son Tom, Jr.; Kolettys; Kulbackis; Lehmans; Lemleys; Chuck & Rosemary McCloskey; Parkers; Karen Pickler (John's dad passed away the previous week and John had to return to his civilian post in Baghdad with Bechtel); as well as the Sheridans from Long Island who were joined by the Simpsons and Skidmores. The Winsteads, Terry Ryans, and the Lindbergs also were there and were joined by: John Thompson, Thames, Talbot, Stichweh, McKemey, Gordon Larsen and his date, Browder, Boohar, Fred Charles, and Clover. Not on the "official" list but also seen in attendance were: Frydrychowski, Howell, Olivo, and Zaleski.
As we guessed in the May/June "Class Notes" column, Ric walked off the Ft. Myer parade field proud and tall, after his final words: "My name is Shinseki. I am a soldier!" Indeed he is, and a very fine one at that. I don't think that I have ever seen so many of the S&D segment of the Long Gray Line stand so tall and feel so proud as we did that Wednesday morning in June, 38 years almost to the day since we all had raised our right hands and accepted the oath of office to our chosen profession--the profession of arms! Another glorious chapter of "Strength and Drive" had just been written, and we all were able to bask in its glory. What a wonderful day for us all!