Greetings once again from Chicago! Hope all is well at your end of the Long Gray Line! Planning is well under way for both the first-ever '65 Mini-Reunion in Santa Fe later this year and the 40th in 2005. The mini is scheduled for 30 October-2 November at the lovely and historic La Fonda Inn on the plaza in old Santa Fe. As previously mentioned, the Class of '58 (erroneously reported as '55 last time--my error) held one of their many minis in Santa Fe in November 2000 and had a "fantastic" time. You should have received two mailings (one from me with a registration form and other details and one from the Santa Fe Chamber of Commerce) on the mini by this time and hopefully will have made up your mind to attend. We may use the mini as the official class salute to Ric & Patty Shinseki who retire this coming June. If you are still interested in attending and have lost the registration information, please call or e-mail me and I will send it to you. If you did not receive either mailing, that means we do not have your correct address. Send it to me and I will take it from there. Remember that everything is on a first come-first served basis.
Speaking of the Shinsekis, the tentative retirement ceremony has been set for 11 June in DC. We all will receive invitations to the ceremony. John Pickler and Joe DeFrancisco are spearheading the class activities relating to the retirement. Speaking of Joe, his lovely and talented daughter, Laura, who works for the Army's PAO, is the deputy PAO in Garmisch, Germany. Tough life! Joe, being the ever-watchful father, spent the Christmas holidays there with Lynne and Laura. Zugspitze anyone?
Bob Frank, the 40th Reunion CinC, included a survey with the first mini mailing to ascertain the class' feelings on dates, etc., for the 40th. If you did not respond and have some thoughts, get them to Bob ASAP.
We all were greatly disappointed in Army's no show for the Navy game. But if it makes you feel any better, consider how Pete & Heidi Lounsbury felt being the only ground-pounders at LeCumbre Country Club in Santa Barbara with a large group of "navals." Greg Steele was supposed to attend but probably had second thoughts after the first quarter. Ross Wollen joined Dave Kuhn, Rollie Stichweh, Denny Lewis, Reg Dryzga, Ed Knauf, Jack Tomaswick, Tom Barron, and the Chief at Giants Stadium to watch the game. The Supe has publicly backed Coach Berry (a gutsy move with which I happen to agree). Rumors abound that we may try to exit Conference America. Stay tuned!
Several old soldiers and friends of '65 crossed our path late last year. BG Bob Tarbox passed away in November and was buried with full military honors at Arlington. "COL T" was the 1st Regimental CO and later deputy Commandant for part of '65's tenure. Tough, demanding but respected was how I remember him. He was kind enough to attend my wedding in Germany and as so often happens when one is away from "our rockbound highland home," I found him to be a good friend and experienced mentor.
I received a call from another of our old Regimental TACs, BG (Ret.) Arch Hamlem, Jr., who was trying to track down Bucha. Remember the old poem "I look like a pear, but I don't care, ..." GEN Hamlen (83) lives in Falls Church, VA, with his current wife. He was previously married to a lady who served as GEN Patton's private nurse in Europe until she passed away several years ago.
Old TACs never die, at least in our memories, do they? I have an idea--please send me one of your better (and publishable) old TAC stories. When I have accumulated several, I'll devote most of a future "Class Notes" to these old memories. Old TAC photos also would be great!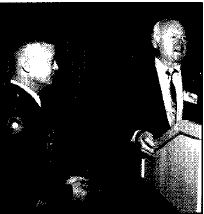 Ric Shinseki was the guest of the Union League Club of New York at an October luncheon, where he was able to gather with 16 classmates including a healthy looking Don Parcells, Wollen, the Chief, Bucha, Nate Cantor, and Tom Barron. Standing behind Parcells are Tony Clay, Stichweh, Tomaswick, COL Bob Doughty, Gene Manghi, Mark Sheridan, Gordon Larson, Jim Talbot, Jim Harmon, Larry Leskovjan, and Russ Campbell. Paul Schultz and Charlie Tice also were supposed to be there but missed the photo. Bucha introduced Ric to the club audience with: "My friend, my classmate, my hero..." Ross wrapped it up with a gift presentation.

Unfortunately, the Union League Club of Chicago was not so fortunate. We had invited Ric to speak at our annual Washington Birthday dinner, but due to events relating to Iraq, the Chief had to cancel. A large group of classmates in the Midwest was set to give him & Patty a big Chicago welcome.
Several of us had the privilege to attend a very special memorial service at Northwestern University to celebrate the life and person of Jack Cooley's wife, Maria, who passed away last November after a long battle with cancer. What a way to say good-bye to a "one off a kind" friend. It was held a week after the private family funeral and was attended by several hundred friends, including classmates Schultz, Tom & Anna Croak, Tom & Marilyn Kovach, Cathy & I, and Dave Hopkins. Jack orchestrated (in the finest theatrical sense) an upbeat program of song, testimonials, and lots of laughter. He led us all on the piano as we sang the song that first attracted Maria (who was attending an All Academy Ball in St. Louis with a middie) to West Point yearling cadet Jack Cooley (attending the same ball with his mother). The rendition of "Maria" from West Side Story was unbelievable--strong, emotional, and loving, just like our own Maria Cooley. After having the privilege of knowing someone as full of life as Maria, it was a rare experience to participate in the final remembrance in such a fun-filled, loving way. And of course, Jack invited everyone afterward to their home a block away for a "good, old-fashioned Irish wake" which went on and on into the wee hours. Maria Kenefick Collins Cooley, we will miss ye, my dear, but we won't forget ye!
Totally unexpected news from Kalamazoo of the passing of Bill Bradley, Jr., arrived several weeks after his death last November. We scrambled as a class to make contact with his widow Tish (Dale) but we were saddened by the fact that we were not notified by anyone in time to have classmates attend the wake and/or funeral. Nic Merriam attempted to contact Bill several times over the years but to no avail. Bill married Tish several months after graduation and later earned an MBA at the U of South Carolina. He also is survived by two daughters and a granddaughter. Tom (Boris) Borkowski volunteered to contact the family and offered to write the memorial article. Interestingly enough, Boris had attempted to help with the MA on Jim Echols (still unwritten) several years ago but was rebuffed by the agent for Mike Farrell (of MASH fame)) who is married to Smokey's sister, the actress Shelly Fabares. If anyone knows how to breach this problem, please let me know. I knew Smokey and also have tried calling her, with no response. We may have to just write the MA without participation by the immediate family.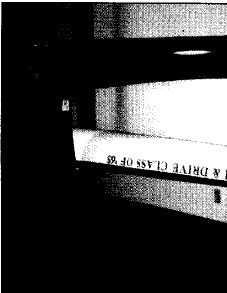 Just as old soldiers never seem to die, old USMA crew supporters also seem to have nine lives. My son Brian & his lady Carolina (a '92 Ladies Four Crew member) ran into John & Karen Pickler and Dan & Susan Christman at the fall crew regatta in DC. The photo of John next to the two '65 shells ("Strength & Drive, USMA '65" and "Daniel W. Christman '65") attest to the special relationship between S&D and the USMA Crew team. By the way, many of us believe that Crew ought to be elevated to a USMA varsity sport one of these days. Our top two varsity teams are starting to compete with the big guys!
As reported previously, Terry Grandstaff has lived in Bangkok since the 1970s. An RVN/1st Air Cav buddy of his is trying to get his address for me so that we can see what Terry has been doing in Thailand for all these years. With the construction of the new Cadet Library in the next few years in the area near the Patton statue (and our class tree), we will lose that lovely old class oak. Gus Fishburn at AOG is helping us with another location. Our good friend Don Kurtz has been diagnosed with Alzheimer's and is doing as well as can be expected. Donnie of course is best known for being part of the infamous "Gang off Five" that has run the Army-Navy class event every year for many years. I'm sure Don would appreciate your calls and letters.
Well folks, that's it for now. Not many photos nor letters to report this time, so please drop me a line and include some good photos. Hope you will join us in Santa Fe!