Greetings once again from Chicago! Hope all is well at your end of the Long Gray Line! Sad news from DC via New Mexico. Our good friend (and S&D's lacrosse All-American) Tom Sheckells was hiking in New Mexico with his wife Anne when he died of a sudden heart attack. Tom was active for many years in the local DC area lacrosse scene. We were well-represented at the standing room only memorial service held at a DC church in late October by Ray & Ginny Paske, Mike Applin, Bob & Nancy Johnson, Orlin Mullen, Nick Principe and probably others. There were several eulogies delivered but none more touching than the letter from a local Hopi Indian who helped Anne try to minister to Tom at the scene. Orlin probably said it best: "Tom was much loved by all who knew him; he made an immense contribution to the lives he touched simply by the way he lived his life. I do not know how anyone could do better with the fleeting opportunity that life brings." Tom worked as an exec/lawyer with the EPA for many years, administering the Super Fund for six western states plus the four states that surround DC. He will be missed by all of his many friends in S&D. Our thanks to all of you who got me the information on the death and services so that we could broadcast same to the class in time for the service.

We also received news that Tim Vogel continues to have health problems and is in an assisted care facility in the DC area. Calls and letters are greatly appreciated. E-mail me for the details if you can help out or call the Sunrise Assisted Living facility on Franconia Rd. in Springfield. Tim's speech is strained so you may want to visit in person if you can. Also say a few prayers for our good friend Don Parcells, who has had a recurrence of his brain tumor (stage four medullablastoma). Joe Sanchez spent a day with him in September as Don was undergoing radiation therapy. You may recall that Donny had a previous operation at Duke University. Jose reports that Don's attitude was positive and "unbelievable," and that Don had told him "at least 100 times just how much the calls and letters from S&D meant to him!"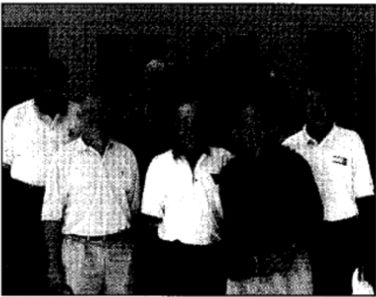 On one final note, our good friend Joe Palone passed away in early September. Joe was the head soccer coach from 1947 until 1978, amassing an enviable 228, 80, and 35 record with winning seasons in his last 26, including another victory over Navy in his last game. Many of us will best remember Joe for his tutelage of our fisticuff skills where it was often said that Joe "enjoyed the sight of blood, especially OUR blood." He was a special kind of a guy and will be missed by all of his friends in S&D! We have made a contribution in the class' name.
Many of you responded to our queries about a small booklet that was published concerning our "Beast" experience. Through the efforts of Peter Lounsbury and others, we now have an actual copy of it (and the yearling book called The Mortar.) I suggested to the Class Committee that we try to have copies made and make them available at the 40th reunion. Stay tuned.
We are going to try something different in 2003 concerning our formal get-togethers, namely a mini-reunion. Many other older classes have successfully held these minis in off years from the major, five- year reunions and because our stag golf outings have now grown in attendance and frequency, we think a mini with the ladies will be well received. The first one is scheduled for 30 October - 1 November 2003 at the La Fonda Inn in the heart of historic old Santa Fe, NM. It is a fantastic inn and a beautiful small town with spectacular scenery, art galleries galore, great cuisine, lots of Indian culture, world class golf, amazing hiking, etc. The Class of '55 had a mini there in November 2001 and had an amazing turnout--especially from folks who had never or infrequently attended the major reunions at USMA. Written details should be in your mailboxes by February 2003 with reservations on a first-come, first-served basis. We also will try to have something up at the class website by late January. We have 110 rooms reserved at La Fonda so if you are going to go, get your reservations in quickly. '55 sold out in 60 days, even though they have minis just about every year!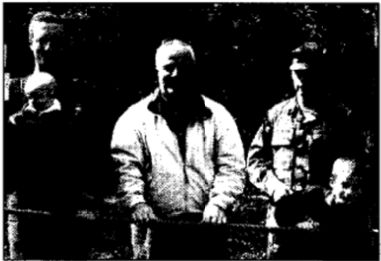 Our on-going search for long lost classmates continues to have success. Several of these were located by our own John Swensson using his vast internet skills. Grover Starling is a Ph.D. and professor of public affairs at the University of Houston at Clear Lake. Efforts to get some feedback from Grover have been unsuccessful so far. If anyone out there knows him well, please see if you can contact him and send me an update. Also located and off the MIA list is Ken Moorefield, who is our new Ambassador to Gabon, a small country in west central Africa on the Gulf of Guinea. Apparently, Ken left the Army in 1971 and somehow ended up back at the embassy in Saigon in a governmental post. If anyone has had contact with Ken, or can do so now, please see if you can get an update. John also "found" Terry Grandstaff in Thailand where he has spent most of his time in academic and international development work (not sure what that means--fund-raising?). He earned a master's in English and taught at USMA for a while, then went back to UH Manoa for another degree before ending up in Thailand, where he & his wife (a Thai academic type, says Terry) are semi-retired. Terry, if you are out there, please let us know.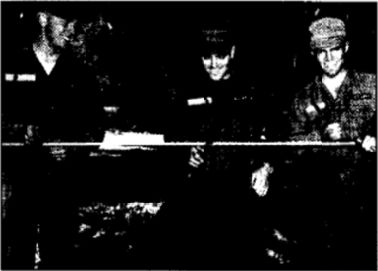 Art Adam sent a great photo of the summer golf outing at Mannassas in July that includes Steve Darrah, Bob Radcliff, Jack Tomasson, and Mike Watson in the front row and Art Adam, Bob Frank, Tom Cindric, Curt Adams, John and Dave Vann, Jim Barry, and Chris Needles in the back row. The second photo is from Dave Gnau and shows the golf outing that he sponsored in Michigan.
Our congrats to Bob Wolff, who was recently appointed Executive Director for Society of American Military Engineers, a group with which he has been associated since 1983. Ross Wollen reports that the new Cadet Library will be called Jefferson Hall after the former President and will fit right in with the S&D theme on the Thayer Walk.
My great idea on finding out who has the most grandchildren has run into a few technical snags, so we will have to work those out before declaring any winners. Stay tuned. Bill Heckler was looking for Buddy Bucha, who seems to have disappeared again. They went to high school together in St. Louis. Anyone know Buddy's whereabouts?
Our president, Fred Laughlin, reports that work continues on our proposed digital yearbook for the 40th. Sounds like a neat idea to me. Lots of work, however. The advisory committee consists of Bob Axley, Art Hester, John Pickler, Step Tyner, and Dick Williams. The design committee members are John Howell, Laughlin, Terry Ryan, John Swennson, and Ken Yoshitani. Contact Fred if you want to help!
During a recent trip to Dahlonega, GA, for a nephew's wedding, I spent a few hours at the Mountain Ranger Camp with my son Brian and his sons Addison and young Ethan (in the pouch on dad's stomach) to see what had changed and what had not. Mainly, it was the latter. Same camp, some new facilities but not much. Even the "knot test" area was pretty much the same from when my Ranger buddy Jack Terry (on their right) and I joined "Boris" Borkowski (on the left in photo) at the ropes. Ranger MAJ Bob Underwood, standing behind Addison, gave us a passing grade however. Please keep those letters and photos coming!