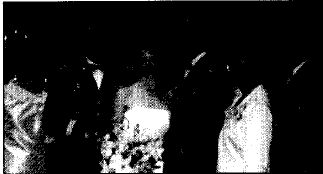 Greetings once again from Chicago! Hope all is well at your end of the Long Gray Line! Some great photos and interesting stories to report from the small post chapel at Ft. McPherson near Atlanta and also from Ft. Benning. The first shows Karen & John Pickler to the right of their son Jeff, while the bride's parents, LTG Joe & Linda Inge, stand next to their daughter, Amy. The site had particularly good memories for the Picklers, in that it was only a few miles from Karen's alma mater, Georgia State, where they married in June 1965. They also had two tours at McPherson and consider it their Army "home." For those of you who do not know Joe lnge, he is a great guy doing a good job running First Army (and all the CASAs east of the Mississippi). John & Karen spent a week of R&R at a B&B near Dahlonega, still the site of the Mountain Ranger Camp. I recall the camp being within Dahlonega--it is now at Camp Merrill, which is a good 15-minute ride from town. John seems to recall it was always there. Anyone with a better memory?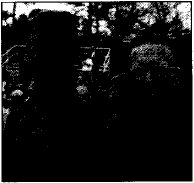 The second photo shows Jeff and a proud Ranger father at Victory Pond, where John pinned on Jeff's Ranger tab. Jeff is off to a great start in that he was one of only about 20% who made it through Ranger School on his first attempt out of a class of 300 Ranger hopefuls. He will deploy to Afghanistan before Christmas 2002. His old man attributes much of Jeff's physical success to good genes and to his four years rowing on the Strength & Drive shell for the Army Crew team. Good job, Jeff!
Dr. Dave LaRochelle reports from the Napa Valley that those classmates with disabilities should check out the V.A.'s benefits, if they haven't done so already. Dave has some extensive experience in dealing with the V.A., so call or e-mail him with any questions. If you haven't checked out our president's Arvin Ypsilanti VFW dedication speech (on the class website) yet, do so. One of the best I have read or heard from anyone in '65. We published the group photo in the previous ASSEMBLY. After the dedication, Fred was joined by locals Art Hester, Joe Anderson, Mitch Bonnett, Dave Gnau, and Walt Oehrlein at the Shepherd's Hollow Golf Club. No word on how everyone did. Speaking of the Laughlins, they are building a new home in Sandy Spring for occupancy in the spring.
On a sad note, our long search to confirm the whereabouts of Ladd Metzner was concluded in August when I received a note from his daughter Laurel in Centreville, VA. Ladd passed away in 1988 at the age of 46 after a battle with stomach cancer. Laurel reports that her mom, Cathleen, is doing well in Centreville. It is hard for me to believe that we, as a class, were not more on top of this situation (as well as the similar situation reported in the last issue with Chuck Burghardt's passing) when it occurred. Shame on all of us! We need to do better, guys. We also need a volunteer to write the memorial article for Ladd. By the way, AOG Pubs has decided to publish the memorial articles one or two times a year in a separate supplement to ASSEMBLY called "Taps." It will be mailed with your ASSEMBLY. Starts in 2003.
Speaking of Centreville, Jack & Annette Lowe are on the move again with EDS, where he will take over the Swedish operation from November 2002-November 2003 in Stockholm. They welcomed grandbaby #5, Steel Kincaid, born to their oldest daughter Melanie. Nice article on "The Unresolved Problem of Suppression (Artillery Fire)" by Rich Sinnreich in the July issue of Army magazine. S&D has a rep at the AOG. Deb Vann Edelman '92 now is Director of Organizational Support. Deb is one of Dave Vann's daughters. Chuck McClosky reports that he just finished the new passenger terminal at Detroit Metro and no longer works for Northwest Airlines. He has joined the Parsons Corp. but I am not sure what he will be doing.
I would highly recommend the book Up Country by Nelson DeMille to those of you who spent time in sunny RVN, especially up north. Great thriller/chiller with tremendous history and geography interwoven through the plot. He also wrote The General's Daughter. Bob Anderson, a former 1st Reg file, reports that he & Barb "got the call" in 1998 to give a little back, and give they did, indeed. They work in the central highlands of Cameroon, Africa, for the Evangelical Lutheran Church where they are involved with three hospitals and a number of health centers. They plan on continuing for another two to three years. They can be reached at ANDERQN@aol.com.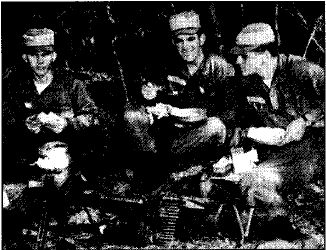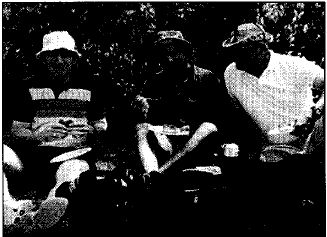 Two great photos were sent along by Jim Berry (with a lot of technical help from his son) showing G-2 files Dave Hopkins, Jack Barwis, and Jim at Ranger School in 1965 and then the same folks in Delaware last August. Jim also can be seen with Margie and their eight grandchildren in the September/October issue. John Mogan was just appointed to head the Tennessee Department of Veterans Affairs by the governor. John will continue to serve as deputy director of homeland security for the State.
Rick Osgood reports that he enjoys his position as Associate Director of Brookhaven National Lab in Upton, NY. He also retains his professorship at Columbia U. as well as running his research group there. He runs the "low energy'' group and oversees two user facilities, the National Synchroton Light Source and the new Brookhaven Nanoscience Center. (N.B. I wish Phil Harper was still around to explain some of this stuff to me!) The Osgood family is doing well. Alice works at the Armonk Library, son Rick works at MIT Lincoln Lab, son Nate is into computers, and Jenney '93 lives in western Minnesota where she owns a farm and is the corporate counsel for Otter Tail Corp. They keep in touch with Pete & Heidi Lounsbury and Cindy Johnson.
That's it for now. Cathy & I are off to spend ten days hiking near Taos and Santa Fe, flying United, which is about to go bankrupt. Should be interesting. My son Brian had his second (Ethan Michael) in May and Shannon had her fourth (Abby) in late August. Keep those letters and photos coming please!