Greetings once again from Chicago! Hope all is well at your end of the Long Gray Line! Please note that your Scribe and his lady have moved. Some good news and sad news to report. I had several conversations with Don Parcells in June and am happy to report that he is doing well, playing a lot of golf, and enjoying life. Although he admits to hating email, he was overwhelmed by the phone and fax "get well" messages. Rollie Stichweh came down and lived with Don for five days after he was discharged from the hospital, acting as his driver and physical assistant. Denny Lewis and several others pitched in also. Stay well, Don.
On a sad note, I was called by a fellow in Dallas looking for his Vietnam buddy, my Plebe roommate Chuck Burghardt. I was able to find Chuck's sister, Mary Blom in California who informed me that Chuck had died on Memorial Day in 1996, after a long illness due to the complications of pneumonia. He was interred in the family plot near Milwaukee. He had been divorced for many years from his former wife and had a son. After several tours with the Special Forces in RVN, Chuck had a tough life. It is with deep regret that we now mourn his passing after these many years. I'll take the lead for his Memorial Article, in case anyone wants to assist.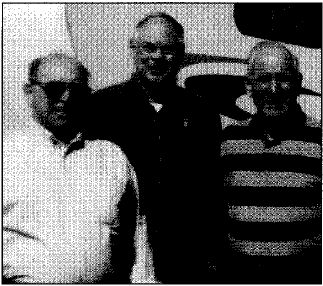 Some of you may have watched the Memorial Day Special from DC. We were watching with some friends when the service chiefs came out and saluted after being introduced. Our guests commented on several of their salutes, especially the Navy and Marine Corps reps, which looked rather sloppy, in the words of one guest, especially after the sharp, professional salute of our Chief! When I passed this info on to Ric, he responded with that old refrain: "All I am and all I ever hope to be, I owe to my Beast squad leader, Steve Arnold!" The three vagabonds standing next to an RV outside of Whiskey Pete's Casino near the Nevada/California border are none other than prepsters Frank Meier, Preston Motes and Skip O'Donnell, Their ladies, Kathy, Sandy and Marilyn meanwhile were inside gambling away and having a ball. All are retired with Frank and Skip in Las Vegas and Preston in Salt Lake City. Skip's son Chip '92 and wife Danni had their first grandson Chase a year ago. Chip is doing well in Motorola management. The O'Donnell's two daughters are also doing well--Jackie in Idaho Falls with her husband and daughter Mikki (8) and Maureen in Salt Lake City.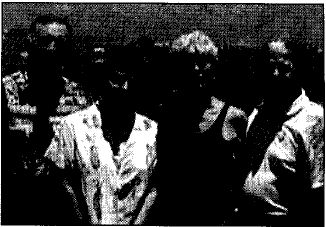 Les Hagie reports that he is leaving his law firm after 14 years to enter Bethel Seminary in St. Paul to get a Masters in Christian thought. He intends to use the degree to expand his mediation service, especially in church reconciliation work. Les, you should talk to another '65 mediator here in Chicago, Jack Cooley. Les married in August at the former Hagie's General Store in Crawford, CO, which is now called the Mad Dog Ranch Fountain Cafe and is owned by Joe Cocker of Woodstock fame. Les and his new bride will join Bill & Susan Tredennick, who live in Florida, on a Disney Cruise in December. They will reside in Shoreview, MN. Hank Mickells reports that he is fully retired and working on his golf handicap, which he tries to do 365 days a year in Arizzona. Hank sent the picture of Jim Coughlin's graduation from U. of Arizona Law School. He took the bar in June and hopefully will pass and be able to go into prosecutorial law. Jim & Sissy live in Tucson as do the Mickells.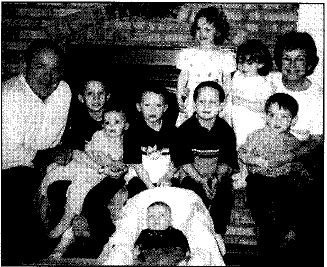 John Vann reports that he and Eleanor have been working on the Tricare White Paper which can be viewed at http://rebel.212.net/mhcrg/MRGRGwhitepaper.com. Take a look at it if you are impacted by Tricare. Several interesting responses to my query on who has the most grandkiddies. Jim & Margie Berry's three kids have produced ten so far with perhaps two more on the way. That certainly beats me at six and Moseley at eight, but it only ties another prolific '65er, Bill Heller. Bill & Johann also have ten, although they indicate four are biological, one by marriage and five are adopted from Russia. Bill, no need for rules here. As I told my mother when the same issue came up with some of her great-grandchildren, they are all loved the same so why differentiate. Anyone out there with eleven? Bob Bradley has offered to provide lots of "dirt" on Bumpass for any of you going on that golf trip with the Bumpster. Look for Mike Leibowwitz' son Jay's ads to start appearing on TV for Sports Illustrated.
Several new books are out on the Bicentennial. Ross Wollen suggests one, West Point's Scientific 200. This book lists our own Tom Johnson at number 10 of the 25 most influential grads in the sciences. Our "physicist/poet" was taken from us at the young age of 46, else he would have achieved even greater accomplishments. Another book West Point-The Bicentennial Book by two Marines (von Hassel and Dillon) shows '65 in a good light, according to Ross. Bob Johnson's new book Athena and Eden: The Hidden Meaning of the Parthenon's East Facade sounds like a scholarly tome but is good reading according to Chuck Nichols.
Ralph Asplund ran his 19th Boston Marathon (3:56). Way to go, Ralph! We are making progress, slowly but surely, on tracking down our missing folks. With the update in the last issue of the whereabouts of Bob Zonne's widow and now the report of Burgardt's death, that now leaves us with 21 missing or lost. Richard Bryant, Bill Connolly, Chuck Cook, Rich Donahue, Terry Grandstaff, Don Hall, Richard Horst, Henry Kelley, Tony Livic, Ray Ludwick, Ladd Metzner (deceased?). Jim Mims, Ken Moorefield, Fred Scruggs, Denny Sellers, Grover Starling, Larry Strassner, Frank Birdsong and Bob Dorsey, as well as Mrs. Al Clark and Mrs. Jim Echols. Let me know if you know there whereabouts!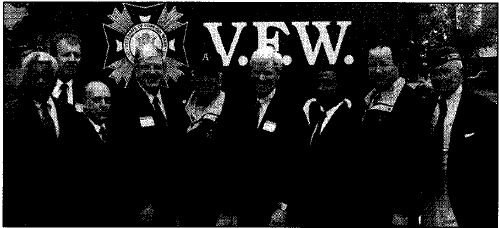 And finally, it was big day in Ypsilanti for the family of Bob Arvin, the town and for Strength & Drive, when the local VFW dedicated their post as the C. Robert Arvin VFW Post 2408 in honor of our fallen First Captain. A strong contingent of classmates was led by our president, Fred Laughlin, accompanied by Art Hester, Walt Oehrlein, Ed Winstead, Chuck McCloskey, Mitch Bonnett, Laughlin, Jim Conley, Don Steinwald and Congressman John Dingell (D, MI). Much of the credit for helping organize the Class participation goes to Chuck Moseley, who could not make it due to a long standing family commitment.
Well folks, that's about it. Keep those letters and photos coming.