Greetings once again from Chicago! Hope all is well at your end of the Long Gray Line! Please note that your scribe has moved.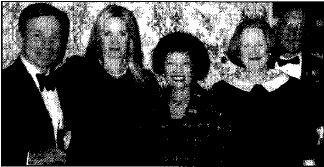 Our president is actively soliciting ideas on a 40th Reunion video or possibly a video yearbook. Big project, so if you have any thoughts, pass them along to Fred. I saw Bob Doughty at the April Thayer Award ceremony. He reports that the planning for Arvin gym is moving along and is scheduled for completion in 2005. As Fred said in his May class letter, don't bet the farm on that date but at least the contracts have been set. Bob and his committee have done a great job shepherding this project. Also said hello to Ric & Patty at the award dinner, where they had just arrived from a meeting with all general officers in Kansas. Ken & Izumi Yoshitani were there along with Ross Wollen. The Chief and the Thayer Award recipient, Sen. Inouye of Hawaii, have worked closely for years. The Senator's distinguished war record, coupled with his modesty and humility, make you think clearly of the true meaning of that much overused and misused (at least in the current vernacular) term "hero!" Harry (Four decimal point golfing handicap) Dermody reports that he has made the first Arvin installment payment but needs some of the class who have outstanding pledges to come forward.
Chuck Moseley was in town in April and we had a delightful dinner with him at a local Italian joint. At the Arvin family's request, he is spearheading the class' participation in the upcoming naming of the VFW Post near Ypsilanti, MI, after Bob Arvin. This will be a big deal in Bobbie's hometown and is actively being supported by his parents and widow. These kind of events give me hope for our country. Think about it--a third of a century later, and folks are still remembering the heroism and other outstanding qualities of our fallen First Captain!
Opened the Sunday Chicago Tribune in mid-April to see a great photo of our own Barrie Zais (looking "strac" as usual) in 1988 escorting then President Reagan and Margaret Thatcher on the White House lawn in front of the Old Guard. The photo accompanied a story on Lady Thatcher stepping down from public life. Don Nowland was looking for Bob Rojas and finally found him via "Google" in Puerto Rico. Dave Bangert reported from Hawaii that Pat Cargould (Bob Zonne's widow and Dave's cousin), who we reported as "lost" in a recent column, is actually alive and well in Manhattan Beach, CA. Thanks, Dave. I will update the appropriate records.
As I write this column at the end of April, Jon Thompson is floating somewhere in the Pacific with several USNA grads looking for Amelia Earhart's plane. The squids own a company (Nauticos) that does this sort of thing. Jon is responsible for the conservation and exhibition of the artifacts, if found. You may remember that this other "Old Man" organized the Titanic exhibition as the director of cultural affairs for the city of Memphis. The exhibit was so successful that it later toured the nation with great results. National Geographic will produce a documentary if they are successful. Stay tuned. Understand from the AOG that our gold will be part of the gold in the '03 class rings, courtesy of John Salomone's generosity and the great AOG Class Ring Memorial Program.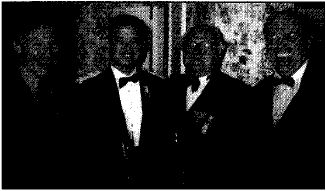 The Hilton Head golf outing in February was a great success, according to several participants! Photos are on our class website courtesy of Ike Eichelberger. Attendees included: Moseley, John Swensson (why do I think watching John play golf would be a "gas?"), Bob Selkis, Steve Ammon, Art Adam, Dan Benton, Steve Darrah, Dermody, Bob Frank, Clair Gill, and Curt Adams. It must not have been too bad, because neither of our two "sharks," Pat Kenny nor Dermody, seemed to gloat on their excessive winnings on (or off) the course. Others in attendance were: John Howell, Dave Hurley, Kenny, Ed Knauf, Steve Leach, Dean Loftin, John Malpass, Walt Oehlein, Jack Thomasson (ditto the comment on Swensson), Jim Tomaswick, John Vann, Dick Williams, Barrie Zais, Walt Kulbacki, and Ralph Adams. The organizer, Bob Ratcliff, reports that the next outing has been scheduled for 3-6 October at Williamsburg. Contact him if you are interested.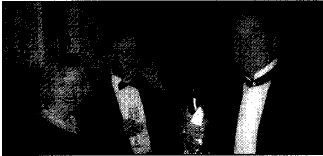 Speaking of Wollen, Ross reported that he assembled several classmates after the Bicentennial Concert at Carnegie Hall in March at his place. In addition to the Chief & his lady, attendees included the Buchas, Ed Knauf, a spiffy looking Dave Kuhn, a recovering Bob Harter and his lovely "daughter" Mary, and Diane & Bob Doughty. The Chief's security people had a little problem getting into Ross' place, since they were filming Sex and the City in front of his building. A real "New York moment" is how Ross described it.
Received a nice letter from Dick Chaffer who lives in Bozeman, MT. He was out of touch with the class until Bill Hecker (Dick's M-2 Plebe roomie) visited Bozeman to see his father. The two had a great dinner and Dick decided to get more involved with S&D. Welcome back, Dick! Mike Leibowitz reports from New Jersey that he still has the insurance agency (in partnership with older son Jordan) but has spent about 20 months working as a regional manager for the New Jersey Transit System. Younger son Jay does commercials, and recently was cast for several for Sports Illustrated. Another plebe football player doing well!
We are looking for ideas to "formalize" the 500th Night celebration that the cadets still do, since '65 started the tradition. Perhaps some sort of public recognition, plaque, or the like to be presented at each 500th night celebration from our class? Please let Fred or me know if you have any ideas. Dave Kuhn wrote a neat little ditty called "The Tale of the Horse" or more appropriately, "The Old Gray Horse, he ain't what he used to be" on the occasion of Denny Lewis' 60th birthday, celebrated in Ohio with the Seymours, Stichwehs, Zadels, Kuhns, and Tim Vogel. The story has to do with the old horse (a.k.a. Lewis) morphing into an old Gray Hog, complete with Army season tickets, private parking space, private suite at the Christman Quarters 100, etc. Denny & Marie (she also had a birthday in February, but is much younger than the Horse) have three grandbabies. They will join the Zadels, Seymours, and Bumpasses this summer for some golf in Scotland.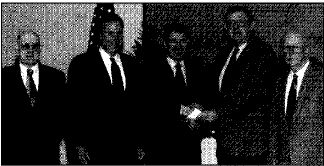 Jim Tomaswick reported that he retired from Polaroid "just before they went BK." He & Carol live a few miles from their son and grandkids, which is nice. Frequent trips to Army football games coupled with lots of classmating exercises with the likes of Alger, Hennebry, Barry, Zadel, DeMopied, Genega, Kuzman, Nowland, and the Sheridans keep them both on their toes.
And finally, Joe DeFrancisco presented a Lockheed Martin check for $400,000 to the Army Historical Foundation for their USMA Bicentennial activities. Shown in the picture are: Creighton Abrams Jr., Joe Reeder (USMA), Joe, Bill Hartzog, and our old RVN commander and former VCSA Dutch Kerwin, all from the Foundation. That's it from this end, folks. Keep those photos and letters coming.