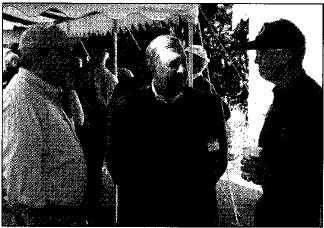 Greetings once again from Chicago! Hope all is well at your end of the Long Gray Line! As promised in the last missive, here are some more photos from John & Karen Pickler's retirement party last year. The first photo shows John regaling Nick Principe with his "vision" for his retirement. Every time I see a photo of Nick, it reminds me of a night in a New York bar many moons ago where he won $20 or some similar amount in a bet that he could leap up to the bar top from a standing position next to it. Chuck Nichols and his lady seem to be enjoying a respite near the old oak tree, while Tom Fergusson and Bob Wolff enjoy a post-brunch conversation. As stated last time, John & Karen have done a lot for S&D and we wish them both all the best in their retirement in the hills of their beloved Tennessee.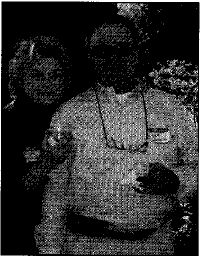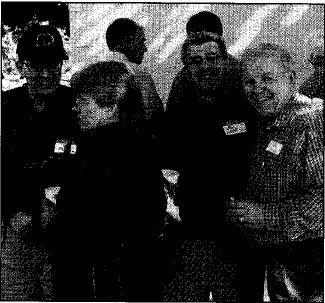 The next photos of the golfing Axleys reminds me that the class golf outing at Hilton Head is coming up (at the time of my writing this article in February.) I also know this because Dermody called and said he would be paying off his mortgage on the house after the outing because there were so many S&D "fish" coming with money burning a hole in their pockets. Harry was excited because his handicap was now down to "13.4689." I ask you, when is the last time anyone ever gave you their handicap to the fourth decimal? Bob & Michele Axley are avid Texas golfers when they are not going on crazy cross-country all-terrain bike rides with their boys Chris and Jeff.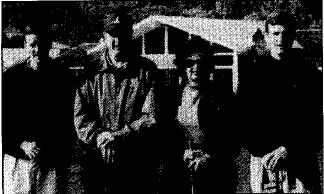 I also promised to get to some of the Christmas newsletters, so here goes. Our peripatetic president and his most lovely and equally peripatetic Maralee, last heard from in Scottsdale, AZ, or was that Florida, or McLean, VA, wherever, report that their eldest son Reed Laughlin & wife Kathy have three boys. Reed works from home for a dot.com that has an innovative way of developing content for TV. Second son Fredric Ryan resigned his Army commission after six years and now pursues a master's in divinity studies at Covenant in St. Louis. His wife Heather Ann, in addition to taking care of young Nathan Ryan, also works on curriculum development for the school's dean. As some of you may know, both Fred & Maralee retired, he after 28 years with Price Waterhouse (where he served on the U.S. and international boards on their management consulting side) and she after 26 years in Community Bible Study (the last ten as National Training Director). Big decision now? Where and when to live! (N.B. I still chuckle every time I write about our distinguished leader when I think of him getting into a cadet uniform and "recognizing" young plebe/son Ryan, and then, getting out be before the Officer of the Guard caught on. With chutzpah like that, I can just hear the class' chants of "five more years" when Fred's term comes up at the 40th. Just a thought!)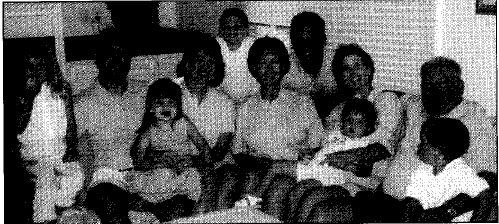 Kent & Sherry Brown--probably the most consistent over the years of all classmates in sending their Christmas missive to the ole Scribe--now have two grandkids, one of whom (Kyle) was christened on their 34th anniversary. Big project for 2002 is adding a kitchen to their log cabin. Another consistent Christmas letter writer is Art Mark, who reports from Aiken, SC, that two master's degrees were earned by Marks (Nicolette and Elizabeth), one BS (Lucilee), and son Edward (U.S. Army sergeant) soon graduates from the Army's sniper school. Other kids range from Nat (student at University of SC) to James (BS also from USC), Art III wed Meg in Omaha, and Claudette, who moved back home from Manhattan after 9/11. Terri, that was the most interesting news in the shortest Christmas newsletter (1/2 page plus lots of photos) that I have ever received. One final consistent letter writer sent along a photos of the Moseley family in Oak Ridge, TN, entitled "how many people can we squeeze on one sofa." Chuck's back went out in early 2001, and gave him a lot of pain apparently, or at least, according to Cathy, until the insurance ran out and golf season began, not necessarily in that order. Newest addition is Jaxon Henry, born a wee bit early to son Chip & Nancy. I think that brings the count to seven grandbabies. Correct? By the way, take a careful look at the Moseley mob on the couch. What a good-looking family, and thank God that they all take after Cathy!
Speaking of grandbabies, I didn't have much desire to take a class head count, at least until Shannon announced that she was expecting #4 in September and Brian's Carolina is due #2 in May, bringing scribe grandbaby count up to six. Moseley's got seven. Does anyone have more? Speaking of Shannon, her husband Paul's Naples high school football team won the Florida State championship in only their third year as a coaching staff.
We had a scare with Bob Harter, but Mary reports that he is back home and doing well after his "mini-stroke" while attending church back in early January. Bob, just in case you did NOT know, you have a lot of folks within the S&D community who really like you a lot. So stay well, please!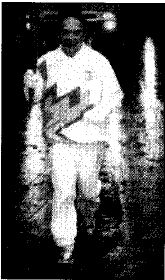 Did S&D have a role in the recently completed 19th Winter Olympics? You betcha! Our own Sonny Arkangel carried the Olympic flame on its tour through the historical district of old San Antonio on 11 December, where Judy and others cheered him on through the rain and even had a USMA Bicentennial flag on display. Sonny's name had been submitted to a Coca Cola contest by his daughters Andrea and Judi and was one of a few from more than 300,000 applicants to be chosen. If you haven't checked out our Class homepage at the AOG website, do it. Jerry Eichelberger has done a fantastic job.
Were you wondering where John Longhouser had gone to of late? John has kept a low profile but is set to re-emerge after his wedding to Cheryl Lichtenberger in North Carolina this past February. Cheryl has a son (USMA '87). After their Caribbean cruise, she & John will live in Vienna, VA, where John still works for Burdeshaw Associates. Many of you follow the continuing saga of Tricare. John Vann's wife Eleanor beat cancer but had a much harder time with Tricare. Her case study can be found at http://rebel.212.net/mhcrg/anarmywifes.htm. Check it out! Susie Scholl reports that her life is (slowly) returning to normal but that she misses Wayne "fiercely." The move to Southern California, an older house to fix up, and proximity to her grandbaby was just what the doctor ordered. Hang in there kid--lots of us are thinking about you!
Our 40th reunion is quickly approaching and to make it all happen, Bob Frank agreed to act as CinC. Joe Sanchez and John Howell have offered to help. Anyone else interested should contact Bob at . You know, one guy who continues to amaze in terms of getting things done for S&D is our own historian, Ross Wollen. I think Ross is retired, but not sure. But he has been taking the lead in connecting '65 closer to Thomas Jefferson. You may have noted in recent Bicentennial information the prominent mention of TJ. Our own Bob Doughty and the USMA History Dept. ran a symposium on TJ, Bob, and Ross are pushing to have the new Cadet Library that Dan Christman worked so hard on and Ralph Locurcio is expected to build. Good work, Ross!
(N.B. All of the above Christmas missives were sent to my old address. USPS is no longer forwarding mail from my old address.) That's about it for this time. Keep those letters and photos coming. And let's all remember, this is a great country because our military is ready, willing, and able to lay it all on the line to keep it that way!