Greetings once again from Chicago! Hope all is well at your end of the Long Gray Line! Please note that your scribe has moved. Yes, there actually is a lake in these here hills!
The Army, as well as Strength & Drive, bid farewell to one of our last green-suiters in October as John & Karen Pickler hung up their spurs after 36 years of tireless and dedicated service to their God and country. John's last job, probably one of the most demanding and definitely one of the most thankless, was Director of the Army Staff. In effect, he was the Chief's chief of staff, although the job had veered far away from that original dictate. But as a result of a reorganization announced by the new SA and the Chief, the DAS may well return to being a "director."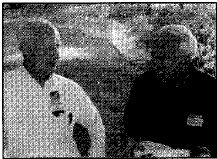 The Army and S&D bid farewell to the Picklers via a series of informal and formal send-offs. The class assembled at the Soldiers & Sailors Retirement Home, under the guidance of Frank Hennessee (with a helping hand from Bob & Mary Frank and the Terry Ryans among others) and had a great day recounting the many sagas of John, some actually based on fact! More than 70 attended, including Ed Simpson (looking good) talking with John Thompson. A great time was had by all. The senior Army staff held a dinner at Ft. Belvoir for the Pickler's friends on the evening before their retirement ceremony. More than 250 of John & Karen's military and civilian friends came from near and far, especially from their home state of Tennessee, to fete the Picklers. The dinner host, LTG Bob Van Antwerp, started it off by noting the "very high moral and ethical standard that (John) set for all of us." It was a really nice event and just a great way for all of us to say, informally, thank you, to this fine Army couple. The Vice Chief asked us to raise a toast as he bid the Picklers a fond adieu by noting that "West Point gave John the bedrock values that shaped his career'' while Karen was "a kind, loving and decent person who gave of herself to others."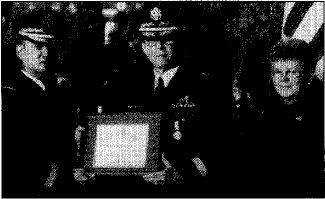 Ric and the Secretary did the honors the next day at Ft. Myer with a formal ceremony by the Third United States Infantry, The Old Guard, honoring both John & Karen's tireless and unselfish dedication and devotion to the principles of our alma mater. Approximately 100 classmates and their families joined the senior Army military and civilian staff and most of the senior international military Attache' Corps, under heavy security as you might imagine, to watch John troop the line (with Ric) in one last inspection of this assemblage of the Army's finest soldiers that John so respected. The next photo shows the Pickler's children (Nevelyn, Andy & wife Laura, and 2LT Jeff '01--on leave from the 82d Airborne--and the Jack Lowe family--Bruce, Melanie, Jack, and Annette--all of whom had grown up together at WP and other posts) at the ceremony. Not sure how we missed Nevelyn's husband Mark, who also was there. By the way, Jeff got engaged over the holidays to the lovely Amy Inge (her father Joe is the new CG of 1st Army in Atlanta and my CASA boss). They plan a summer wedding, probably in Atlanta.

It was a beautiful ceremony, one befitting a warrior going home to his roots in the hills of far off Tennessee. But there were, as you might expect with anything John does, some "interesting moments and observations." Many of us civilians were amazed to discover that there actually is a five-paragraph plan dealing with disabling those annoying automobile alarms that go off at Ft. Myer when the ceremonial cannon are fired. And they disable them within minutes. Amazing! And what better background setting for John & Karen in the twilight of their military career than to have a full moon hanging low in the late afternoon sky overlooking the parade grounds!
All together, it was just simply a great way to send off a great warrior and his lady who have done so much for this country, for our Army, and for our class. Now if John will just find a job in or around their new hometown of Nashville and get out of Karen's hair, the story will truly have a happy ending. Thanks and best wishes to two great friends from all of us in S&D!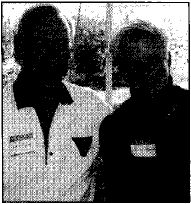 We have heard from some long-lost classmates. Bill Brush retired from the Navy in 1979 as a commander and then became a PM for the Navy's F/A 18 flight simulator. He retired again, obtained a fishing captain's license from the Coast Guard and started a fishing charter business on Pine Island near Ft. Myers, FL. Jim Connell '66 who was a turnback from S&D and the banjo picker with that famous Csoka, Davis, Connor Glee Club Quartet, reports that he was medically retired from the Army due to MS, after which he spent 21 years at P&G specializing in marketing and media operations. After retiring again, he now does some consulting and finds time to be president of his local (Cincinnati) WP society. I ran into Tom Small (ex-'65) at a wedding in Cleveland in late October. Tom was with us for a few months during Beast and remembers it fondly, as he does many classmates. He is a VP with World Travel BTI in Novelty, OH, in case any M-1 files want to contact him.
The reports of Mike Fligg, Larry Konnermann, and Terry Starling's non-existence were greatly overstated on our Lost Grad list. Mike & Leslie live in Denver. I am trying to get some more poop on him. The Fliggster's whereabouts were reported by Janet Dyer, who reports that she & Jim are retired and doing just fine living on a private airport taxi way in the Spruce Creek Fly-In Community near Daytona Beach. Their son David & Shelby and daughter Zoe visited for Thanksgiving, while the Dyers' daughters Kristin teaches in Falls Church and Lauren and her family-Olivia ( 6) and Skylar (3) live in Nags Head, NC.
Konnermann is a vet who retired in Dallas. He got his start, as some may remember, taking care of the Army mules at WP. Bet you can't remember their names? Speaking of vets, as in pets, Bob Frey is a Army Reserve 0-6 vet and also serves as a MALO (USMA recruiter) in Montana, a great job says he. Having been one myself, I could not agree more. This makes three green-suiters still on duty after Pickler's retirement, Ric and our two Reservists. Anyone else?
Terry Starling was last seen in Pearland, TX, where he is a full professor at the U of Texas at Clear Lake (where NASA also is located). According to Bob Woodruff (who provided the update on these last two folks), Terry is considered the "Samuelson" (i.e. guru) of economics in Texas! Thanks, Bob.
Garrett Davis reports that he is alive and well and retired, living with his wife Hahn in the Hilton Hawaii Village in Waikiki. After two tours in RVN, Garrett joined the FBI as a special agent in the National Security Division. He retired in 1995 but continued to do special assignments for the FBI until 1999, when he & Hahn gave most of their possessions to their two children and moved to Hawaii. They have traveled extensively, especially to Hahn's native Viet Nam to visit her family. They will return in fall 2002 for an extended six-month stay, during which Garrett will teach English to local children and Hahn will visit her extended family throughout southern Viet Nam. Great update, Garrett. Welcome back into the active ranks of S&D.
This means that our "missing" list is down to 24, including some widows and ex-classmates. Richard Bryant, Chuck Burgardt, Bill Connolly, Charles Cook, Rich Donahue, Terry Grandstaff, Don Hall, Richard Horst, Henry Kelley, Tony Livic, Ray Ludwig, Ladd Metzner, Jim Mims, Ken Moorefield, Fred Scruggs, Denny Sellers, Larry Strassner, Terri Throckmorton, and Jim Tillman. Also, Frank Birdsong, Bob Dorsey, and Mrs. Pat Cargould, Mrs. Al Clark, and Mrs. Jim Echols. If you have an address or number on any of these folks, please let me know.
I am sure you have all heard by now that our good friend and "associate classmate" the Rev. Jim Ford (our cadet chaplain), after retiring as the Congressional Chaplain and suffering from a severe case of depression, took his life last August. Jim was very close to S&D in that we were his first class at WP. In fact, he married and baptized many of our line. He was a really good man and will be missed. The Christmans and others represented us at the memorial service. Speaking of good men, our baseball coach, Eric Tipton, also passed away last August. Many did not know but this multi-talented guy was a co-captain on the great Duke 1938 football team that held their opponents scoreless for an entire season. He played baseball for Philly and the Reds and was a member of both the Duke and College Halls of Fame. Another good man!
The short Army videos during the Army-Navy game showed the tireless efforts of our president and his group. Good job, Fred Laughlin and compatriots. How about the TV vignette shown during the game on Dan and his efforts to make it a better day for that Navy player who was stricken by cancer last year. Dan made a point of giving the young middie a game ball signed by the entire Army team. Now that was a classy S&D moment! If you are looking for an interesting Christmas gift next season, The Army coffee table book published by the Army Historical Foundation might be just what you need. Although it weighs in at a few pounds, its photo-packed 350 pages, with a great intro by Ric, will make some old Ranger's day. It is in local bookstores, as I understand it.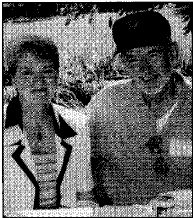 The class received a nice letter via Terry Ryan for our generous participation in last October's "Walk to D'feet ALS," which raised more than $400,000 about 1% of which came from "Manny Maimone's team" for which Carol and her family also extended a big thank you. She reports that there is real hope that this disease can eventually be conquered.
Bill Byrne is alive and well in Harrisburg, PA, where he & Mary Paula live with their three children. He was saddened to hear of his old roommate Ron Bailey's illness in our last missive. I would be remiss (and probably would have my pledge doubled) if I did not report on the Old Man's fund-raising efforts. Dermody reports that we still have about $80K (of a total of $1.3MM raised) outstanding on the Thayer Walk pledges. Of the $1MM we committed for the Arvin Gym, we have a total of about $842K, of which $550K is in pledges still to be paid. Until about $400K of these pledges are paid, we will have difficulty making the $602K payment scheduled for August. So let's pitch in and get caught up as best you can. All numbers are as of November 2001.
I'll include the Christmas letters and more photos of Pickler's retirement next time. Folks, let's remember that we are a blessed class living in a great country that lets us choose our individual ways of life. For this, we should be very thankful, yet also, ever vigilant. May God continue to bless America and our leaders, especially Ric and the others in uniform who may be in harms way!