Greetings once again from Chicago! Hope all is well at your end of the Long Gray Line! Please note that your scribe has moved. Lots to report but first I thought you might be interested in hearing what our alma mater was like for two football game weekends shortly after the September 11th terrorist attacks that killed about 5,000 people. As per DoD directive, USMA essentially was "shut down" immediately following the attacks. About 30 days later, in early October, the post was still on high alert. All cars were thoroughly checked inside and out. For Saturday games, security was pulled back from the gates and was tightened around the cadet area and Michie Stadium. Large Army trucks blocked all roads, the railroad tracks, etc. The MPs were overwhelmed, so the academicians pitched in. My rental car was searched by an 0-5, a Sosh 0-6 and a Navy TAC 0-3. I understand the Com and Dean also took their shifts. But the sign of the times was the armed MPs (with live ammo and M-16s) patrolling the playing field as well as snipers with scopes on the roof of the dressing rooms. People were calm, the cadets were proud, and the opposition players looked on in amazement, fear, or awe!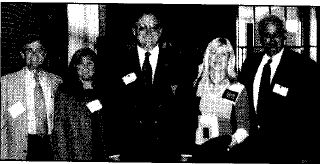 Seen at the game were Jack & Marilyn Jannarone, Bill & (a vivacious) Betty Zadel, and Denny Lewis. Bill now runs Myktolis in Bedford, MA, which was formerly the micro-electronics division of Millipore Corp. Jack still flies for United and lives in Highland Falls, and Denny still does real estate in Warren, OH. I also observed classmate Pat Donovan pointing out the Chief's cadet photo in the Ike Hall reception room to his guests, all suitably attired in Army gear.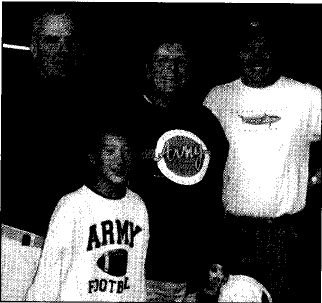 S&D survived the attacks on both the WTC and Pentagon, but with one close call. Frank Probst, who works on the Pentagon Renovation Project team, was walking near the heliport when he heard a loud noise coming at him. It was the airplane on its way to crashing into the nearby Pentagon. Frank hit the dirt until the plane passed close overhead, then arose and ran faster than he ever has to escape the fireball. Herb Smith's wife Carole was working in the SecDef's office at the time and was able to escape unharmed. Another classmate who escaped unharmed was Joe Barkley, whose first-person account of watching the disaster from a vantage point some eight blocks from the WTC complex, was recounted in his local Pennsylvania newspaper. After watching the entire tragedy, Joe began the 4-1/2-mile walk to Grand Central Station, where he had to wait until the trains were restarted. He arrived home at about 6 PM.
Our first thoughts, as a class, were for the Chief and John Pickler, who, we were afraid, might have been in the part of the building that sustained the direct hit (early reports indicated "heavy Army casualties.") Fortunately, Ric was travelling and John was uninjured. The class rallied and sent a compendium of 76 short, heartfelt, e-mail messages to Ric and John, in essence telling them to "Carry on" and that "We were solidly behind them!" Both were unbelievably touched and grateful. As we sometimes forget, in times of great need, it is often the little things that are the most meaningful. Thanks to all in S&D who responded so quickly to our e-mail alert. Speaking of John Pickler, the DC contingent hosted a great party in mid-October for him & Karen and then Ric gave him the official send-off at a retirement parade at the end of the month. More on both functions next issue when I will have all the photos.
Our Class Memorial outside the library is getting good use. Dan Christman received a report from one of his former charges that he observed a cadet company commander discussing the company's semester goals with his troops all seated in the '65 area. By the way, we will probably lose our Class Tree (a few feet west of the Memorial near the Patton statue) when the library expansion begins. The new library will essentially take most of the area where LT Arthur Ashe practiced his trade during the mid-1960s.
I somehow was placed on Jerry Merges e-mail forwarding list. I normally de-list myself from forwarded e-mail, but Jerry gets some really funny ones. Latest was "Your family might be too Hooah'' if: You go to a barbecue and order your family to eat tactically, or your kids call their mother "Household 6." Oh well, we need some humor from time to time. Kurt & Sherry Brown are still doing well in Boise, ID, where they welcomed their first grandchild in 2001. Chuck Shaw is looking for leads/contacts in the V.A. and/or Army hospitals for his software company, which is the leading company in certified cardiac care software.
Good news in that Jim McEliece finally wrote the scribe and even enclosed a photo. Jim scaled Mt. Holy Cross, one of 55 14,000-footers in Colorado, to show us all what old deputy deans can still do. Bad news is that his photo-taking skills need help (the photo looks like it was taken from the next state and as such, won't reprint very well.) The thought was appreciated though, Jimbo. Vernon (Scrappy) Matthews ex-'65 retired as the chief photographer for his local newspaper and has fond memories of his classmates, especially Dave Jones. Dave apparently found an extra '65 yearbook just before our graduation and got every remaining classmate from Plebe and Yuk year F-1 to autograph it for Scrappy. Not sure were Matthews lives now.
Speaking of yearbooks, Karl Savatiel has come into possession of four or five of our old books and is willing to give them to classmates who may have lost theirs (for the price of mailing-first come, first served). Call Karl directly. Dave LaRochelle is alive and well in California where he is an orthopedic surgeon with six daughters, two married and four on the way to college. Good housekeeping has selected Marcella Gnau as one of its "Top 100 Women in America," according to Dave. Preston Hughes decided to make an effort to better race relations in his hometown of Kosciusko, MS. In 1995, he started a club for locals of all colors, who meet every month to discuss all sorts of topics, all on an equal footing. It has been very successful and is now spreading to other communities. John Alger reports that he still works a full schedule and even has time to back some (USMA grad) political candidates.
Carole Maimone is carrying on Manny's memory by walking in a "Walk to Defeat ALS." Send contributions to Carole payable to "DefeatALS." Tom Borkowski is still in the auto business as GM for the J.C. Lewis Motor Co. in Savannah, GA. He & Robin just bought a place at Tybee Island on the Atlantic. Their son, Matt, marries in August, while daughters Lauren (junior at UAB) and Katherine (College of Charleston frosh) keep Boris hopping.
Bob Radcliffe was appointed CinC/'65 Golf of our next outing at Hilton Head scheduled for 21-24 Feb 02. Contact him for details. They are still talking about the first outing at Williamsburg! Some sad news to report. Tom Sheckells' son Riley interrupted a burglar late at night while house-sitting for his parents last October. Riley was seriously wounded and critical for a time. He is now "out of danger" and expected to recover, although there may be a need for some rehab.
That's it, folks. Don't forget to stop and smell the flowers, and kiss your kids, and their kids. The world is changing. Let's commit, as a class, to do our part to make it for the better, so that those 5,000 did not die in vain! God bless America!